East Kentwood Follows Perfect Plan
June 1, 2013
By Tom Kendra
Special to Second Half
KENTWOOD – Devin McKinney and his East Kentwood teammates had a plan going into Saturday's Lower Peninsula Division 1 Final.
"We knew that if we won our two relays, that we would win the meet," explained McKinney, a star junior sprinter and hurdler for East Kentwood.
The host Falcons executed that plan to perfection and won the MHSAA team championship for the fourth time in the past five years – previously winning in 2009, 2010 and 2011, before placing eighth last spring.
East Kentwood did not have any individual event champions, but coach Dave Emeott's team did have place-winners all over the board and then dominated the sprint relays to take the title with 43 points.
Grand Blanc was second with 32 points. The Bobcats were led by sophomore Grant Fisher, who won the 3,200-meter run and took second in the 1,600 meters, missing out on a double win by six thousandths of a second.
Lake Orion, paced by senior 1,600-meter champion T.J. Carey, placed third with 29 points, followed by Walled Lake Central (27) and Davison (24).
McKinney ran the anchor leg of East Kentwood's winning 400-meter relay team (42.41) and ran the second leg on the winning 800-meter relay team (1:27.72). He also was third in the 110-meter high hurdles.
"I just wanted to bring it for my team," McKinney said. "We really wanted to get that state championship back."
McKinney was joined by Justin Harris, Onrekus Carter and Kewon Getter on the winning 400-meter relay team and Getter, Houston Glass and Kevin Smith on the 800-meter relay team.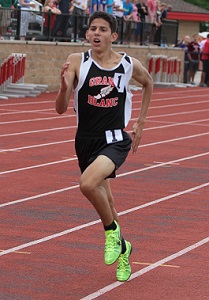 The threat of rain and possibly thunderstorms never materialized, but competitors had to deal with a steady wind throughout the day. The wind was blowing into the runners' faces as they headed toward the finish line, resulting in higher-than-expected times in many events, particularly the sprints.
One athlete who said that going against the wind actually helped his performance was Walled Lake Central senior Cullen Prena.
Prena was the only boys athlete to win two individual events, even though he delivered an amazing end to his high school career away from the grandstands, in the throwing area.
Prena came in seeded second in the shot put, but overcame top-seeded Kevin Weiler of Swartz Creek with a winning throw of 60-11. But he was just getting warmed up. Prena hurled the discus more than 200 feet three times, including his final throw of 210 feet, 1 inch, which broke the old Division 1 Final record by more than 12 feet.
Afterward, Prena launched into an impromptu physics lesson to explain how throwing into the wind helped him.
"It was a perfect wind for the discus," said Prena, who will compete in several major national events this summer, including the Chicago Throws Challenge and the New Balance Outdoor Nationals later this month before competing at the University of Oregon next year.
"A headwind is better because it gets under the disc and lifts it up. I felt great coming into today, and that wind just got me going even more."
The discus win avenged his second-place finish in the event a year ago, when it was won by Matt Costello of Bay City Western, the Mr. Basketball winner who now plays for Tom Izzo at Michigan State.
While Prena was a shocking 34 feet further than the second-place thrower, most of the events were much closer.
Surprisingly, the closest race of the day was not in the 100-meter dash or a sprint relay. On a day when all eyes were on three of the top girls distance runners in the country in the 1,600-meter run, it was actually the boys' 1,600-meter run which produced the day's tightest finish.
Carey, a senior at Lake Orion, edged out Grand Blanc's Fisher by the narrowest of margins, after the fans cheered both of them on as they ran neck-and-neck down the stretch. The final times showed Carey in first at 4:15.763 and Fisher second at 4:15.769 – a scant six thousandths of a second difference, which wasn't official until a photo finish was used.
"I'm known for my kick and I needed every single bit of it today," said Carey, a University of Missouri commit, with a grin. "It was the closest finish I've ever had, but I had a feeling that I got him right at the end."
Fisher responded from that heartbreaking finish to capture the 3,200 meter title later in the meet.
Davison senior Gabe Hodge was a dual winner, capturing the 400-meter dash and then anchoring his team's win in the meet's final event, the 1,600-meter relay.
Saline captured the 3,200-meter relay title.
Other individual champions were Ato Condelee of Holland West Ottawa (long jump), Robert Atwater of Lincoln Park (high jump), Dylan Kole of Grand Rapids Kenowa Hills (pole vault), Freddie Crittenden of Utica (110-meter hurdles), Joshuwa Holloman of Auburn Hills Avondale (100 meters), Ross Williams of Birmingham Groves (300-meter hurdles), Andrew Middleton of Holt (800 meters) and Brandon Wilks of Southfield Lathrup (200 meters).

PHOTO: (Top) The East Kentwood boys track and field team poses on the medal stand after claiming the LP Division 1 championship. (Middle) Grant Fisher won the 3,200 in leading Grand Blanc to the team runner-up finish. (Photos by John Brabbs. Click to see more photo coverage from RunMichigan.com.)