Field Events Push Gladstone Back To No. 1
June 2, 2013
KINGSFORD — The grandstand was nearly full at Kingsford's Flivver Field on Saturday. But probably not many people witnessed the work in the field events by the Gladstone boys during the Upper Peninsula Division 1 Track and Field Finals.
Gladstone, which scored 69 points in the field events, finished with 112 for its seventh U.P. championship in 10 years.
The Braves were followed by Menominee 80, Kingsford 73 and three-time defending champ Marquette 61.
"I couldn't be more proud of these kids," said Gladstone athletic director/assistant coach Matt Houle. "They were prepared, confident and ready to go. All the kids stepped up in the field events. We had to dominate those to win the meet. We took control in the field, and the guys in the running events took care of business."
Houle filled in for head coach Gary Whitmer, who suffered a broken sternum in an automobile accident Friday morning.
Senior Jared Vuksan set the U.P. D-1 shot put record at 55 feet, 11¼ inches, topping the previous best (52-1/2) by Braves' now-volunteer assistant coach Kent King three years ago.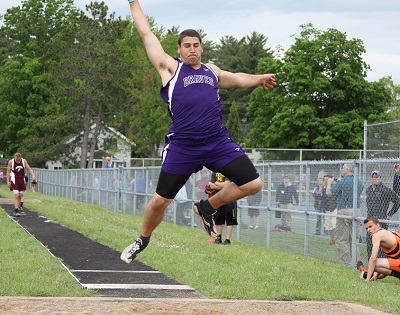 Vuksan, who will play football at Northern Michigan University this fall, also won discus in a school--record toss of 153-2¾, placed fourth in long jump (18-4) and helped the Braves take third in the 400-meter relay.
"My release was a lot better today in disc," Vuksan said. "I evened out my throw, and the disc came out flatter.
"I got the U.P. record in shot on my last throw. I stayed low and my footwork was good. My first throw was 50-5 and I think that set the tone. I really got pumped for the last throw. That was a great way to finish."
Classmate Justin Pederson added firsts in high jump (6-3) and long jump (21-½) and was runner-up in the 100-meter dash in 11.31 seconds.
Kingsford junior Cole Tengesdahl won the 100 (11.26).
"I'm a little disappointed in my 100, although I have to take my hat off to Cole," said Pederson, who plans to run track at Michigan State as a walk-on next year. "In high jump, everyone went out after six feet and I kept going. There was a lot of pressure, but I seem to do better in that situation. After I cleared 6-3, I went up to 6-5 and nicked the bar on my way down.
"My goal in long jump was just to break 21. I just tried to stay consistent."
Junior Chris Sedenquist added a victory in the 400 at 51.39.
Menominee had a triple-winner in senior Bryan Hines, who took the 110 hurdles (15.96) and 300 (41.59) and helped the winning 400 relay.
Sault Ste. Marie freshman Parker Scott, hindered by a foot injury much of this season, won the 800 (2:00.9) and 1,600 (4:31.98). He was the U.P. cross country champion in his division last fall.
PHOTOS: (Top) Gladstone senior Justin Pederson completes a high jump on the way to finishing first with a leap of 6-3. (Middle) The Braves' Jared Vuksan added a fourth place in long jump to his championships in the discus and shot put. (Photos by Eric Thompson; click to see more Gladstone photos at www.ericthompson.smugmug.com.)