Gladstone Takes Back Top Spot in UPD1
June 1, 2019
KINGSFORD – The Gladstone boys had quite a championship reign at the Upper Peninsula Track & Field Finals during the previous decade, taking the Division 1 titles from 2004-09, then winning again in 2013.
They returned to the winner's circle here Saturday, bringing home the championship trophy for the eighth time in 16 years with 127 points. Ishpeming Westwood and four-time reigning champ Marquette shared runner-up honors at 97.
Gladstone senior Adam Bruce, who underwent hip surgery in late January, earned his first 1,600-meter title in four minutes, 35.73 seconds and also won the 3,200 (10:04.67), both in season-best times.
"The 1,600 is the one that evaded me for four years," he said. "It felt great to go under 4:40. I think good training all week really helped and having the break (nine days from competition) helped my hip heal.
"In the 3,200, I just wanted to go out relaxed in the first lap, and I stayed relaxed. I was hitting my splits each 200 (meters). I'm proud of my time after hip surgery. There was no guarantee I'd be able to run like this so soon. The guys were around the track cheering me on, which I really appreciate. I'm just thankful for everybody, especially Zoie (Berg) who's there for me all the time.
"We also wanted to do this for Mr. Houle (longtime coach and athletic director Matt Houle, who died last fall), who always told us 'It's a great day to be a Brave.'"
Sophomore teammate Calvin Thibault retained his 110 and 300-meter hurdle titles in 15.35 and 40.35, respectively, and placed second in the 200 (23.13) and third in the 100 (11.58).
The Braves showed their depth especially in hurdles with sophomore Blake Servant taking second in the 110s (15.99) and senior James McKnight runner-up in the 300s (41.66).
Servant added a first in discus (137-9).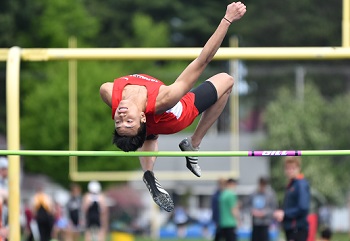 Escanaba junior Dayton Miron set a U.P. and school record in pole vault at 13-8, erasing the previous U.P. Finals record of 13-7 by Mike Coyne of Gladstone in 2007 and the 47-year-old school record (13-6¾) by John Noblet.
"It felt amazing to clear 13-8," Miron said. "It felt real good to see the bar stay up there after I rolled over. I couldn't stop thinking about it on my 14-foot attempts. I couldn't have done it without the help from my coach (Joe Royer), who gave me a lot of pointers. I won it at 13, then decided to go for 13-8. I'm really glad it happened here. I have a new pole, which separated me from 13 feet."
Marquette senior Raphael Millado captured high jump (6-3) and long jump (20-7), and classmate Mathurin Gagnon took the 800 (2:03.84) and helped the Redmen take the 3,200 relay.
Westwood senior Nathan Beckman won the 200 (22.96), and junior Chad Pohlman won the 400 (51.13).
The Patriots also swept the sprint relays, and senior Blake Hewitt added a first in shot put (44-4½).
PHOTOS: (Top) Gladstone's Calvin Thibault powers through the finish to take first in the 300 hurdles, while teammate James McKnight follows to finish second. (Middle) Marquette's Raphael Millado clears the bar on the way to winning the high jump.  (Photos by Cara Kamps.)