Ishpeming Adds to Near-Decade Reign Atop Upper Peninsula Division 2
KINGSFORD — The Ishpeming boys have allowed very little to stand between them and the Upper Peninsula Division 2 track & field championship in recent years.
They added another trophy to their collection Saturday by scoring 116 points.
The Hematites, who won three of the last four titles outright and shared the fourth, were followed by Iron Mountain with 102 points and St. Ignace at 63.
Senior Jonny Matson scored 36 points for the Hematites, who also have either won or tied for the title six of the last seven seasons.
That string was interrupted only in 2017 when they were runners-up to Newberry and three years later by COVID-19.
Last year, the Hematites shared the title with Norway.
Matson won the 400-meter dash in 53.58 seconds and long jump at 18 feet, 11¾ inches and was runner-up in the 100 (11.73) and 200 (23.77).
"Jon has been a great leader for us, and Parker Gauthier and Hunter Smith picked it up," said Troy Smith, who shares Ishpeming's coaching duties with his wife Trisha. "We greatly appreciate the effort of our coaching staff (Morgan Kangas, Khora Swanson and Hailey Smith). They're a big part of our success.
"Our numbers have been a little low, but we have a great group of kids."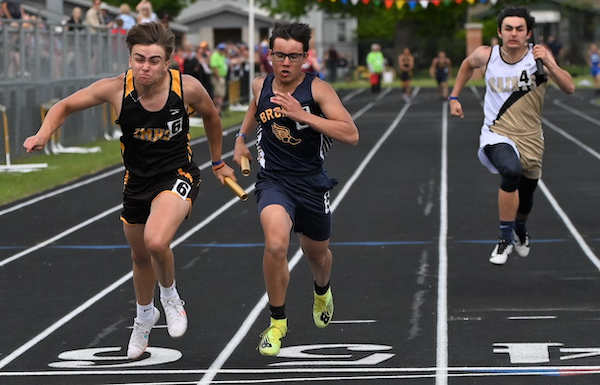 The Hematites won the 3,200-meter relay in 9 minutes, 4.42 seconds, and Tramon Gauthier added a first in the 110 hurdles (16.67) and second in the 300s (43.0).
Smith was runner-up in high jump (5-11), and Parker Gauthier placed third in the 3,200 (11:44.6).
Iron Mountain's Matt Colavechhi won the 100 (11.56) and 200 (23.71), and senior Luke Ruble added victories in the 1,600 (4:54.69) and 3,200 (10:52.05).
The Mountaineers also won the 400 relay (45.31) and 800 (1:34.42).
Bark River-Harris was runner-up in the 400 in a school-record 45.34
"Nick (Anderson) started real good and got us in a good spot," said BR-H junior Vincent Martin, who ran the second leg. "We were seeded fourth. We knew the other three teams were good in the first and anchor legs. We mixed up our lineup a little and were in first going into the third leg."
St. Ignace got a first from junior Reese McLean in the 800 (2:09.06), and Owen Lester took pole vault (10-0).
"That was a PR by three seconds," said McLean. 'With this being the last meet, I decided I might as well put everything into it. I think I started out all right. I wanted to get to the front right away."
West Iron County's Landon Sundelius won the 300 hurdles (40.56) and placed second in the 110s (16.74), and Nathan Hochstein of L'Anse was high jump champion at 5-11.
Manistique earned a victory in the 1,600 relay (3:43.99).
PHOTOS (Top) Ishpeming's Tramon Gauthier leads West Iron County's Landon Sundelius and they take first and second in the 110 hurdles. (Middle) Iron Mountain's Matthew Colavecchi edges Bark River-Harris's Vincent Martin by three hundredths of a second to seal the win in the 400 relay. Other members of Iron Mountain's winning relay were Max Jayne, Joey Colavecchi, and Kurt Adiano Ryan. (Click for more from Cara Kamps/Run Michigan.)