Ishpeming 'Grinds Out' 4th Title in 5 Seasons
June 3, 2018
KINGSFORD — First-place finishes may not have been plentiful for the Ishpeming boys Saturday, but they placed in enough events to edge Iron Mountain 90-82 for their fourth Upper Peninsula Division 2 track title in five years.
Third-place Norway scored 64 points, three more than reigning champ Newberry.
Hart Holmgren's leap of 19 feet, 5½ inches provided Ishpeming with its lone first on this sunny, mild and breezy day at Flivver Field.
"I thought we'd win it by a little more, although it was still a good win," said Ishpeming coach P.J. Pruett. "Our guys had to grind it out. I was very pleased with their fight to win. Our depth came through."
The Hematites placed second in three relays and got runner-up finishes from Holmgren in high jump (6-2), Jonah Broberg in the 1,600 at 4 minutes, 48.24 seconds and Spencer Giroux in the 3,200 (10:38.83). They claimed three places in the 3,200 and two apiece in the 800 and 1,600.
"Distance is where we got our major points," said Pruett. "That's where we won the meet. Overall, we had a lot of third-place medal winners. Gavin Sundberg was seeded fifth in the 400 and placed third (53.01). Every point counts, and that was proven today. We put more than two in each (distance) event and that's why we won.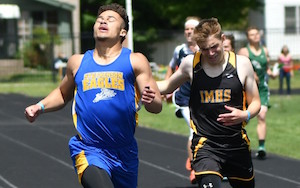 Beating Newberry in the Regional (May 18 at Manistique) was a big boost for us. Last year, we were runner-up in D-2 and Iron Mountain was runner-up in D-1. Surviving the Regional was key for us."
Iron Mountain's Michael Kulas won the 800 (2:09.14), helped the winning 1,600 (3:40.31) and 3,200 (8:44.88) and placed second in the 400 (51.57). Junior Charlie Gerhard added a first in the 300 hurdles (41.1) and second in the 110s (16.55).
Norway senior Inocencio Stankevich won the 110s (16.0) and was runner-up in the 300s (41.93), and Josh Boulden provided a first in discus (131-3).
Newberry swept the sprint relays, edging Ishpeming on a lean for first in the 400 (45.35) and taking the 800 (1:34.05) in what is believed to be a school record.
"We fixed Brandon's handoff," said Newberry senior Andre James, who anchored both relays. "He (Christensen) dropped the baton in the (Straits Area) conference meet, but he did it perfect today. The 4x1 was really close and in the 4x2 we won by more than we thought. We just have some fast kids on the team and had a lot of adrenalin on a big stage. It's exciting to be here. A lot of people turn out for this."
Stephenson junior Montel Glover was a triple winner, taking the 100 (11.36), 200 (22.98) and 400 (51.3).
PHOTOS: (Top) Ishpeming Gavin Sundberg leads off the 800-meter relay. (Middle) Stephenson's Montell Glover, left, outleans Iron Mountain's Michael Kulas in the 400. (Photos by Cara Kamps. Click for more at RunMichigan.com.)