Ishpeming, Norway Race to Shared Finals Fame
June 6, 2021
KINGSFORD — The Ishpeming boys are used to winning Upper Peninsula track & field championships.
They came into Saturday's U.P. Division 2 Finals as two-time reigning champs and had won five titles over six seasons prior to last year when all spring sports were cancelled due to COVID-19.
This time the Hematites and Norway shared the title with 95 points each. Third-place Iron Mountain had 85.
For Norway, this was its first championship since 2004.
"Not bad for us, especially with having just 10 boys," said Norway coach Al Trudeau. "At the beginning of the year we weren't expecting this. We had a great bunch of kids who worked hard. We had a great year."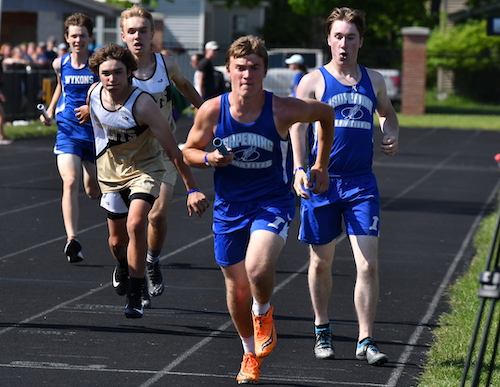 Norway junior Adam Cavaghetto, who returned midseason following a blood disorder, won the 800-meter run in two minutes, 5.06 seconds and the 1,600 (4:38.59).
Ishpeming's David Liimatta took the 400 (54.16) and placed second in the 800 (2:07.57) and 1,600 (4:41.42), and Silas Broberg was first in the 3,200 (10:50.91).
The Hematites also won the 1,600 relay (3:47.52) and 3,200 relay (9:25.34).
"We had a good day," said Ishpeming coach P.J. Pruett. "Overall, our kids did well."
Iron Mountain enjoyed much of its success in the sprints with senior Dante Basanese taking the 200 (23.84) and sweeping the speed relays.
"Our handoffs felt pretty good," said Basanese, who anchored the winning 800 relay. "We had four good sprinters who definitely ran real hard.
"Norway has a good team. We felt they were the team to beat."
The Mountaineers were clocked at 1:35.1 in the 800 relay with Norway the runner-up (1:37.99). They also took the 400 relay (45.05).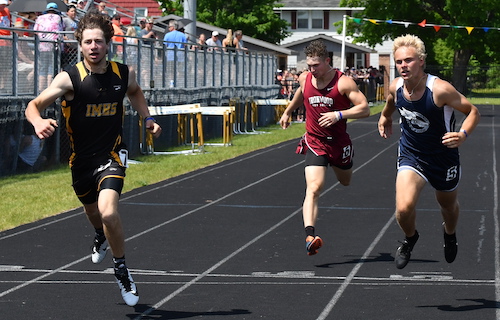 Iron Mountain won the Regional at West Iron, and Norway was crowned champion at Ishpeming.
St. Ignace got firsts from Christian Koiveniemi in the 100 (11.79), who edged Gwinn's Max Jayne by one hundredth of a second, and Trevor Visnaw in pole vault at nine feet. Basanese was third (11.82) in the 100.
Newberry's lone champion was Eric Edwards in shot put (40-4½), and David Duvall provided Gwinn with its only first in the 110 hurdles (17.81), followed by Norway's Wyatt Richter (17.9) and St. Ignace's Jackson Ingalls (17.93).
L'Anse had a double winner in Nathan Hochstein, who took high jump at 5-9 and long jump at 18-9½. Eli Ostermeyer added a first in discus (114-11) and a second in shot put (37-9¼).
West Iron's champion was Landon Sudelius in the 300 hurdles (43.58).
PHOTOS: (Top) Norway's Adam Cavaghetto travels the final stretch in winning the 1,600. (Middle) Ishpeming's Jordan Longtine hands off to Hunter Smith during the 3,200 relay. (Below) Iron Mountain's Dante Basanese wins the 200 with Norway's Jeffrey VanHolla taking second. (Photos by Cara Kamps. Click to see more at RunMichigan.com.)