Manistique Earns First Title Since 1960
June 2, 2013
KINGSFORD — John F. Kennedy was running for President and gasoline was selling for less than 30 cents a gallon when the Manistique boys last were crowned Upper Peninsula track champions.
The year was 1960, and the Emeralds earned their first Class A-B crown.
Manistique ended that drought Saturday by scoring 102 points to capture the Division 2 title. The Emeralds were followed by Ishpeming with 96 and West Iron County with 75.
The Emeralds held a 92-88 edge over Ishpeming heading into the 1,600 relay, which was delayed roughly an hour by a thunderstorm.
Manistique, however, placed an exclamation point at the end of its season by winning the day's final race. Ishpeming placed second and West Iron was third in the closing event.
"I was getting a little worried about having to come back and run after that long of a delay," said Emeralds' coach Mary Lou Lund. "But the guys found a way to get it done."
Manistique was trailing Ishpeming by approximately 20 yards when junior Ryan Ramey got the baton. He responded with a 48.2-second anchor leg, enabling the Emeralds to slip past the Hematites for the win.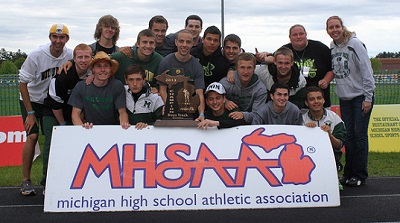 "It feels great to finally win this (U.P. Finals)," said Manistique senior Kenner Broullire, who led off the 1,600 relay. "Ishpeming definitely wanted to run, and we wanted to run. We didn't want the last race to get cancelled. We wanted to win this meet fair and square. Ryan had a lot of ground to make up, but nobody will ever doubt Ryan. He just finds another gear."
Ramey also won the 200-meter dash in 23.82 seconds, the 400 in a school-record 51.12 and anchored the winning 3,200 relay.
Ishpeming sophomore Nate Meyer, who beat Ramey in the 400 in the Mid-Peninsula Conference meet May 23 at Norway, was runner-up this time (51.68).
"I slipped out of the blocks in the 200," Ramey said. "I knew I had to find another gear in the first 100 and use the home stretch for my kick. I also knew I had to take Meyer early in the 400. I was more relaxed and got out of the blocks faster than in the M-PCs."
Broullire, who will run track at West Point next season, set the U.P. meet record in the 300 hurdles (39.35), topping the previous mark (41.0) by Munising's Lee Denman run in 2004.
Broullire also won the 100 (11.37), followed by West Iron's Tyler Stafford (11.43).
"I didn't get a great start in the 100, but decided to go for it in about the final 15 meters," Broullire said. "I was hoping to run in the 38s in the 300 hurdles, but you can't complain about a title. I'm excited about our team winning. Deep down I knew we had the potential to win it. This is a great way to end a high school career."
Ishpeming took the 400 relay in a U.P. meet record 45.16, topping the previous mark (45.35) by St. Ignace in 2008.
Newberry senior James Sutton set the high jump record (6-4), an inch higher than the previous record holder Rick St. Amour of Munising from 2001.
"I seem to jump better in the cold," said Sutton, who cleared 6-8 in the Straits Area Conference meet at Sault Ste. Marie on Tuesday. "I'm happy with the U.P. record, but I'm a little disappointed I didn't go higher. I like this track and its nice, soft surface. Some of the kids said they didn't like the pits, but I didn't have a problem with it."
Iron Mountain senior Dan Kulas was a double winner, taking the 1,600 (4:42.03) and 3,200 (10:15.4).
St. Ignace, which won D-2 the past three seasons, competed in D-3 this year.
PHOTOS: (Top) Manistique's Kenner Broullire carries the baton for his team during a relay Saturday. (Middle) The Emeralds pose with their first MHSAA boys track and field championship trophy since 1960. (Photos courtesy of Manistique High School.)