Marquette Caps Another Dominating Run as UPD1's Best
June 6, 2021
KINGSFORD — The Marquette boys have been the track & field frontrunners in the Upper Peninsula all season.
They also finished the season that way by scoring 140 points in the Upper Peninsula Division 1 Finals on Saturday at Kingsford. Gladstone – which had won the last Finals in 2019 – followed with 93 points, and third-place Kingsford had 65.
"Hats off to Kingsford for putting on such a fine meet," said Marquette coach Kyle Detmers. "We had some good performances and our seniors were good leaders. Kam Karp had a great day, and the Vanderschaaf brothers going 1-2 in the 1,600 was huge. Cullen Papin nearly won the 800, and Owen Beauchamp, Truman Langlois and Tyranon Dahlin had nice performances."
Temperatures hovered in the low 90s with a heat index of 99, which is believed to be the hottest U.P. Finals on record.
Sophomore Colin Vanderschaaf took the 1,600-meter run in four minutes, 31.82 seconds, edging his twin brother Carson by nine hundredths of a second.
Carson Vanderschaaf then won the 3,200 (10:24.93), and Papin was clocked at 2:01.41 in the 800, just behind Escanaba senior Derek Douglas (2:00.68).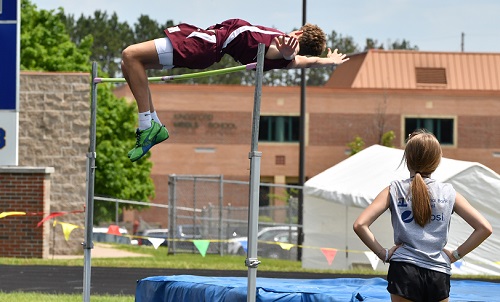 "It was great," said Carson Vanderschaaf said. "I was really happy with my 1,600. I took a more conservative approach because of the heat. The breeze helped a little on the home stretch, but it was still hot.
"I'm really excited for cross country this summer. With a summer full of training, I think I can improve."
Karp won the 200 (23.24) and was runner-up to Calumet's Dryden Nelson on a lean in the 100 (11.32) with Beauchamp third (11.44).
Nelson also took long jump at 20 feet, 6 inches with Dahlin runner-up (21-1½).
Lincoln Sager added a first for Marquette in the 400 (51.81), edging Houghton's Donovan Dueweke by nine hundredths of a second.
Douglas's effort on this hot and humid day was eight hundredths of a second better than his winning 800 time in Tuesday's Northern Michigan Meet of Champions at Gaylord.
"It was a challenge trying to stay cool," said Douglas, who will be running for St. Scholastica College in Duluth, Minn. next season. "I was sitting in front of a fan with icepacks on me, trying to stay cool.
"It feels great to get a U.P. Finals win. All the hard work I put in paid off."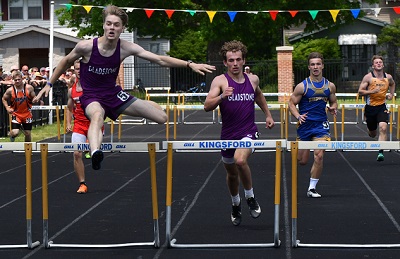 Menominee junior Brady Schultz set the UP Division 1 Finals record and tied the school record in high jump at 6-8, edging Gladstone senior Ethan Milan who matched his own school record at 6-6. Dahlin placed third (5-10).
"It's good to have that competition," said Schultz. "We really help each other out. I was happy to get the U.P. record and tie the school record. It really helps to clear 6-8. I was tired when we got to 6-9."
The previous UPD1 record (6-5) was set by Kingsford's Jake Richmond in 2004.
Milam previously cleared 6-6 in a triangular meet at Gladstone on May 11.
"My friend Lucas Hughes told me to keep saying to myself 'you're going to make it,'" said Milam. "I'm definitely pleased with my season. I set multiple records. Taking a year off (due to COVID-19) made a big difference. I had a chance to take a break. It was definitely refreshing to get track back this year."
Gladstone senior Blake Servant was a double champion, winning the discus (151-1) and 110 hurdles (15.53), while teammate Calvin Thibault edged Servant in the 300 hurdles (40.80).
PHOTOS: (Top) Marquette's Colin Vanderschaaf (right) out-strides twin brother Carson in the 1,600 Saturday at Kingsford. (Middle) Menominee's Brady Schultz wins the high jump with a UPD1 record 6-8. (Below) Gladstone's Calvin Thibault, left, edges teammate Blake Servant in the 300 hurdles. (Photos by Cara Kamps. Click to see more at RunMichigan.com.)