Rapid River Rises to Claim D3 Championship
June 5, 2016
KINGSFORD — Twelve years had passed since a Rapid River boys track and field team had been crowned Upper Peninsula champion.
The Rockets found a way to do that Saturday, however, as they edged Powers North Central 72-68 for the title. Third-place Newberry scored 48 points, followed by Felch North Dickinson with 47½ and two-time reigning champ Munising with 46.
Rapid River sealed the deal by placing second in the 3,200-meter relay in 3 minutes, 41.9 seconds. North Central won the day's final race at 3:38.04.
The Rockets also had to overcome some adversity after losing junior Austin Wicklund to a knee ligament injury.
"It's exciting to do this as a senior," said Dan Blair, who anchored that relay and was runner-up to Munising senior Brett Hannah in the 800 and 1,600. "We needed every point, and everybody gave his best effort. After losing Austin, we needed to put a new guy in the 1,600 relay and change our order. This is a great way to end my high school career.
"The (open) 800 and 1,600 could have gone better. Brett and I have been battling since junior high, and today he ran great."
This marked the fourth consecutive season Hannah won the 3,200 (10:42.7) and his third straight 1,600 championship (4:37.76). Hannah, who scratched from the 400, also retained his 800 title (2:02.12).
"With this being my senior year, I wanted to do the events I really enjoy," said Hannah. "They had me doing the 1,600 relay, so I compensated for scratching from the 400. I'm pretty happy about repeating in all three races. This became a real good day."
Blair was runner-up in the 800 (2:03.65) and 1,600 (4:42.08).
Sophomore Logan Hardwick provided the Rockets with a first in discus at 132 feet, two inches and North Central senior Brendan Gatien took shot put (46-11½).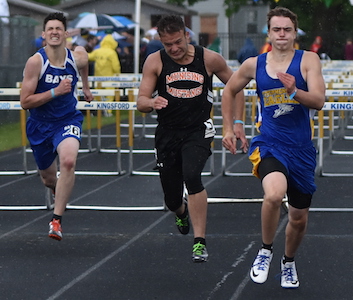 Senior Morgan Cox provided the Jets with a first in high jump (5-8) and anchored the winning 800 relay (1:36.9).
Big Bay de Noc junior Lucas Sundling won the 400 (52.07), followed by North Central senior Bryce Holle (53.8) and junior Tyler Bentley (55.39).
"My goal was to break 52, but it felt like I had no energy," said Sundling. "My body felt like it was ready for a break, but our coach (John Gores) doesn't let us miss practice. He does everything to make us better."
Newberry got its lone first in the 400 relay (46.68), and North Dickinson's Garrett O'Neil won the 110 hurdles (17.08) and 300s (42.75).
"For the most part, everything was cooking on all cylinders," said sophomore Andre James, who ran the second leg in Newberry's winning relay and placed fourth in the 100 (11.75). "We're really happy about winning that relay. The 100 was real fast. My start went pretty well, only I would have liked to have gotten a higher place. Overall, we did pretty well as a team."
Eben Junction Superior Central senior Greg Seppanen and Bark River-Harris junior Iver Stenberg hooked up in a pair of tight races. Seppanan won the 100 (11.4) by 12 hundredths of a second. Stenberg then took the 200 (23.23), squeezing past Seppanen by one hundredth of a second. Stephenson's Montel Glover was third in the 100 (11.74).
PHOTOS: (Top) Munising's Brett Hannah (far right), Wakefield-Marenisco's Sam Dean and Rapid River's Dan Blair race around a curve during the 1,600. (Middle) Stephenson's Trey Johnson (far right) wins the 110 hurdles. (Photos by Cara Kamps.)