4-Year QB Leads with What He's Learned
October 2, 2020
By Doug Donnelly
Special for Second Half 
BLISSFIELD – Gavin Ganun is like a seasoned veteran.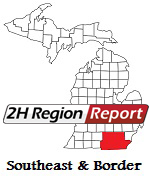 "I'm really confident now with everything I'm doing," said the Blissfield quarterback. "I've seen a lot of things happen. There's nothing that surprises me." 
Clinton's football team might have something to say about that tonight when it travels to Blissfield for a colossal Lenawee County Athletic Association clash.
But there's no denying that Ganun has seen just about everything by now. He's making his 37th career start at quarterback for Blissfield and is having a sensational season. 
"To me the game feels really slow now," Ganun said while preparing to face the 2-0 Clinton squad this week. "I have plenty of time to see everything. I can calm myself down in the pocket. Even if there is pressure, I don't feel it like I used to. I'm not worried about getting hit. I just stand back there, make the reads and find the open receiver." 
This year Ganun has had plenty of open receivers. He has great targets in wide receivers Zack Horky (6-foot-4) and Ty Wyman (6-6) and tight end Nick Ostas (6-2).  
"One of them gets open every play," Ganun said.  
Over the first two weeks of the season, Ganun threw for a combined 611 yards and 10 touchdowns – five scores to Horky and three to Wyman – as Blissfield piled up wins over Dundee and reigning LCAA champion Hillsdale.
Ganun has looked great behind a Royals offensive line that has five new starters – tackles Blaine Pifer and Scott Jackson, guards Luke Nofzinger and Ricky Eisenmann and center Henry Smith.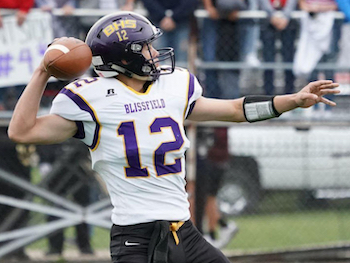 "It all starts with the line," Ganun said. "They have come so far. They worked really hard to get better. Their pass blocking has been amazing." 
Ganun has been the starting Blissfield quarterback since game one of his freshman year. He has led Blissfield into the playoffs three straight seasons. For his career, he enters tonight's game against Clinton with 4,953 passing yards and 56 passing touchdowns. 
Ganun was coached his first two seasons by Ryan Love, who is now coaching at Morenci. Ron Estes returned to the Royals' sideline last year and inherited Ganun as his QB. He couldn't be happier with his signal-caller. 
"There's no panic in him," Estes said. "He knows the offense inside and out. He knows what to do when things break down. He knows what to do and when to do it." 
Ganun said Estes gives him a lot of freedom to change the play at the line of scrimmage if he sees something when looking over the defense. 
"When I was a freshman, we weren't doing that," he said. "But, now, I'm fine to do that anytime. If the defense is running what we think they will run, I don't have to, but if they change things up, I can change things up." 
Ganun's audibles have resulted in a couple big plays this season. Horky has caught two touchdown passes in the first quarter of both games. 
"We have a good connection," he said. "We've played together so long that we know what each other is going to do before we do it. We'll just look at each other or say something really quick when we leave the huddle."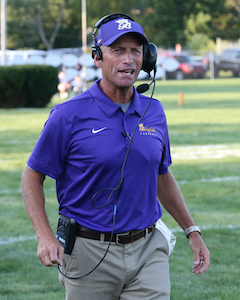 Clinton, which returned to the LCAA this season after just over a decade as a member of the Tri-County Conference, will be a stiff test for Blissfield. Clinton has been rolling during the first two weeks of the season, piling up more than 900 yards of offense – all on the ground. 
Clinton coach Jeremy Fielder has watched a lot of film of Ganun lately and is impressed. 
"He's always been pretty good," Fielder said. "You see it all with him. He's an outstanding quarterback." 
Ganun plays three sports for the Royals and has been on varsity for all his entire career. He committed to play college baseball at Bowling Green State University, which announced in the spring that it was dropping baseball before re-examining that decision a month or so later. He's happy he gets to play for the Falcons. 
"I'm super excited," he said. "I love that place. Everything about it is amazing." 
The Royals are trying to win their first LCAA championship since 2007, the same year Estes guided them to the Division 6 championship game before he stepped away – then returned – as head coach. Ganun knows Clinton stands in the way of that goal. 
"It's going to be very tough," he said. "They are very physical. Both teams know what the other team wants to do." 
He also knows the Royals are playing at a high level right now. 
"We have a great team bond," he said. "We have been clicking on all cylinders." 

Doug Donnelly has served as a sports and news reporter and city editor over 25 years, writing for the Daily Chief-Union in Upper Sandusky, Ohio from 1992-1995, the Monroe Evening News from 1995-2012 and the Adrian Daily Telegram since 2013. He's also written a book on high school basketball in Monroe County and compiles record books for various schools in southeast Michigan. E-mail him at DougDonnelly@hotmail.com with story ideas for Jackson, Washtenaw, Hillsdale, Lenawee and Monroe counties.
PHOTOS: (Top) Blissfield quarterback Gavin Ganun prepares to take on an Ottawa Lake Whiteford defender during the 2019 season. (Middle) Ganun winds up to pass, also last season. (Below) Ron Estes returned as Blissfield coach in 2019. (Photos by Mike Dickie.)