'Battle for the Bell' Rings for 110th Tilt
October 5, 2016
By Tom Kendra
Special for Second Half
The Whitehall vs. Montague football game actually begins on Thursday night far away from any football field, with a huge crowd from each town, bands, cheerleaders, players, coaches and school officials.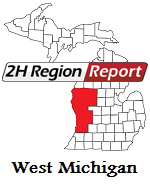 For the coin toss.
In a scene reminiscent of a Revolutionary War battle, the aforementioned delegations marched toward each other on the evening of Thursday, Sept. 22, and met – Whitehall in red and Montague in blue – on the bridge over the White River, which separates the two northern Muskegon County towns.
No shots were fired or punches thrown, but simply a coin was tossed high in the air by veteran MHSAA official Chuck Hulce (who, by the way, coached Montague from 1969 to 1977 and then Whitehall from 1979 to 1981) and the 110th edition of the "The Battle for the Bell" was underway.
"This is something I've been dreaming about my whole life – playing Whitehall, the cross-town rival where I know everyone, my senior year," said Montague senior wide receiver Josh Weesies. "It's huge for me. We've been grinding all summer just thinking about this game."
Montague, with a population of 2,361 and covering 3.27 square miles, boasts the World's Largest Working Weathervane and 1961 Miss America Nancy Fleming – and boasted a 59-48-2 edge in the all-time series over Whitehall heading into this year's game.
Whitehall, with a population of 2,706 and covering 3.79 square miles, counters with the historic Howmet Playhouse and 11-year Major League Baseball player and Gold Glove winner Nate McLouth, who quarterbacked the Vikings to back-to-back wins in the series in 1998 and 1999.
The game has always been about bragging rights, but this year's clash was much more. For the first time since 1985, both teams came into the game undefeated and both were state-ranked.  Whitehall was 4-0 and ranked eighth in the Associated Press Division 4 poll, while Montague was also 4-0 and ranked sixth in Division 5.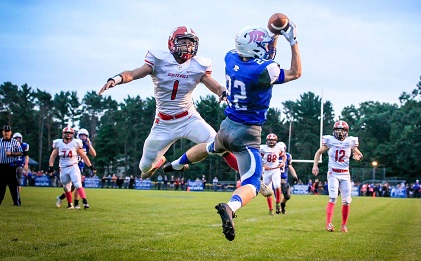 The pre-game festivities on Sept. 22 were all about White Lake area unity as the two communities came together for a "Pink Out" event to raise money for St. Jude's Hospital and the fight against cancer – and  the marching bands even performed together on the field before the game.
Then it was time to take sides.
"This rivalry is very special for me," said Whitehall senior quarterback Casey Huizenga. "I know all the Montague kids. We're friends, but during this game we're going all out."
Huizenga and Whitehall actually struck first in the game, which was played on a perfect early fall night in front of 5,000 fans at Montague.
Whitehall junior Tylor Russell returned the opening kickoff deep into Montague territory, setting up a 1-yard plunge by Huizenga for a quick 6-0 Vikings' lead.
But it didn't take long for Montague's myriad offensive weapons to come out. On the ensuing possession, Montague senior quarterback Dylan Stever (good friends with Huizenga, incidentally) connected with junior Jake Jancek on a 16-yard touchdown pass to tie the score.
Jancek was the first of six Wildcats to score touchdowns in the game, which featured 40 points in the first quarter alone, with Montague holding a 27-13 edge. Also scoring for the Wildcats were junior Eddie Caviedes, sophomore Bryce Stark, Weesies, sophomore Kenyon Johnston and Stever.
The difference in the game was Montague's defense completely shutting down the Whitehall offense after the first quarter.
Whitehall's only score after the first 12 minutes was a 90-yard interception return by junior Justin Brown in the fourth quarter, which completed the scoring in a decisive 41-20 Montague victory. The night ended with fans heading for their cars and the Wildcats ringing the red, white and blue victory bell for the ninth time in the last 11 years.
"It's fun to be here with the whole community at one game," said 13th-year Montague coach Pat Collins, who played quarterback and led the Wildcats to the 1992 Class CC championship game at the Pontiac Silverdome, where they lost to Detroit dePorres, 12-7. "It's a real special moment every year up here."
Collins has turned Montague into a state football powerhouse, as it's made the MHSAA Playoffs in 11 of his first 12 seasons as head coach. What is more impressive is what his teams have done once they get there. Montague made it at least to the third round of the playoffs eight straight years from 2004 to 2011, at least to the Semifinals five straight years from 2005 to 2009 and won back-to-back Division 6 championships in 2008 and 2009.
Montague (5-1), which was upset by North Muskegon in the rain on Sept. 30, is heavily favored at Hart this week, which would set up a showdown at Muskegon Oakridge (5-1) on Oct. 14 for the West Michigan Conference title. For the playoffs, Montague's enrollment has increased to 414 and the Wildcats are now considered a "bubble team" which could end up in either Division 5 or Division 6.
Whitehall (4-2), a larger school with 654 students, could clinch its third-straight Division 4 playoff berth with two wins over its final three games, starting with this week's showdown at Ravenna (4-2).
While Montague has been a model of stability with just two head football coaches during the past 31 years (Ken Diamond from 1986 to 2003 and Collins from 2004 to present), Whitehall has been just the opposite.
The Vikings have had five different head coaches since 2002, but it appears they have found their man in Dewitt native Tony Sigmon, who has a 19-9 record over the past three seasons after a 1-8 start in his first season in 2013.
For Sigmon, the first step to competing for West Michigan Conference titles and MHSAA playoff victories is being able to consistently go toe-to-toe with rival Montague.
"This game, this rivalry is what high school football is all about," Sigmon said. "It's a game that has become a huge community event, and it drives both teams to keep getting better."

Tom Kendra worked 23 years at The Muskegon Chronicle, including five as assistant sports editor and the final six as sports editor through 2011. E-mail him at kendra.tom@gmail.com with story ideas for Muskegon, Oceana, Mason, Lake, Oceola, Mecosta and Newaygo counties.
PHOTOS: (Top) Montague players gather to ring the trophy bell after Montague defeated Whitehall, 41-20, in the "The Battle for the Bell." (Middle) Montague junior Jake Jancek elevates to grab this 16-yard touchdown pass from Dylan Stever in the first quarter, while Whitehall's JoJo Dowdell defends. (Below) The Whitehall and Montague bands performed together before the big game between the two northern Muskegon County schools. (Photos by Tim Reilly.)