Big Plays, Crucial Stops Drive Lansing Catholic to Latest Finals Fame
DETROIT – The Lansing Catholic defense spent the postseason nearing its peak performance. 
In Friday's MHSAA Division 6 Football Final, the Cougars reached it. 
They forced five turnovers and shut down a powerful Warren Michigan Collegiate run game on their way to a 16-6 victory at Ford Field. 
"Our defense is just something special. It's a true brotherhood," Lansing Catholic senior linebacker Mason Knippen said. "We just really started clicking as the playoffs started. Going into the season, we wanted to be a physical defense. We preached that through camp, and I think we really stepped that up as we progressed through the playoffs. We really were physical with the run and everything." 
The title was the third for Lansing Catholic (13-1), and second in three years, as it won Division 5 in 2019.
"It's awful special, but credit (former coach) Jim Ahern for bringing in this system, and credit these guys – these guys are all like my sons," said first-year Lansing Catholic coach Jim Baker, whose son Joey was the team's starting quarterback. "I've coached them since basically kindergarten, and they're all my sons. It's just that (Joey) happened to be the quarterback, but I love all these guys to death. It's special just to be the head coach of these unbelievable men." 
To win title No. 3, Lansing Catholic needed to hold off a suddenly explosive Michigan Collegiate passing game in the fourth quarter, and it did so with big plays of its own. Four of the final five Michigan Collegiate drives ended with a turnover, as Brandon Lewis, Dan Shipman and Knippen each had an interception, and Jack Jacobs forced and recovered a fumble. Knippen's interception sealed the victory with 1:36 remaining in the game.
Lansing Catholic gave up only 40 points, or eight per game, during its playoff run.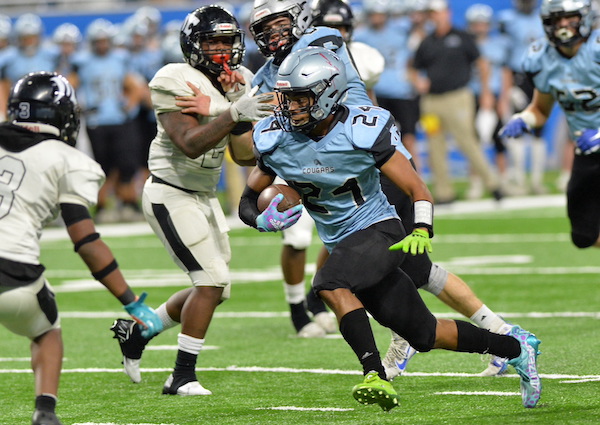 Neither team could get much going for much of the first half, and for Lansing Catholic that meant some great field position going to waste. Lansing Catholic started four of its first five drives in Collegiate territory, but didn't get on the board until Jonah Richards hit a 20-yard field goal with 4:58 to play in the second quarter. 
"I'm so proud of (the defense). They played so hard," Michigan Collegiate coach John Guth said. "They were out there a long time. We were trying to give certain individuals some breathers, but they were just really grinding it out. They knew what they had in front of them, they knew how explosive they were, but, man, they played so good. They kept us in the game." 
The offense started clicking for Lansing Catholic on its next possession, as it drove 72 yards on eight plays in just 1:18 to take a 9-0 halftime lead, scoring on a 10-yard pass from Joey Baker to Owen Biergans. 
Michigan Collegiate (11-3) had a much tougher time of it, recording two first downs and 53 yards of offense in the first half despite holding a slight edge in time of possession. 
Lansing Catholic extended its lead to 16-0 late in the third quarter on a one-yard touchdown run from Baker, and it was the defense that had a big hand in that one, as well. The drive started on the Michigan Collegiate 27-yard line after an interception and return by Shipman. 
Based on the tenor of the game up until then, 16 points seemed like enough, but the Michigan Collegiate offense found some life on the ensuing drive thanks to some big plays in the pass game. That included a 37-yard touchdown pass from Deion Black to Trevon Redding in which Redding caught the ball between a pair of Lansing Catholic defenders, and lunged into the end zone with one on his back. The two-point attempt failed, leaving it a two-score game at 16-6, but the 80-yard drive more than doubled the Michigan Collegiate total yardage up to that point.  
Black finished with 220 yards on 10 of 26 passing. Redding led the receivers with four catches for 97 yards. Alfonso Gray III had a pair of interceptions for the Michigan Collegiate defense, while Black, Elijah Bush and Teshawn Thomas each had nine tackles. 
Biergans led the Lansing Catholic defense with 11, while Knippen had eight. Baker finished with 181 yards on 17 of 39 passing. Senior Alex Watters caught six passes for 78 yards, and Biergans caught seven for 69.
PHOTOS (Top) Lansing Catholic celebrates its second championship in three seasons Friday at Ford Field. (Middle) The Cougars' Brandon Lewis (24) cuts upfield as Michigan Collegiate's Alfonso Gray III (3) gets in position to make contact. (Photos by Hockey Weekly Action Photos.)