Cass Tech Comes Back, Leaves as Champ
November 26, 2016
DETROIT – Mission accomplished.
Shortly after Nov. 28 of last year, the momentum toward an MHSAA championship began at Detroit Cass Tech. The Technicians had just lost to Romeo, 41-27, in the Division 1 Final, and the work began in the weight room for a return trip to Ford Field with the mindset that there would be a different outcome.
Rodney Hall, who did not play in the Semifinal and Final last season after suffering a severe left ankle sprain in a Regional Final, threw five touchdown passes to lead the Technicians to 49-20 victory over Detroit Catholic Central in the Division 1 championship game Saturday at Ford Field.
Donovan Peoples-Jones was a junior and starting receiver on the team that lost to Romeo, and he said the focus on this season began almost immediately.
"When you fall down you have to get back up," he said. "As soon as we lost, we were heartbroken. You always come into a season wanting to win a state championship. Now that we won it, it's a dream come true."
Coupled with Detroit Martin Luther King's victory in the Division 2 Final on Friday, Cass Tech's victory marks the first time two teams from the Detroit Public School League have won MHSAA titles in the same season. Cass Tech and King each have won three championships.
The Technicians also finished their first undefeated season 14-0.
An injury also added drama to this year's title game. Austin Brown, DCC's sophomore quarterback, suffered a broken leg in last week's Semifinal and was on the sideline in a wheelchair.
It's unlikely that with Brown the outcome would have been different. Cass Tech played that well.
Hall was 10 of 18 passing for 220 yards, with one interception to go with the five scoring passes – which tied the MHSAA Finals record held by three others. Peoples-Jones had six receptions for 118 yards and two touchdowns. Cass Tech rushed for 163 yards on 22 carries and did not punt. Hall gained 58 of those yards, on seven carries.
"I'm just excited to play out here," Hall said. "It's great to go out, throw five touchdowns. It was fun to play in this game.
"I came in (this season) a little timid to run. My coaches got behind and gave me confidence. I was able to run in the first game, but I was still timid."
Cass Tech trailed 14-7 before Hall and the offense began to click.
He had a big hand in the Technicians' second touchdown. His 7-yard run gave Cass Tech a first down at the DCC 46. On a 3rd-and-15, Hall scrambled for 27 yards, and then three plays later he threw a 20-yard touchdown pass to Teone Allen to tie the score at 14-14 with 5:33 left in the half.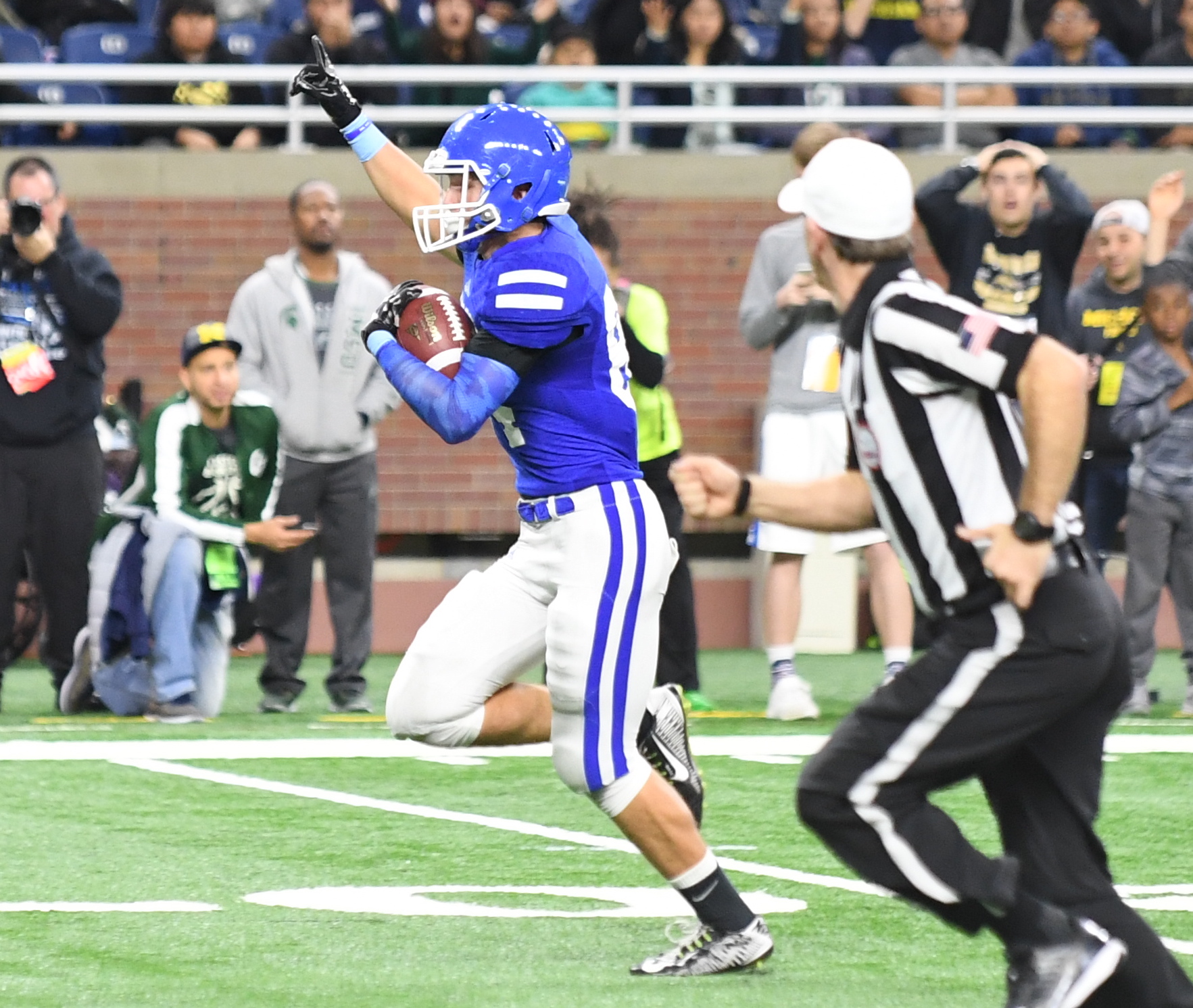 Less than a minute later, after a DCC punt, Donovan Johnson broke free on a counter play to the left. A number of Shamrocks defenders appeared to have an angle on Johnson, but he ran untouched for a 60-yard score.
"It meant a lot to the team," Johnson said of the run. "It was a little hole there. I knew it was going to be open on the outside."
Cass Tech led 21-14 at halftime and outgained DCC 211 yards to 108 by that point.
DCC was unsuccessful on an onside kick attempt to open the second half, and on the second play Hall threw a 42-yard touchdown pass to Donovan Parker for a 28-14 lead.
Cass Tech scored touchdowns on its next two possessions to blow the game open.
"We planned that during the week," DCC coach Tom Mach said of the onside kick. "We thought that was a good opportunity.
"We got it put to us pretty good today."
DCC was making a record 17th appearance in the MHSAA Finals, after sharing the previous record of 16 with Farmington Hills Harrison.
It took the Shamrocks five seconds to score their two touchdowns. They went 73 yards in 15 plays to tie the score at 7-7 on Isaac Darkangelo's 1-yard run. On the next play, the last of the first quarter, Jack Morris returned an interception 35 yards for a touchdown, and the Shamrocks led 14-7. Cass Tech then scored the next 42 points.
"We just stay focused," Cass Tech coach Thomas Wilcher said. "Everyone just stayed engaged. We knew we had to pass. We had to take advantage of what we had."
This season, Cass Tech had a lot. Peoples-Jones is rated as the state's top college prospect. Hall committed to Northern Illinois. Jaylen Kelly-Powell has committed to Michigan, and Johnson will take an official visit to Penn State next weekend and said he will make his decision soon between Penn State and Virginia Tech.  
Nick Capatina led DCC (13-1) with 85 yards rushing on 12 carries.
The MHSAA Football Finals are sponsored by the Michigan National Guard.   
PHOTOS: (Top) Detroit Cass Tech quarterback Rodney Hall eludes a Detroit Catholic Central defender during Saturday's Division 1 Final. (Middle) DCC's Jack Morris sprints toward the end zone for a first-half score.