Challenges Conquered, Resilient P-W Raises Title Trophy Again
DETROIT – The 11 on the field for Pewamo-Westphalia's football team may have looked different at any given time this season because of mounting injuries, but no worries for the Pirates.
They just kept playing. Consequently, they continue to add MHSAA Finals hardware to the trophy case.
In a defensive battle of unbeatens and mirror images, senior Dak Ewalt's 35-yard touchdown burst with 5:50 remaining lifted perennial power P-W to a 14-10 victory over first-time Finals qualifier Lawton in the MHSAA Division 7 title game Saturday at Ford Field. It was the fourth title in six years for the Pirates.
"Just the resiliency that this group had. There were so many times this year when we could have broke, but they just seemed to get stronger," said P-W coach Jeremy Miller, who improved to 105-9 in nine seasons at the helm.
"I can't really explain it, but it just makes you proud as a coach to see them get through that."
P-W capped its third 14-0 season in six years. The Pirates added to their trophy case, which already features awards from 2016, 2017 and 2019 championships, plus runner-up finishes in 2011 and 2015.
It definitely wasn't easy this season, however. A number of key players missed significant time with injuries. For example, Ewalt was sidelined by a broken arm at the start of the season and missed last week's 28-21 Semifinal victory over Traverse City St. Francis because of a concussion.
When the speedy 5-foot-9, 180-pound Ewalt got the call Saturday, he was ready. 
After Lawton (13-1) took a 10-7 lead in the hard-fought game on senior Ethan O'Donnell's 43-yard field goal with 10:06 left – the fifth-longest field goal in 11-Player Finals history – Ewalt and the Pirates answered. He took a dive handoff and sprinted untouched for what proved to be the winning TD.
"It meant a lot, coming here together, duking it out with a really good team over there," said Ewalt, who finished with a game-high 61 yards on eight carries. "Just a really heart-felt moment – couldn't believe it."
Lawton coach Wade Waldrup, who is 30-4 in four seasons, shouldered the blame for having the Blue Devils in the wrong defensive scheme on P-W's game-winning TD.
Miller believed that eventually P-W would find a crease, and the Pirates did.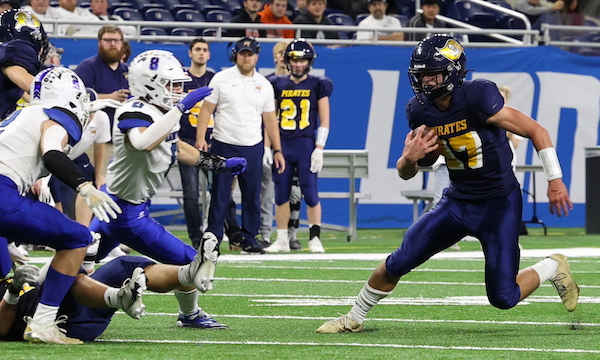 "I know for a while it looked like we were just banging into a brick wall, but they were bringing so many guys, we thought if we could find that crease, then he'd be gone," Miller said. "Dax's a tremendous runner. This guy's put in a ton of work in the weight room, and I'm so happy to see him break to that next level because I knew once he got there, he was gone."
It took a while for Lawton to gets its footing in the game. The Blue Devils exhibited some early jitters. 
They fumbled on the game's first play from scrimmage. Three plays later, P-W senior quarterback Cam Cook scored on a 3-yard keeper around right end to stake the Pirates to a 7-0 lead less than two minutes into the contest. 
P-W stayed in attack mode, as the Pirates recovered an onside kick. They drove into the red zone, but Lawton's defense tightened and the Blue Devils settled into the flow of the game.
It was a brand-new game with 1:13 left in the half, when Lawton senior QB Landon Motter hit junior Luke Leighton on a 41-yard strike down the sideline to knot the score at 7.
"You watched the game, it took us about 5 seconds to get over it," Waldrup said. "We had the long pass (34 yards from P-W's Cook to Brock Thelen, setting up Cook's TD) and we had the fumble, and that was it. From that point on, I would say (that) Pewamo would say we played them even except for one play at the end of the game."
P-W finished with a 240-204 edge in total offense, including a 139-86 advantage in rushing yards. Seniors Ashtin Wirth (fumble recovery) and Landon Nurenberg led the Pirates defense with eight tackles apiece.
Lawton senior all-stater Jake Rueff, who entered with a state-leading 49 total TDs (46 rushing), managed only 50 yards on 16 carries. He closed his spectacular season with 2,367 yards on the ground.
Motter finished the game 8-of-17 passing for 118 yards with one interception. Senior Drew Stephayn paced Lawton's defense with a game-high 10 stops, while junior Carter Cosby had nine tackles and a pick.
Lawton's run to Ford Field was a long time in the making. Seven seniors had started on the varsity team since their sophomore seasons. The Blue Devils put their small southwestern Michigan town on the map and captivated the community.
"It's legendary. I mean, Lawton's never seen anything like it," Motter said with red eyes during the postgame press conference. "We haven't even won a District title before this year, and then we won a District and then we went on to win a Regional and a Semifinal, and here we are."
And here are the Pirates – hoisting another state-title trophy.
There were plenty of challenges for P-W, which was saddled by injuries all season long. In the third game, senior back Tanner Wirth – an all-stater as a sophomore – was lost to injury. In consecutive weeks, Cook and Thelen were injured. Connor Pohl and Cade Stump also suffered injuries. 
Miller noted that many of his team's injuries happened in freakish ways.
"It's a next-man-up thing. These guys all train, and they've all got to be ready – they know that," Miller said. "Being a small school, you know, if somebody goes out, we're not really deep. They just do a great job being ready."
Cook suffered a knee injury in Week 5 that he thought might cost him the season. He returned in last week's victory over St. Francis and split reps with junior Troy Wertman.
For the Cook and Pirates, it was all about being ready when your number is called. On Saturday, Cook scored the game's first TD, and he kept the Blue Devils defense honest by going 6-of-15 passing for 101 yards with one pick.
"Just going down with an injury, it was really hard for me in my senior year," Cook said, "and to fight back, rehab back into this position, it's just amazing to come out like this."
PHOTO (Top) Pewamo-Westphalia's Dak Ewalt celebrates his fourth-quarter score that proved the game winner Saturday. (Middle) The Pirates' Troy Wertman (17) looks to elude Lawton's Kallon Motter (8) and Carter Cosby (2). (Photos by Hockey Weekly Action Photos.)