Coach Comes Home to Lead Central's Rise
September 27, 2017
DETROIT – Thirty-three years ago, Lynn Sanders graduated from Detroit Central. And before he left, he made a promise.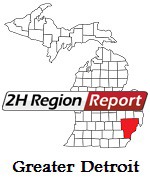 Last year, Sanders showed he is a man of his word.
Sanders, 51, is in his second season as the head football coach at Central. Once a proud program under legendary coach Woody Thomas (who died in 2002), the program had wavered a bit. Coaches like Michael Thornhill, who took over for Thomas in 2002, Eric Smith, Robert Hunt and others have had some success. But stability within the program, especially in recent years, had been missing.
Many of the high school-age students in the neighborhood were attending schools elsewhere in the city. Now-closed Detroit Allen Academy, a charter school near Central, was one alternative. Open enrollment throughout the school district also allowed students to attend any school in Detroit, and many were taking advantage of the opportunity.
Since Sanders' arrival, and because of his standing in the community, many of those in the neighborhood have decided to remain. Sanders and his staff have been able to make the Trailblazers relevant again, and there's a renewed respect for the program. Central is 4-1 and 2-1 in the Detroit Public School League Black division and faces Detroit Pershing (1-4, 0-3) this week before taking on Detroit Martin Luther King (4-1, 3-0), one of the state's elite programs, on Oct. 6.
"When I was 18, I told Coach Thomas I would replace him," Sanders said. "It took a while."
The rewards have come quickly.
Last fall in Sanders' debut, and for the second time in school history, the Trailblazers won two playoff games in a season and finished 7-5. And they led Millington 20-0 in a Division 6 Regional Final before falling 22-20.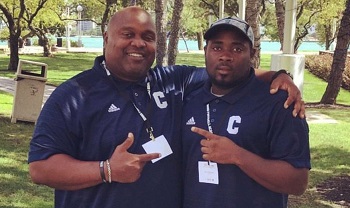 There had been success in the recent past. Central tied a school record for victories in a season with a 9-3 finish in 2010. In 2012, the Trailblazers began a run of making the playoffs in three of the next five years, each time finishing 6-4 – although the playoff appearances in 2014 and 2015 ended quickly as Central lost first-round games by a combined score of 107-14.
The Trailblazers took a sizable next step led by someone taking his first at the high school level. Sanders had never been a head coach, but he brought a long list of credentials while working with youth football. A 27-year veteran with the Michigan State Police, Sanders spent 10 years as the president of the Southfield Ravens, a Pop Warner program for players aged 8-11. He spent three years as a league commissioner within Pop Warner in southeastern Michigan. For two years he was a regional commissioner for American Youth Football (AYF).
Before getting the Central job, Sanders worked under coach Keith Stephens at Oak Park and then with Stephens at Southfield-Lathrup as his offensive coordinator.
Then there was a knock on the door of opportunity.
"I got a call from David Oclander, who was the (Central) principal then," Sanders said. "We met and he told me what he was looking for. He knew of me, knew I was a Central grad, and he told me he wanted to turn things around.
"When I got here the team GPA was 1.9. The first day I called a meeting. I had all of the guys who wanted to play be there. When I gave that speech, I could tell they weren't really happy. I was their third coach in three years, and I think they felt betrayed. They weren't really interested. A number of them were looking at their phones, not paying attention. I told them here are my rules, my expectations and if you don't like it you can leave. About half of them did. Fifteen stayed."
It didn't take long for Sanders to build upon those numbers. His association with Pop Warner and coaches in the area helped spread the word that expectations would rise.
In the meantime, Allen Academy closed following the 2015-16 school year and many of those students went to Central – including some athletes who had played on a Wildcats team that finished 5-4 in 2015.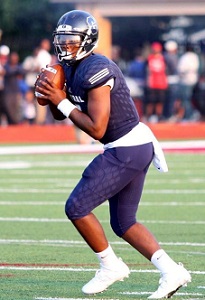 Central didn't have a freshmen or junior varsity team, but Sanders was able to gather 36 for the varsity. He has 32 this season.
"When I took the job I got phone calls from all over the place," he said. "Coaches, former players, they all wanted to help. They'd do anything for me. I was well-respected, and the kids started to come. Instead of taking buses out of the neighborhood and going elsewhere, they stayed home. And they were good kids. I set some high expectations. Those that didn't want to follow got shipped out."
Sanders and Oclander saw eye-to-eye on many issues. The main objective was to instill discipline, and both came from a background where discipline was paramount: Sanders with the state police, Oclander as a retired lieutenant colonel in the U.S. Army.
Sanders looked to improve the quality of coaching his players were to receive in two ways. The first came during the offseason. He knew his players didn't have the finances to go to camps, even if they were close by at places like Wayne State University. Instead, Sanders brought the college coaches to Central. Staffs from Northwood University, Eastern Michigan and Wayne State all came to Central to conduct a camp.
"That had never been done before at Central," Sanders said.
The second was to convince coaches in the area that Central was the place to be. Eighteen said yes. Do the math: That's more than one coach for every two players. It's safe to say that's a unique situation – and has led to an almost unheard of type of mentoring process.
And the players are reaping the results. Eight players from last year's team are playing college football. Five players from this year's team have made verbal commitments to a college or university, including El Julian Jordan. Jordan, a 6-foot-2, 220-pound quarterback who played his first two years of high school football at King, has accepted a scholarship to Western Michigan.
It was a big change for Jordan to go from a program like King, with 1,400 students, to Central where the enrollment is 370.
"It was a tough transition," he said. "The kids in school were different. This school is so small, but I like it that way. I can focus more on my grades and such.
"I look up to (Sanders). He's molded me into a leader. I lead by example. My first impression of Coach was a positive one, and that's good."
Jordan has had a fine season to this point, completing 56 of 95 attempts for 1,239 yards, 13 touchdowns and with no interceptions. He's scored three rushing touchdowns.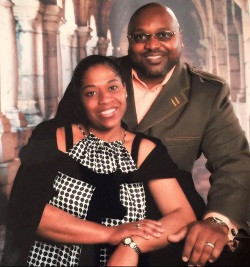 "He's a special kid," Sanders said. "I don't think anyone has put him in the position of being a leader before. After time, he knew he could trust me. He's a phenomenal athlete. He's a quiet kid until you get to know him. As we made our run in the (playoffs), the different (officiating) crews would watch him warm up. He can throw the ball 70 yards. And they couldn't wait to see him in action."
Other top players include a bevy of receivers including Jerodd Vines, TaQuan Snead and Brandon Cooper.
Central returned all five offensive linemen from a season ago including Jamauri'a Carter (5-10, 305). Carter, Snead and Jordan all played on the Eastside Raiders in the Police Athletic League (PAL) before high school.
Sanders' stay at Central could be a brief one. He and wife, Kathy, who were high school sweethearts, have four children including three sons. One, Londale Sanders, is a junior linebacker at University of Arkansas-Pine Bluff. They recently returned on Sunday after watching their son play in last Saturday's 34-27 overtime victory at Jackson State.
Another son, Lance Sanders, is one of the offensive line coaches at Central.  
"I don't know how long I'll do it," Lynn Sanders said. "I wanted to turn things around. I don't know how long I'll be here. I told my wife three years, tops, and see what happens. At least Central is back where parents, the people in the neighborhood are coming back. The kids are getting better. The test will be against King."

Tom Markowski is a columnist and directs website coverage for the State Champs! Sports Network. He previously covered primarily high school sports for the The Detroit News from 1984-2014, focusing on the Detroit area and contributing to statewide coverage of football and basketball. Contact him at tmarkowski@statechampsnetwork.com with story ideas for Oakland, Macomb and Wayne counties.
PHOTOS: (Top) Detroit Central quarterback El Julian Jordan warms up before a game. (Middle top) Lynn Sanders, left, and offensive coordinator Kevin Rogers. (Middle below) Jordan surveys the field looking for a receiver. (Below) Sanders and wife Kathy. (Photos courtesy of Lynn Sanders and Detroit Central football.)