'Gamer' Helps Shores Gut Out 1st Finals Win
November 29, 2019
DETROIT – Brady Rose walked into Ford Field on Friday carrying the backup quarterback tag. 
After a performance that showed he was a backup in name only, the Muskegon Mona Shores junior walked out with the Division 2 Football championship. 
Rose, who was starting in place of injured all-stater Caden Broersma, accounted for 212 total yards and four touchdowns as he led the Sailors to their first Finals title with a 35-26 win over Detroit Martin Luther King.  
"He looked like an athlete," King coach Ty Spencer said when asked if Rose looked like a backup. "He looked like a very good athlete that just helped his team win a state championship." 
A year after coming up one win short of the program's first title, Mona Shores (12-2) pulled off what most considered to be an upset against a King team that featured three Division I college committed recruits and several other players who hold Division I and II offers. Not only were the Sailors without Broersma, but they had to replace nine defensive starters from a year ago. 
They suffered a 53-0 loss in Week 8 to Division 3 finalist Muskegon and played two of their first three playoff games on the road. In the Semifinal victory over Walled Lake Western, Broersma injured his back on the first series, and the Sailors used a 2-point conversion in the final minute to pick up the win.
"People go back to our whoopin' (against) Muskegon … I know it sounds crazy, but that was one of the best things that happened to us," Mona Shores coach Matt Koziak said. "It obviously humbled us, made us dig a little deeper and understand that we might not be as good as we think we are without doing the little things. I understand that we were picked to lose, and we probably should have been picked to lose. But I told them after last game, I would never bet against them in anything – in life. They just find a way." 
There was no comeback needed Friday, as the Sailors not only never trailed, but were never tied after taking a 7-0 lead on their first drive. But they were certainly pushed, and responded with an 8-minute, 40-second drive in the fourth quarter that put the game away. 
After King's Peny Boone scored on a 66-yard run with 10:45 remaining, the Crusaders unsuccessfully went for two to try to tie the game at 28. 
Mona Shores responded with a 14-play, 72-yard drive that was capped off by a two-yard touchdown run by Rose, his third of the game. The Sailors converted two third downs and a crucial 4th-and-1 at the King 12 to keep the drive alive and essentially put the game away. 
"That last drive was 8:40, almost a 9-minute drive, when things weren't going our way," Koziak said. "King just kind of came out and was kind of like, 'Bam. Bam.' Kind of punched us in the mouth. (Rose) just didn't get rattled by it. It's almost like he's playing on a middle school field; he doesn't get caught up in the moment."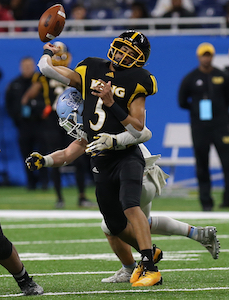 Rose was 8-of-11 passing for 122 yards and a touchdown and added 90 yards on 21 rushes.  
"Coach has confidence in me being the backup quarterback, so he just did the same thing as we would be doing if Caden was quarterback," Rose said. "We just chipped away – 3rd-and-1, first down. 3rd-and-1, first down. We just chipped the clock away." 
Broersma also had confidence that his teammate could get the job done. 
"I've said before that Brady Rose is just a gamer," Broersma said. "You can put him in any situation and he'll handle it better than probably 90 percent of this Earth. There's really no question having him play quarterback. There's total belief in him, there's total belief in every play call and the coaching he gets. I'm super happy to see him succeed." 
Broersma's No. 4 did make its way onto the field, and made quite an impact, as teammate Kolbe Trovinger wore it and finished with seven tackles and the game-sealing interception with 36 seconds play. 
The two interceptions and a fourth-down stop ultimately made the difference, as they were the stops the Crusaders were unable to get on the other side of the ball. 
Also, it was the first time since 1993 and second time in Finals history that neither team punted.
"Really it just came down to getting the big stop," Spencer said. "We had one of them, but then we turned the ball over on that drive. We had to get that big stop and make a play and I think it would have turned our way, but we didn't." 
The Mona Shores offense was nearly unstoppable in the first half, scoring on all three of its drives. Rose had a pair of one-yard scores, while Tre'Shawn Hatcher – who rushed for 95 yards on the day – added an 18-yard touchdown. The Sailors rushed for 130 yards on 23 carries in the half and added just enough passing – Rose was 5-of-7 for 64 yards during the first two quarters – to keep King honest.  
King's balanced offensive attack kept it in the game. Justin Whyte scored on a 42-yard screen pass from Dante Moore on the Crusaders' second drive, and Boone added a one-yard touchdown run in the final seconds of the first half. A missed extra point and failed 2-point conversion kept King two scores back at halftime, but the offense did manage 200 total yards – 81 on the ground and 119 from Moore's arm – during the opening 24 minutes.  
Even on its first possession King managed to get to the Mona Shores 24-yard line, but a Cam Sobich sack on fourth down ended the threat. 
The King offense stayed hot to open the third quarter, marching 73 yards in five plays, and pulling within one of the Sailors following a nine-yard Boone touchdown run and 2-point conversion pass from Moore to Marshawn Lee. 
A big fourth-down stop at its own 14 gave King momentum and the opportunity to take the lead, but Rose stepped up near midfield, intercepting Moore. Seven plays later, Rose hit Jaylen Hopson for a 17-yard touchdown on fourth down. The point after put the Sailors back up eight at 28-20 with 16 seconds remaining in the third quarter. Hopson finished with five catches for 103 yards. 
Boone, who has committed to Maryland, finished with 198 yards rushing, while Moore was 15-of-29 for 209 yards. Joe Frazier and Jaylen Reed each had 11 tackles for King (11-3), while Rishad Hence had eight tackles, 1.5 tackles for loss and one forced fumble. 
"I thought the team's character was outstanding to go from 0-2 to battle back and play in the state championship game and put yourself in a position to win it," Spencer said. "We came up short, but I'm proud of these guys, proud of the seniors, proud of the way (Moore) has played all year long."
PHOTOS: (Top) Mona Shores' Brady Rose follows a block by Tre'Shawn Hatcher into the end zone Saturday. (Middle) A Mona Shores defender gets an arm around King quarterback Dante Moore.