Garza Shows Range, New Lothrop Reigns
January 23, 2021
DETROIT – It had been a while Saturday since the New Lothrop offense had made a big play. 
The Hornets had seen a 28-point lead shrink to seven and were staring down another big third down. In need of a spark, they turned to the player who had given them so many earlier in the game, and once again, Julius Garza delivered. 
Garza converted the third down, and eventually scored his fourth touchdown to help seal New Lothrop's 42-35 victory over Traverse City St. Francis in the Division 7 Football Final at Ford Field.  
"Their backers were keying on (Will) Muron all night, so I knew when they flew up, Julius would come open," New Lothrop senior quarterback Cam Orr said. "I knew if I threw him the ball, he'd catch it no matter where it was." 
Garza scored four touchdowns in the game – two rushing, one receiving and one on a kick return – to tie him for fourth in MHSAA Finals history for touchdowns in a game. He had 139 yards receiving on four catches and 26 yards rushing on four carries. 
It was his 3rd-and-6 conversion with his team in its own territory and clinging to a seven-point lead, however, that was likely his biggest play of the game. His 26-yard reception on the next play was also in the running, as was the nine-yard touchdown run that put New Lothrop up 42-28 with 2 minutes, 26 seconds to play. 
"It means everything," Garza said. "It's kind of taken a little bit to settle in. I feel like I'm on top of the world right now. It's really exciting. All the work we put in, and everything we do, for it to pay off, it means the world." 
The title was the Hornets' third, and first since 2018. If not for a one-point Regional Final loss a year ago against eventual champion Pewamo-Westphalia, the program could be celebrating a three-peat. 
"We've always had tremendous community backing. We've always had tremendous kids that have put in the same amount of work these guys have," New Lothrop coach Clint Galvas said. "We were just unfortunately not able to get over that hump. Obviously in (2018) we were able to get over that hump and win a state title. Maybe that gave us the confidence we need moving forward as a program, like, 'Hey, we can do this now.' Winning a couple is special, but I'm not taking anything away from the previous teams we had, because we had some pretty darn good teams walk through these halls and wear the New Lothrop helmet, and they put in the work, too." 
At halftime, it looked as though New Lothrop (11-0) would be cruising to title No. 3, as it built a 35-7 lead, using explosive plays. Muron scored on the Hornets' second offensive play with a 27-yard run, and after St. Francis answered with a three-yard Gabe Olivier touchdown run, Garza returned the ensuing kickoff 83 yards for a score.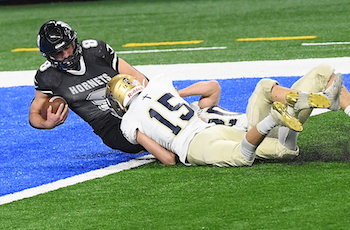 Garza added a 65-yard touchdown reception from Orr and a three-yard touchdown run, before Orr closed out the half with an 11-yard rushing score.  
"Is Julius Garza having a heck of a day surprising? Not at all," Galvas said. "Those of you who have been around and watched this kid, he was a two-way starter two years ago on the 2018 title team. The kid's always been a player. … I think they came into the game like a lot of teams, they want to stop Cam and they want to stop Will on the edge. And I think if you do that, sometimes you forget about Julius Garza. We were able to get him a lot of one-on-one matchups with some backers and things, and he's going to win those pretty much 10 out of 10 times. He's a heck of an athlete." 
St. Francis (9-3) clawed back into the game in the second half, however, shutting the New Lothrop offense down and getting its own offense going – albeit in a different manner than the Hornets. The Gladiators power run game started to lean on New Lothrop and scored on its next three possessions prior to Garza's late-game heroics, to nearly erase the deficit. 
Aidan Schmuckal closed out a nine-play drive with a two-yard touchdown run midway through the third quarter, and Charlie Peterson scored on a one-yard sneak early in the fourth to close out a 14-play drive. Schmuckal's second score, also a two-yard run, came with 6:46 to play and immediately followed a blocked punt by St. Francis' Jimmy Muzljakovich. 
"I felt like we played a doubleheader today," St. Francis coach Josh Sellers said. "The score of the first game was 35-7, and the score of the second game was 28-7. Unfortunately, the math didn't work out in our favor. We let too many big plays go in the first half, obviously. At 35-7 in the locker room, I told them, 'You've got two choices: you can just pack up the tent stakes and go home now, or go out and try to win the second half,' and they did. They won the second half with great effort, great belief in one another, and we just fell a little bit short today." 
St. Francis didn't go away after Garza's final touchdown, either, scoring with a seven-yard pass from Peterson to Josh Grove with 1:07 to play. New Lothrop recovered the onside kick, however, and after running three plays, Orr ran off the final seven seconds of the game by rolling to his left and throwing the ball high into the air down the field. 
"We like to pride ourselves in our never-giving-up mentality," Schmuckal said. "We've been a team that has been known to battle back and never give up. Going into that second half, I knew that we were never going to give up and we were going to fight to the bitter end, and that's what we did." 
Schmuckal led St. Francis with 101 yards rushing, while Owen Mueller had 71 and Olivier had 69. Joey Donahue led the St. Francis defense with eight tackles, while Schmuckal had seven, including three for loss. 
Orr led the Hornets in passing and rushing, throwing for 222 yards on 11-of-15 passing, and running for 122 yards on 17 carries. Alec Mangino led the New Lothrop defense with 12 tackles, while Garza had nine. Muron and Bryce Cheney each had an interception.
PHOTOS: (Top) New Lothrop's Julius Garza looks to make one of his many big plays Saturday at Ford Field. (Middle) Hornets quarterback Cam Orr reaches the end zone as Traverse City St. Francis' Gavin Nickodemus (15) and Gabe Olivier (20) bring him to the turf. (Click for more from Hockey Weekly Action Photos.)