Herrington's Record Run Filled with Thrills
October 12, 2017
FARMINGTON HILLS – John Herrington soon will stand alone as the winningest football coach in Michigan high school history.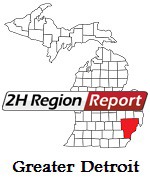 Herrington, 76, is in his 48th season as head coach at Farmington Hills Harrison. He spent eight seasons as an assistant at North Farmington. He is the only head coach Harrison has had.
Herrington and Al Fracassa of Birmingham Brother Rice currently are tied for the most victories at 430. Herrington will pass Fracassa on Friday if the Hawks, coming off their biggest victory of the season, 17-14 over Oak Park, can defeat Berkley at Harrison.
Fracassa's record stands at 430-117-7. He retired following the 2013 season. Herrington's record is 430-104-1. The next active coach within shouting distance is Herb Brogan of Jackson Lumen Christi. His record is 337-83.
It will be Herrington's name at the top of that list, but the number of people who have had a hand in this accomplishment is in the hundreds, if not a thousand or more.
Coaches like his longtime friend Bob Sutter, Herrington's defensive coordinator for 34 seasons; John Witkowski, Steve Dolloway and current coaches like offensive coordinator Jon Herstein and defensive coordinator Dave Thorn all have contributed mightily to the success of the program.
Then there's the players. Harrison boasted some of the best and most talented teams in state history including the Mill Coleman-led teams of the late 1980s and the Drew Stanton-led teams in the early 2000s.  
"As a player, every player, every Hawk, feels they contributed," Coleman said. "Coach doesn't like to talk about (the record). We tried to get him to talk about it after the Oak Park game. He said, 'Yeah, it's a great win but we want to get into the playoffs.'"
Harrison is 5-2, and a victory over Berkley would clinch the program's 33rd MHSAA playoff appearance. It also would clinch for the Hawks at least a share of the Oakland Activities Association White title.   
This has been a special season in many ways. School administrators and others helped organize the return of many of Herrington's players to be a part of the season-long celebration. For the first home game, players from the 1970s were asked to come back. The players from the 1980s were asked to attend the second home game, and so on.
Well-wishers are pouring in from all over the country.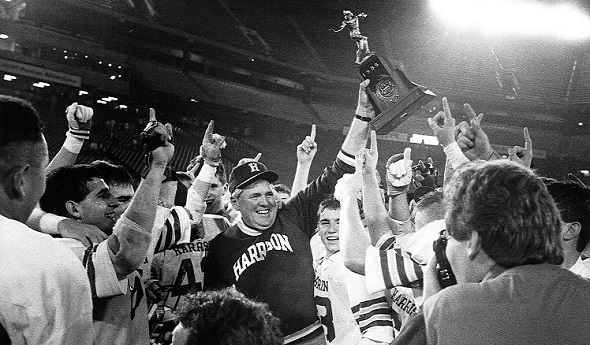 "This week we'll have players from the 2000s," Herrington said. "Last week I think we had like 70 (for the Oak Park game). And I'm getting all kinds of emails."  
Herrington coached in some of the more memorable games of the last 40 years. There was the 1989 Class B Semifinal against East Grand Rapids that became known as the 'Ice Bowl' because the artificial surface at Atwood Stadium in Flint was completely ice-covered, making playing conditions quite challenging. Harrison won that game, 3-2. The following week, inside the Pontiac Silverdome, Coleman led a comeback over DeWitt that even longtime MHSAA historian Dick Kispaugh called one of the greatest games he'd seen. After trailing 21-0, Harrison won 28-27 on Coleman's 9-yard touchdown run with 1:34 left. DeWitt had taken a 27-21 lead with 2:20 remaining.
"I came from Albion after my freshman year," Coleman said. "It was great to play for Coach. Yeah, it was a big change for me. Harrison was a perennial state championship team then. Been there, done that type of thing.
"It was pretty systematic. That's what stood out for me. Plus the attitude of the players. (You were) expected to win. It was pretty laid out. It was pretty comforting for me, too. I noticed the amount of time the staff put in, with meetings and stuff. We had a pretty in-depth scouting report. Still do."
Coleman has been around the program since his professional career ended in 1998. As an assistant coach his main responsibility, quite naturally, is working with the quarterbacks. Coleman, whose name is splashed seemingly all over the MHSAA record book, is considered one of the greatest quarterbacks in state history. He won two MHSAA titles, lost in a Class B Final as a sophomore in 1987, and it was his ability to turn a busted play into something special that earned him the nickname "Mill the Thrill."   
One can't overlook Harrison's first two titles. The Hawks defeated Muskegon Catholic Central, 7-0, in the 1981 Class B Final, then the next season the Hawks went to double overtime to defeat Dearborn Fordson, 17-14, in the Class A title game. Those teams were led, in part, by all-state running back/defensive back John Miller, who would go on to play at Michigan State. Miller started for four seasons and was the last of four brothers who played at Harrison.
"Following in my brothers' footsteps, playing for Coach Sutter and John, it was a dream come true," Miller said. "I was 7 or 8 years old when I got to know John, running around, chasing footballs, just being around my brothers.
"(Herrington) is a remarkable man and coach, but also as a teacher. He cared about his players more than he did about the games.
"I remember coming off of that Class B title. We moved up to A, and that was quite a jump for us. We knew we would be good, but we also knew we couldn't do just the same old thing. We had to do things a little different, on offense. We had Dave Blackmer, who started at fullback and linebacker, and Kenny Kish at quarterback. (Kish) was really good and a great guy. It was a matter of getting all of the right skill guys together. We had a lot of great athletes, maybe not great at one sport, but guys who played multiple sports. I was a senior on that '84 team and it might have been one of John's best, but we didn't win it."
Fordson gained some revenge that season, defeating Harrison, 9-7, in a Class A Semifinal.    
But Herrington's program continued to grow and eventually become one of the storied programs in state history. Comparisons, fair or not, soon surfaced between Herrington and Harrison and Brother Rice and Fracassa, and Detroit Catholic Central and its former head coach, Tom Mach.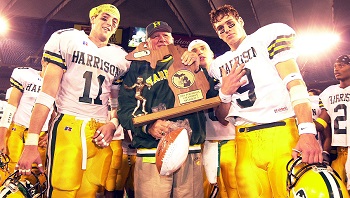 Herrington and Fracassa crossed paths eight times as head coaches, with Fracassa holding a 6-2 edge.
But the most memorable Harrison-Brother Rice game took place in 2010 in a Division 2 Pre-District matchup at Harrison. Because both teams were so highly rated, those in the media labelled it as a state championship.
Brother Rice led late and was attempting to run the clock out, but fumbled. Jake Vento scooped the ball up and ran for the winning touchdown. Harrison went on to win the Division 2 title, the school's most recent.
Fracassa would get the last laugh in the last game matching these two coaching legends, as Brother Rice defeated Harrison, 30-7, in a Division 2 District Final in 2011 – as the Warriors then went on to win the championship at Ford Field. 
Herrington said 52 of his former players became high school football coaches, and he estimates that more than 20 coached at Harrison. One of those is Joe Pesci, a 1994 graduate who was the starting quarterback for two seasons. 
Pesci was one of five Pescis to play for Herrington. Mike was the eldest brother, and he played fullback and linebacker before graduating in 1992. David was the youngest and, like Joe, played quarterback and he graduated in 1999. These brothers also had two uncles play at Harrison.
"I was fortunate when I came out of college (Albion) to coach under (Herrington)," Joe Pesci said. "Here I was, 22 years old, and he made me the head coach (of the freshmen team). We were having a ball. It was a great perspective to see the other side, to see the amount of time the coaches put in. I got to coach my brother (Dave), Stanton, (Agim) Shabaj. To watch his game-planning, it was awesome. That's when I started to become good friends with John. I still call him once a week. I reach out to him. Not just with things that happen on the field but things in school, too. He's a good sounding board to have."
Joe Pesci is the current head coach at South Lyon East.
The most recent accomplishment is but one of many for Herrington. His program has won the most MHSAA football titles (13), tied for the most MHSAA Football Finals appearances (17), and in his 46 years Harrison has had just five losing seasons – and only three since 1972. Twenty-six times his teams have won 10 or more games. Harrison and East Grand Rapids share the record for most consecutive MHSAA titles, the Hawks' five straight coming from 1997-2001.
"(Herrington) was pretty much laid back when I played," Coleman said. "Sutter was more of the fiery type of coach. It wasn't a good cop, bad cop thing. One was fiery. One was laid back. The joke was Coach Sutter was the only one to yell at me in high school. John was an honest coach. He was like that to the parents, too. When they asked why their son wasn't playing, he'd tell them their son wasn't good enough.
"He takes losses hard but, like his players, it drives him more to be better. I've never seen him say it was somebody else's fault. But we didn't lose much when I played. I lost two games, one in a league championship and the other in a state final."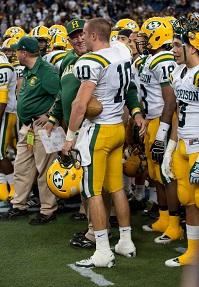 The victories have been there for Herrington. The titles, too. But above all else is the stability and the integrity.
Joe Pesci recalled the 1999 season when Herrington and his staff, including Pesci, were made aware that they had used an ineligible player.
"We didn't know," Pesci said. "As soon as we found out John turned us in (to the MHSAA). I remember him making the speech to the kids. It was tough to watch him. He put it out there and then said, 'OK, now how are we going to handle it?'"
Harrison was 3-1 at the time but the forfeits changed that to 1-3. Harrison lost one more game that season and, at 5-4, made the playoffs as an at-large playoff qualifier. Harrison went on to win the Division 3 title with a 42-35 victory over Grand Rapids Creston in the Final.
Harrison will be a big favorite to defeat Berkley but Herrington, true to his word and commitment, remains cautious. "You never know what will happen," he said, but admitted that to win this much, a program has to be "pretty good."
The key is the Hawks also have been "pretty good" and much better than that consistently over five decades.
"I remember when I first started, I wanted to do everything, call everything. I did the offense, special teams, made the defensive calls," Herrington recalled. "After we lost in 1976 (36-27 to Midland Dow in the Class A Final), Sutter came up to me and said, 'Do you just want me to stand on the sidelines or what?' That's when I changed.
"I'd have to say one of my greatest skills is to hire good people, and I've had some great coaches."
Harrison is scheduled to close following the 2018-19 school year, and Herrington said he intends to coach next season but is unsure if he will remain in coaching after that.
What has kept him coaching all these years is the relationships he has maintained and the players he coaches. The games present their own challenges but it is the preparation, the filtering through the scouting reports and the hours of watching game film that test his imagination.
He's still motivated and continues to enjoy coaching.
"I don't play golf," he said, "so what else am I going to do?"

Tom Markowski is a columnist and directs website coverage for the State Champs! Sports Network. He previously covered primarily high school sports for the The Detroit News from 1984-2014, focusing on the Detroit area and contributing to statewide coverage of football and basketball. Contact him at tmarkowski@statechampsnetwork.com with story ideas for Oakland, Macomb and Wayne counties.
PHOTOS: (Top middle) Farmington Hills Harrison coach John Herrington mans the headset during a 2009 game against Southfield. (Middle top) Herrington raises the championship trophy after leading his team to the Class B title in 1988. (Middle below) Herrington, Dave Condeni (11), Agim Shabaj and Drew Stanton (9) celebrate a fifth-straight title in 2001 at the Pontiac Silverdome. (Below) Herrington enjoys a moment after coaching his 2010 team to the Division 2 championship.