Line Does Lifting, Muskegon Makes Run
October 5, 2015
By Tom Kendra
Special for Second Half
Muskegon High School's varsity, junior varsity and freshmen football teams all practice on tiny, land-locked Wilson Field, adjacent to Hackley Stadium, the same practice field where thousands of Big Reds have learned the game for more than 100 years.
Junior quarterback Kalil Pimpleton and his stable of athletic receivers and defensive backs are using 90 percent of the available space at a recent practice, running a series of post, flag and go routes under the watchful eyes of head coach Shane Fairfield and offensive coordinator Brent White – along with a group of young, future Big Reds peering wide-eyed at their heroes through the barbed-wire fence.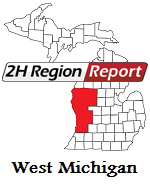 Meanwhile, sequestered in a muddy corner, are the guys who do all the dirty work.
"We know this is where it all starts," said Muskegon senior guard and defensive tackle Derices Brown (6-foot-1, 280 pounds), a three-year starter and the team's only interior player who starts both ways. "If we make the blocks, we can make the backs look good."
Brown anchors the senior-led right side of the Muskegon attack – along with tackle Juanye Johnson (6-3, 279) and slot back Khari Wilcox-Lewis (6-0, 230) – which excels at straight-ahead drive blocking when fullback Jared Pittman needs the tough yards and for sealing the edge on sweeps for senior slot PP Copeland and Pimpleton.
Muskegon (5-1) is averaging 46 points in its last five games and more than 300 rushing yards per game behind its dominating front five, which has been a constant in the Big Reds' six trips to MHSAA championship games over the past 11 years.
The leader of the group up front is Matt Bolles, an all-state tackle at Muskegon Catholic Central who went on to play at Eastern Michigan University and brings a warrior's mentality to his job as the offensive line coach.
"We have established a physical mindset throughout the whole program, but especially on the offensive line," Bolles said. "If we can run our veer between the tackles, it sets everything else up."
An amazing run
While many urban football programs have struggled to even field a team in recent years, Muskegon has thrived.
In fact, an argument could be made that the past decade has been the best in school history – which is saying something, considering Muskegon has won more than 800 football games, dating back to 1895.
Muskegon won Division 2 championships in 2004, 2006 and 2008 under Tony Annese, who moved on to Grand Rapids Community College and now coaches Ferris State, which is currently 4-0 and ranked No. 4 in the nation in Division II.
Matt Koziak coached the Big Reds for one year in 2009, finishing 7-4, before stepping down. Koziak is now the head coach at cross-town rival Mona Shores.
Enter Shane Fairfield, who actually started coaching at Muskegon in 1998 under Dave Taylor, one year before Annese arrived. Fairfield gained head coaching experience for five years at nearby Holton before returning to Muskegon as defensive coordinator in 2008 and 2009, then took over from Koziak as head coach in 2010.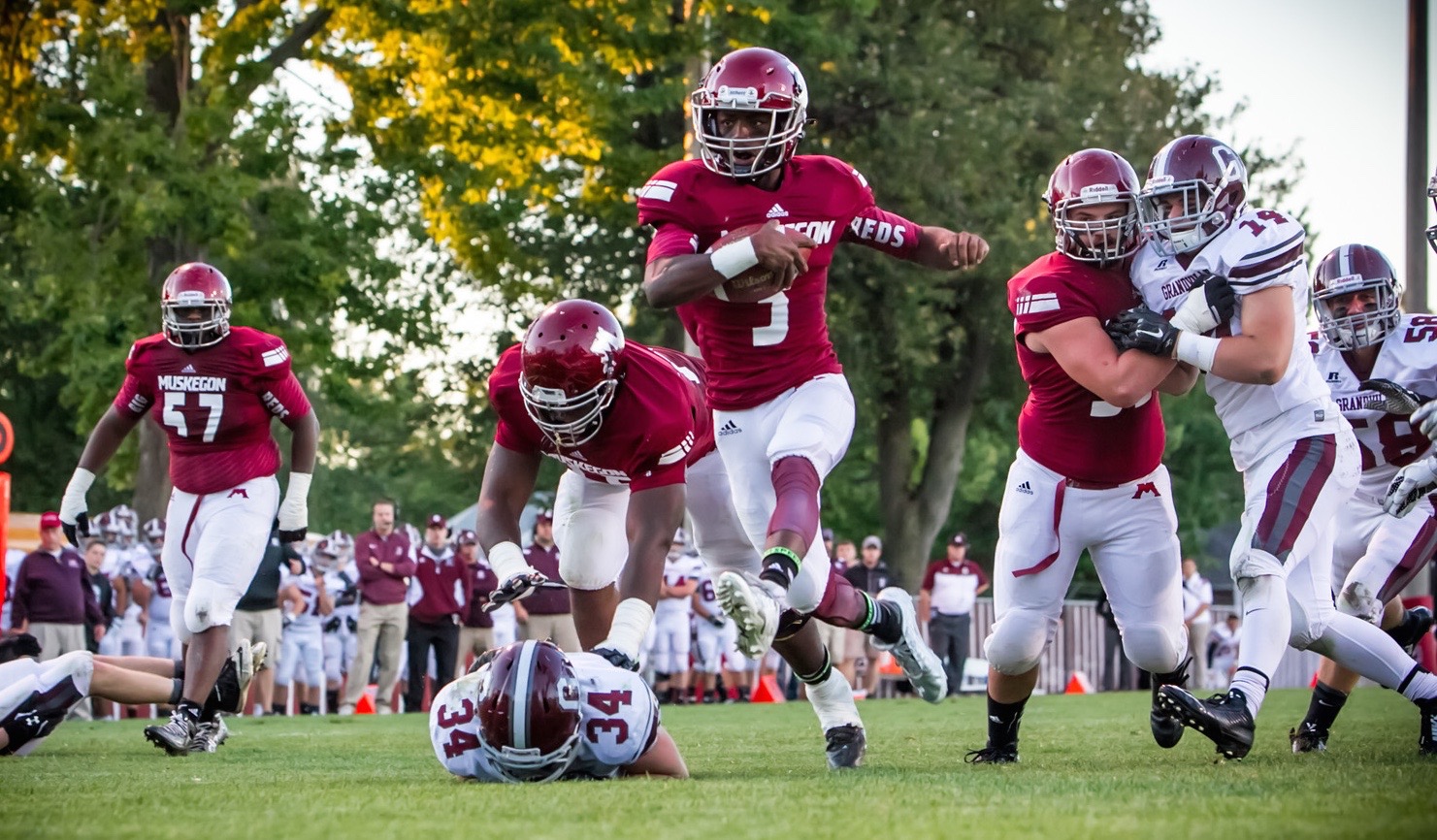 Fairfield's teams have made the playoffs in each of his first five years as head coach, but the past three teams have displayed the physical and mental toughness to take it all the way to Ford Field, marred only by disappointing finishes – losses to Birmingham Brother Rice in Division 2 Finals in 2012 and 2013 and a loss to Orchard Lake St. Mary's in last year's Division 3 title game.
This fall, the offensive front is playing inspired, with a singular goal of an MHSAA championship.
"We want to keep getting better, keep getting stronger and be at our best on Week 14," said Johnson.
Brown and Johnson are both all-state candidates on the right side of the Muskegon line, while considered among the top guards and tackles, respectively, in the entire state and getting attention from both Division I and Division II college programs.
In addition to the strong right side, the other starters up front are junior center Devin Sanders (6-0, 225), senior left guard Dylan Oplinger (6-1, 258) or Corion Ross (6-3, 255) and sophomore left tackle Antwan Reed Jr. (6-7, 286) – a physical specimen who already has been offered a scholarship by University of Tennessee and is considered among the state's top line prospects in the 2018 class.
Commitment to the weight room
There was a time when Muskegon struggled to match the strength and physicality of teams like Rockford and Lowell, with those games often coming down to whether Muskegon could spring enough big plays to withstand a physical pounding.
But Muskegon's new emphasis on year-round weight training has changed that dynamic.
"I always tell the kids that if I was an employer and wanted to hire someone, I would go into the weight room in the summer and see who's in there," Fairfield said. "Anyone can get fired up on Friday night, but you get bigger, faster, stronger and healthier by spending time in the weight room year-round."
Muskegon looks at its weight training in three stages – heavy power lifting from the time the season ends through the spring, higher-intensity cross-training and flexibility training in the summer and four days a week of lifting during the season, a phase which not every team employs once the season begins.
"We want to stay strong during the season," Fairfield explained.
Muskegon's emphasis on strength training is not only paying dividends on the field, but it's also helping its players move up to the next level.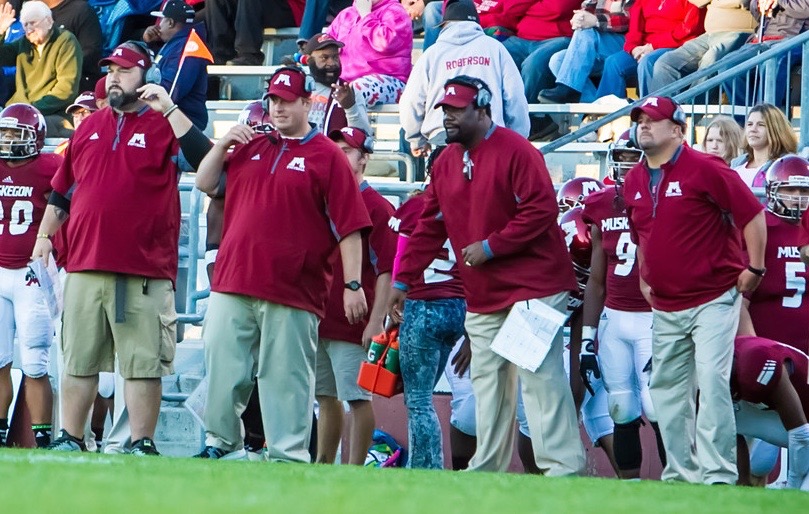 Terrance Taylor (Michigan) and Carlin Landingham (Ferris State), who is now on the Big Reds' coaching staff, are a couple of the players who have gone on to college success, but the rate of placing linemen on college rosters has ratcheted up in recent years.
For example, four of the five starters on Muskegon's 2012 offensive line are now playing college football – Antwan Billings at Saginaw Valley State, Quincy Crosby at Kalamazoo College, Chandar Ricks at Northwood and Malik King at Ball State.
This year's group could go on to similar college success, thanks in no small part to Muskegon's strength training emphasis. Sanders, the starting center, is the small guy at 225 pounds ("our little runt," as Bolles calls him), but the other five regulars are all at least 255 pounds.
"We don't just try to use our kids for wins at Muskegon," said Bolles. "Our goal is to make our kids responsible, caring, hard-working and loyal men."
Quest for perfection
At most high schools, guiding the football team to an MHSAA championship game three consecutive years would lead to the building of a statue in the coach's honor at the stadium entrance. At Muskegon High, losing that title game has a small faction of fans pushing for a new varsity football coach.
Fairfield knows such expectations come with the territory at Muskegon, which boasts 17 MHSAA championships and doesn't post runner-up finishes on the sign perched high above the Hackley Stadium press box.
But nobody takes those rare losses harder than Fairfield, which was evident in his postgame television interview last month after Muskegon defeated previously unbeaten Grandville for the 800th win in school history.
"It's great to get our 800th win, but I wish it was 801," Fairfield said. "That dang loss (in the opener at Detroit Catholic Central) still bothers me."
Muskegon lost two games last season – both of which gnaw at Fairfield and his coaching staff, and seniors like Brown and Johnson, on a daily basis. The Big Reds get a chance to avenge those losses in the upcoming weeks.
The first goal for the Big Reds is to win the battle of Muskegon. The Big Reds host Reeths-Puffer this Friday on Senior Night, before the much-anticipated showdown at unbeaten Mona Shores on Oct. 16.
Shores beat Muskegon for the first time in 33 years, last fall, breaking open a 20-20 game at halftime behind the running of Tyree Jackson for a 48-27 victory
The second goal is to win the battle of Michigan. Muskegon, which is experiencing enrollment declines in recent years, will likely end up in Division 3 again this fall, where rivals such as Zeeland West, Lowell and Orchard Lake St. Mary's could be looming once again.
"We have more desire than ever to win it all," said Brown. "The only way we're going to do that is by getting better and getting stronger every day."

Tom Kendra worked 23 years at The Muskegon Chronicle, including five as assistant sports editor and the final six as sports editor through 2011. E-mail him at kendra.tom@gmail.com with story ideas for Muskegon, Oceana, Mason, Lake, Oceola, Mecosta and Newaygo counties.
PHOTOS: (Top) Muskegon's offensive line lines up for work with historic Hackley Stadium's home bleachers and press box in the background during the Big Reds' 800th win on Sept. 11 over visiting Grandville. (Middle) Muskegon junior quarterback Kalil Pimpleton strides into the end zone through a big hole created by pancake blocks from senior guard Derices Brown (No. 57), senior tackle Juanye Johnson (center) and senior guard Dylan Oplinger (right). (Below) The Hackley Stadium crowd looks on, along with members of the Muskegon football coaching staff, from left: offensive line coach Matt Bolles, offensive coordinator Brent White, receivers coach Tracy Lewis and head coach Shane Fairfield. (Photos courtesy of Tim Reilly.)