Longtime Assistant Set to Lead Dakota
August 17, 2016
MACOMB TOWNSHIP – Greg Baur was content to continue coaching in the background, much like a supporting actor in a movie.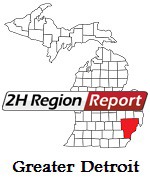 Baur, 46, had been an assistant football coach for 26 years at four different schools, most recently at Macomb Dakota. For 21 seasons he was a defensive coordinator, including the last 12 for the Cougars.
And he was good at it. In 2001, under then-head coach Mike Carr, Bauer was instrumental in guiding Clinton Township Chippewa Valley to its only MHSAA title, in Division 2. Chippewa Valley held Jenison to 139 yards in its 26-13 victory in the Final. In 2006 and 2007, Baur was with head coach Mike Giannone when Dakota won its two MHSAA Division 1 titles. That gives him the distinction of being the only Macomb County coach to play a big part in three MHSAA championships.
Last January, Giannone left Dakota to take the head coaching position at Warren DeLaSalle. The move took Baur by surprise – but it also started the wheels turning in his head.
Just once had Baur sought to be a head coach. When Carr left Chippewa Valley after the 2004 season, Baur applied to take over. When he didn't get the job, Giannone quickly hired him at Dakota.
With Giannone gone, Baur made another bid at a head coaching gig. This time, he got it.
"I don't remember the date," Baur said. "I just remember it was a snow day. They called me and told me I had it. The first thing I did was make sure the staff would stay, and they did. Next I met with the players, and the kids were really excited about it."
At most programs, going from a coordinator position to take over as head coach is akin to jumping into a pool after sitting an hour with just your feet in. Baur said it isn't like that for him.

Sure there's more paper work, and yes, the fundraising becomes more of his responsibility. But as far as the workload, it's not as daunting for Baur as it might be for others. Baur has always been a workaholic.
"I've always worked extra hard," he said. "I told my wife, this will amp things up. It's 24/7. The good thing is the kids have grown up a bit. And it's not work for me. It's fun. I'm really excited to get things going. When you wait 25 years you look at what you can tweak here and there. Offensively, I'll tweak it a little. Defense is the same. I'm still running it. I can't see myself not coaching (the defense)."
In a sense, Baur has already experienced success. He convinced Carr to come out of retirement and serve as his offensive coordinator.
It's come full circle.
There are a number of reasons why Baur hadn't looked elsewhere for a head coaching job. He and his wife, Renee, live in the area, and their three children attend schools in the Chippewa Valley school district, of which Dakota is a part. Their eldest child, Jason, played football at Dakota and graduated this spring. He's now attending Wayne State University and helping out with Dakota's freshmen team.
Professionally, there isn't a program in Macomb County that can match Dakota. It is the only school in the county with more than one MHSAA title, and the Cougars are consistently one of the state's top teams. They've made the playoffs 15 consecutive seasons, and just once since 2003 have they failed to win a playoff game. Last season Dakota lost to Detroit Cass Tech, 16-10, in a Regional Final.
Given that, there's a certain amount of pressure that comes with being the head coach of such a program. It's similar to the pressure that's on coaches like Ralph Munger at Rockford and Kurt Richardson at Clarkston. Those in the community not only expect them to win every year, but expect their teams to be a factor in the playoffs every year. A first-round loss is not only disappointing – it can also raise a few eyebrows.
Baur's attitude? Bring it on.
"To me, it's not pressure," he said. "I love to compete. If all goes well, great. If not, then we move on. I might not be the smartest coach around, but no one is going to outwork me."
During this time of year, time is scarce. Double sessions start at 9 a.m. and end at 3 p.m. There's time for dinner, then its film sessions followed by an hour or two of quality time with his children.
"That hasn't changed," he said. "That was always the schedule. But now there's paperwork, putting out fires.
"I love this. There isn't a part of the job I don't like. There's no complaining. You get an opportunity, you make the best of it. I know there'll be tougher times.
"Being a head coach, it never really crossed my mind. (Giannone) is relatively young. I thought he'd retire (as a head coach) here. It wasn't something I was campaigning for."
Baur owes much of his success and where he's at to those who mentored him. A graduate of Sterling Heights Stevenson, he played and coached under one of Macomb County's legendary coaches, Rick Bye. After four years, Baur went to Romeo and coached under Greg Ganfield. Ganfield was gave Baur his first shot as a coordinator. Four years later, Baur went to Chippewa Valley.
Carr showed Baur how to run a program, not just coach. He lectured him on how to deal with parents and their concerns. A bit overwhelming then, Baur has gained the experience where such responsibilities are more easily managed.
"(Giannone) wasn't that much different," Baur said. "Heck, he coached under Carr, too. But (Giannone) took the program to another level."
As good as Dakota has been recently, expectations are even higher this season. The senior and junior classes did not lose a game on the freshman or junior varsity levels. Many outside the program, including Utica Eisenhower coach Chris Smith, have said this senior class at Dakota is one of the best they've seen.
Baur said one of his biggest tasks is to make sure this group doesn't become complacent.
"I'm a players' coach," he said. "When it got real hot recently, I dialed back. They don't even call me Coach. It's like, hey Baur."
Baur is just like one of the guys – except this time he's playing the leading role.

Tom Markowski is a columnist and directs website coverage for the State Champs! Sports Network. He previously covered primarily high school sports for the The Detroit News from 1984-2014, focusing on the Detroit area and contributing to statewide coverage of football and basketball. Contact him at tmarkowski@statechampsnetwork.com with story ideas for Oakland, Macomb and Wayne counties.
PHOTO: Greg Baur (right), the new head coach at Macomb Dakota, directs one of his players. (Photo by Tom Markowski.)