Many Champs Have Played Waiting Game
January 12, 2021
By Ron Pesch
Special for Second Half
A state football championship is a dream for many. Fans wait for the day that they can beam with pride as their favorite squad or school hoists the title trophy toward the sky. For coaches and kids, it's a road to memories never to be forgotten.
Many schools still wait for that day. Others pray for a return to such glory.
Today, we look at return trips to the winner's circle. It's filled with fascinating facts.
Ten schools have won three or more consecutive gridiron championship since the arrival of the tournament in 1975 (when titles began being awarded annually in four classifications based on enrollment – A, B, C & D). Grand Rapids West Catholic, Farmington Hills Harrison and East Grand Rapids lead the pack with five successive titles. Muskegon Catholic Central, Detroit St. Martin dePorres and Ithaca each had streaks of four in a row, while Jackson Lumen Christi, Orchard Lake St. Mary's, Detroit Catholic Central and Bloomfield Hills Brother Rice each had three-peats. Michigan has seen 31 instances of back-to-back crowns in 11-player football, accomplished at least once  by 28 schools. To date, Powers North Central is the only squad to repeat since the 8-player playoffs began in 2011.
But what about the span between titles?
Patience is a Virtue
Eighteen schools have seen gaps of 10 or more years between MHSAA football championships. It's happened twice for both Orchard Lake St. Mary's and Crystal Falls Forest Park.
St. Mary's earned its first football title in 1977 under coach Art Paddy. Its second came 17 years later under current head coach George Porritt. The Eaglets have earned eight titles total and have appeared in 14 championship games. Seven of those titles have come under Porritt's guidance. They went back-to-back in 1999-2000, but then had to wait 11 seasons before winning their fifth title in 2011. In between, they finished as runner-up on five occasions.
Forest Park has appeared in 13 MHSAA Football Finals over the years, including six of the first 10 Class D title games between 1975 and 1984. Led by Upper Peninsula coaching legend Richard Mettlach, the Trojans were winners of the first two Class D titles, when only 16 teams qualified for the postseason. A total of 31 seasons would pass before Forest Park would win its third football championship.  In between, multiple alterations were made to the postseason.
In 1977, the playoffs expanded to a three-week format that included 32 participating teams. The tournament grew to 64 qualifiers in 1985, then moved from awarding titles in four classes to eight (AA, A, BB, B, CC, C, DD &  D) involving 128 teams, played out over four weeks. In 1999, the postseason was again altered, to a five-week layout including 256 contenders within eight groupings of 32 teams (Division 1 through Division 8), established after the 256 qualifiers were determined.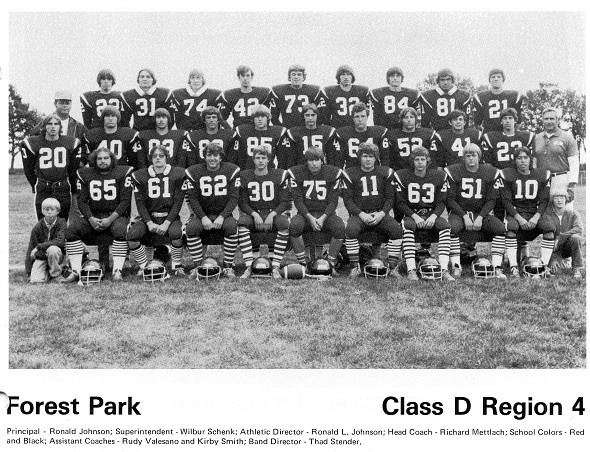 Bill Santilli, captain and star running back of the Trojans' 1975 championship squad, took over the program in 1996 and led the Red and Black on seven trips to the Division 8 championship game – the first in 2000, then to six straight appearances in the title game between 2004-2009. Leading 22-14, Santilli's 2007 team ground the final 6:07 off the game clock to seal their victory over Fulton, ensuring celebration during the Trojans' eight-hour, 500+ mile trip back to the Upper Peninsula.  
Much changed over the following decade at Forest Park. Santilli retired following the 2013 season. He finished with and impressive 171-45 win-loss mark that included 17 straight years in the MHSAA Playoffs. He went out on a high note, posting a 12-1 mark in 2013.
In 2015, following a trend of continued declining enrollments at U.P. schools, the Crystal Falls Forest Park Board of Education chose to move to 8-player football beginning with the 2016 season.
In 2017, seeing a 20-percent increase in the number of schools that chose this option for their student-athletes, the MHSAA expanded the 8-player tournament to two divisions. That fall, under head coach David Graff, the Trojans returned home with the 8-player Division 2 crown, becoming the second team in Michigan to win titles in both forms of the game
So far, Lawrence, is the only other high school to win championships in both 11-player and 8-player ball. The Tigers won their first football title in 1997 in Class DD. In 2014, 17 years later, they trounced Cedarville, 56-12, to pick up their first championship in 8-player.
The Longest Interval of All
Ishpeming fans have enjoyed seven trips to the MHSAA Finals over the years. The Hematites, nicknamed after the reddish-black iron ore that was long mined in the area, waited 33 years between their 1979 title and their 2012 championship. That's currently the longest span between football championships in Michigan history.
Boasting a strong ground attack, Ishpeming picked up its first state crown in 1975 in an impressive manner, defeating heavily-favored Hudson in a Class C showdown hosted at Central Michigan University. Coach Mike Mileski's squad rambled to a 24-8 lead by the end of one quarter, then cruised to a 38-22 victory. Hudson hadn't lost a contest since the 1968 season, and the Hematites' triumph halted the Tigers' national win streak at 72-games. 
Mileski guided the Hematites to the 1978 Semifinal before departing for Marquette High School to continue his coaching and teaching career. John Croze, an assistant under Mileski, took the reins in 1979 and drove Ishpeming to its second MHSAA title – finishing with a 13-0 victory over Watervliet.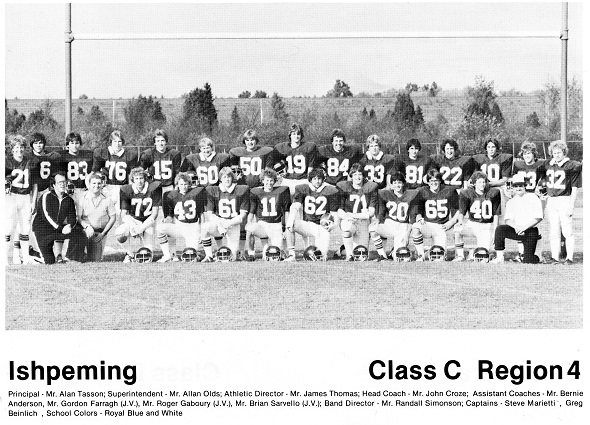 It took 31 years before Ishpeming earned another shot at a crown. The 2010 Division 7 title game was, once again, a showdown between the Hematites and Hudson. This time, Hudson – coached by Chris Luma, the Tigers' quarterback back in 1975 – won a thriller, 28-26.
A mere two seasons later, Ishpeming was back, this time winning the first of back-to-back titles, both with victories over Detroit Loyola. Those also were the first of four straight visits to the Finals by coach Jeff Olson's teams. In 2014, the two teams met again, this time with Loyola emerging as victor. Ishpeming won its third title in four seasons in 2015, downing Pewamo-Westphalia, 22-16.
On the coaching side, Rich Hulkow at Marshall waited 13 seasons (1996 & 2009) between championships. Schoolcraft's Larry Ledlow (1989 & 2001) had a pause of 12 years between celebrations. The aforementioned Porritt at St. Mary's saw a break of 11 years between title triumphs. Mike Giannone went 10 season between titles at Macomb Dakota (2007) and later Warren De La Salle Collegiate (2017). Even legends Al Fracassa at Brother Rice (1990 & 2000) and George Barcheski (1983 & 1993) at East Grand Rapids had 10-years spans of wonder during their long coaching careers. Pete Kutches won titles in 1980 and 1982 at Muskegon Catholic, then a decade passed before "The Catch" gave his Muskegon Reeths-Puffer squad the 1992 Class A championship.
Don't Stop Believing
One school with a long streak of waiting remain in the chase during this extended 2020-21 postseason.
Traverse City High School last won a football title in 1988. Coach Jim Ooley's Trojans finished Class A runner-up in 1975, then rattled off titles in 1978, 1985 and 1988. Named head coach in 1967, he retired following the 1991 season.
In the fall of 1997, the school split into two with the opening of Traverse City West.
Traverse City Central, as the original school is now known, is still chasing its next football championship 32 years later. The Trojans take on reigning Division 2 champion Muskegon Mona Shores in a Semifinal this Saturday.

Ron Pesch has taken an active role in researching the history of MHSAA events since 1985 and began writing for MHSAA Finals programs in 1986, adding additional features and "flashbacks" in 1992. He inherited the title of MHSAA historian from the late Dick Kishpaugh following the 1993-94 school year, and resides in Muskegon. Contact him at peschstats@comcast.nejavascript:void(0);t with ideas for historical articles.
PHOTOS: (Top) Ryan Van Dyke scores one of his two touchdowns in Marshall's 14-13 win over Kingsford in the 1996 Class BB Final. (Middle) The 1976 Crystal Falls Forest Park team. (Below) The 1979 Ishpeming team. (Photos from MHSAA files; Marshall photo by Gary Shook.)