Mendon Coach Takes Reins from Mentor
September 6, 2016
It wasn't the right time for an interview because John Schwartz didn't want to be the center of attention. Besides, he had said all he wanted to say in February when he announced his retirement.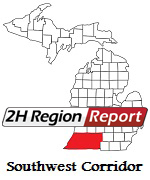 More than anything else, just a few minutes prior to the Mendon varsity football team opening the 2016 season against Bridgman, he wanted to address his attire.
Swiftly moving through the parking lot toward his car, Schwartz looked up, made eye contact with me, and his voice boomed through a shop broom of a mustache, "I put my shirt on backwards."
Of course he did. His routine was off after more than four decades.
Schwartz exchanged pleasantries as he stood bare-chested about 30 parking spaces from the entrance to the field named after him. He checked to make sure the tag of his T-shirt was at the back of his neck this time.
We walked back to the stadium and talked about his kids and his grandchildren, whom he adores, and for whom, along with his wife, he retired from the game he treasures. When he turned in his letter of retirement to the Mendon school board in February at the age of 66, he said it was time to make more time for them.
He then climbed the bleachers to the press box, where he plans to watch the Hornets and provide advice when requested. Of all places, most of our interaction these days is on Facebook, where he's quick to like a family photo.
I never took John Schwartz, a man who enjoys crafting things out of wood in his spare time, for a social media fan. But I learned over the years he's full of surprises.
For a long time, Schwartz boasted the all-time best winning percentage in Michigan prep history. At the end of the 2014 season, his record at Mendon was 269-43 for a .862 percentage. That would have been a good time to retire. He knew, however, the Hornets were in for a rough 2015 season with low numbers in terms of bodies, and, as it turned out, victories. Mendon went 5-5, making his career record 274-48 and his winning percentage .851 — second all-time behind former Schoolcraft coach Larry Ledlow (.853).
He took one for the team.
It's Bobby Kretschman's team now, and you're not going to find anyone in the small town of Mendon who would disagree with Schwartz concerning Kretschman's worthiness to continue a tradition that includes 13 MHSAA championships — 10 of which were with Schwartz at the helm.
Kretschman, a former star linebacker for the Hornets and an assistant coach with the program for 10 years, was groomed for this role. In the same week in March when his first child, Connor, was born, Kretschman officially accepted the job.
Ranking third all-time in program history with 360 career tackles, including 11.7 stops per game as a senior on the 2005 Division 8 championship team, Kretschman fully understood the significance of becoming the school's 23rd head coach.
"I'm excited," he said at the time. "It's going to be fun. We're replacing a legend here. This is why I went into coaching and teaching. I didn't think it was actually going to be at Mendon."
The Hornets are 1-1 this season under his watch, with a loss to an excellent Cassopolis team in Week 2. But after the Hornets topped the Bridgman Bees in Kretschman's debut, the new ball coach sounded an awful lot like the old one.
He asked the players gathered around him in the west end zone if they wanted to win a state title this year — perhaps a reach to some after Mendon went .500 last fall. They all believe they can. So did every kid who put on the green jersey since 1989.
Schwartz would always tell you that the Mendon staff coached the kids the same from the Rocket level to varsity. The plays, the verbiage and the expectations were consistent.
And it was all underscored by a sense of responsibility. 
"There's a great sense of pride at Mendon and I'll be damned if that's going to be lost," Kretschman said. "That's why you want to put the time into things and make sure you're putting the best product out there you can. Your name is on it and you want it to be done right."

Wes Morgan has reported for the Kalamazoo Gazette, ESPN and ESPNChicago.com, 247Sports and Blue & Gold Illustrated over the last 12 years and is the publisher of JoeInsider.com. He can be reached at wmorgan@joeinsider.com with story ideas for Berrien, Cass, St. Joseph and Branch counties.
PHOTO: Former linebacker Bobby Kretschman takes over the Mendon program this season from longtime coach John Schwartz. (Photo by Wes Morgan.) VIDEO courtesy of JoeInsider.com.