Muskegon Catholic Earns Photo Finish
November 29, 2013
By Geoff Kimmerly
Second Half editor 
DETROIT – Muskegon Catholic Central's players emerged from the Ford Field tunnel Friday morning for the first time, in shirts and ties and with awe over their faces.
The Crusaders as a community are used to making this trip, with 11 MHSAA Finals appearances and eight titles. But this was their first time in a championship game since 2008, before any of these players were in high school.
"We have a bunch of pictures in our weight room of all the state champions. And we always talk at the end of each year about how we want to be the next picture on the wall," MCC junior quarterback Nick Holt said. "Especially this group of kids, we wanted to come down here and win." 
And now they'll be remembered forever among the school's best.
The Crusaders shut down one of the highest-scoring offenses in Michigan history and moved up to sixth on the list of most MHSAA football titles in beating Beal City 35-12 in the Division 8 Final.
Beal City finished this fall with 737 points, second-most all-time. But the top-ranked Aggies (13-1) mustered only 263 yards against an MCC defense that gave up more than 16 points only once this fall – on opening night.
Meanwhile, Crusaders senior running back Alex Lewandoski ran for 218 yards, good for 15th-most in Finals history. He scored on runs of 78, 1 and 66 yards. 
The team – ranked sixth at the end of the regular season – was directed by first-year coach Steve Czerwon, a player during the early 1990s and among the many on his sideline connected with MCC's historical success.
The backfield alone included Lewandowski, whose dad played for the Crusaders, and third-generation MCC students Tommy Scott and Blake Sanford. Holt's dad has taught at the school for 12 years. 
"It's a lot of the same families coming through, and that's what makes it so special here – it' the second and third generation we're getting of (Muskegon) Catholic kids," Czerwon said.
"I always dreamt of playing at Ford Field," Scott added. In '06 coming to watch that Catholic team and that Muskegon team, and in '08 watching both teams play. To have that experience, it's awesome." 
Beal City was experiencing Ford Field for the second straight season and with most of its standouts from 2012's Finals loss to Harbor Beach back for one more shot at the school's first title since 2009.
By the end of the first quarter, the Aggies had nearly evened Lewandowski's touchdown on his team's first offensive play of the game, just missing on an extra point to trail 7-6. MCC added a second-quarter touchdown, but didn't break things open until scoring twice during the first eight minutes of the third quarter. That allowed the defense to take a few more risks and send a few more rushers and make Beal City's comeback attempt much tougher – especially after the Aggies' initial strategy included long possessions to drain the clock.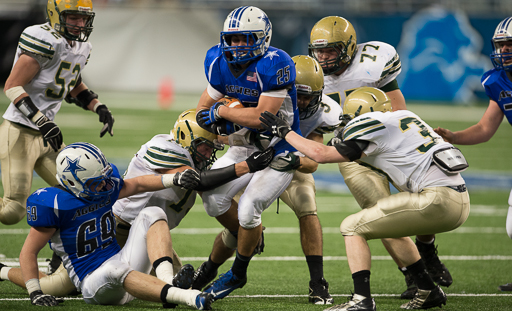 "You're trying to dig yourself out of a hole right off the bat, but it puts you in a different play-calling situation when they break off those big runs," Beal City coach Lou Rau said. "We responded, and then we gave up another big play. That definitely changes what we do and how we do it."
Senior Hayden Huber led Beal City with 52 yards rushing and its lone touchdown on the ground. Senior quarterback Kurt Gross did complete 8 of 16 passes, but the Aggies just couldn't get their offense clicking.
MCC's defense had is share of big plays as well. The Crusaders had three tackles for losses, two interceptions and broke up five passes. Lewandoski had a team-high nine tackles and two of those break-ups.
"They sent a lot of guys; they were on a mission," Gross said. "A couple of times when I was passing, I knew what they were doing. But the DBs were covering well, and they shifted over well and played their zone really good. They were really disciplined; that's the best way I could describe them." 
Although Holt didn't complete any of his four passes, it wasn't needed. He ran for 123 yards and a touchdown and Scott ran for 53 yards including a 21-yard score.
MCC's last three playoff losses had come by seven points or fewer, including once to Beal City in a 2009 Semifinal and last season to Harbor Beach by five in another semi. But a number of this year's contributors got valuable experience during that run, no doubt preparing them to finish the job.
"I think the expectations were there because this is the same group of kids that lost, and we knew we had started some sophomores and some freshman in the Semifinals last year," Czerwon said. "Not only did we have expectations, but the kids had expectations for themselves. That being said, we were able to take that next step."
PHOTOS: (Top) Muskegon Catholic Central players hold up their first MHSAA championship trophy earned since 2008. (Middle) A trio of Crusaders tacklers wrap up Beal City running back Ty Rollin. (Click to see more from Terry McNamara Photography.)