Repeat-Minded North Central Rolling with Playoffs Approaching
October 22, 2021
POWERS — Eighteen and counting.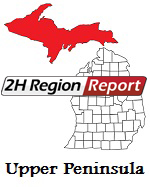 That's the number at which North Central's football winning streak stands after taking a forfeit victory from Gogebic last weekend.
The reigning 8-player Division 2 champion, however, has bigger fish to fry.
"The winning streak is something you don't focus on," said junior quarterback Luke Gorzinski, who pulled his hamstring in a 71-6 rout of Ontonagon on Oct. 8 but has returned. "First we have Forest Park, then we have the playoffs. It feels great to be back on the field. It feels like I'm part of the team again."
The Jets naturally hope to retain their title, but know they must first turn their attention to tonight's regular-season finale at Crystal Falls Forest Park.
North Central (8-0) finished 10-0 last season after defeating Portland St. Patrick 70-48 in Division 2 Final on Jan. 16.
"We try to look at it as if we hadn't won a state championship yet," said senior lineman Lane Nehring. "We don't want to get too comfortable. We still have Forest Park. We're not close in distance, but we have a rivalry going. Both of us have good teams."
What has been the key to North Central's success on the field?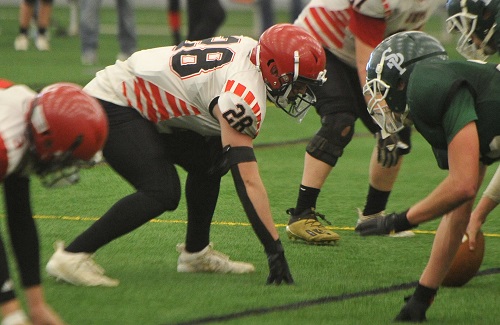 "I think it's our D line play," said Nehring. "We work together and communicate. Ontonagon's hook-and-ladder play caught us off guard. They scored on that play, which was bit of a wake-up call for us. Everybody looks at you to be a contender. We definitely have pressure on us to win another one."
Off the field, coach Leo Gorzinski believes offseason work also has been key to the Jets' success.
"The kids are invested," he said. "They bought into the system and know what's expected of them here at North Central. The interest in our program is there. The kids stay up, which makes it a little easier to keep them focused.
"We have a few people dinged up. We're very fortunate to have a lot of depth. We have a couple people down who are key players."
North Central is averaging 63 points per game, and its defense has allowed just 13 points this season. The Jets held Stephenson to minus-seven yards of total offense in a season-opening 46-0 win.
"You feel on top of the world right away," said Luke Gorzinski. "You also have to be ready to play right away. It's a good way to open the season, but any team can beat any other team on any given day or night. Stephenson has a good team. You can't take any team for granted."
No team is exempt from adversity, and the Jets will verify that.
They lost senior Alex Naser for the season Oct. 8 due to a hairline fracture below his right kneecap.
"I couldn't have asked for a better year," he said. "I'm going to stay on the sidelines and help as much as I can. I'll be giving the guys a few pointers. It's a little disappointing to not be able to play, but it's all part of football."
The Jets are taking this as a reminder of the importance of depth.
"Other guys have been involved in our offense," said Coach Gorzinski. "They know what they need to do. We may not be as explosive as we were before, but we should still have an efficient offense."

John Vrancic has covered high school sports in the Upper Peninsula since joining the Escanaba Daily Press staff in 1985. He is known most prominently across the peninsula for his extensive coverage of cross country and track & field that frequently appears in newspapers from the Wisconsin border to Lake Huron. He received the James Trethewey Award for Distinguished Service in 2015 from the Upper Peninsula Sportswriters and Sportscasters Association.
PHOTOS (Top) Luke Gorzinski (11) eludes a Portland St. Patrick defender during last season's Division 2 championship win at Legacy Center in Brighton. (Middle) Wyatt Raab (28), another star of last season's Final, is again a standout for the Jets.