Rose's Legend Grows in Shores Repeat
January 22, 2021
By Jason Schmitt
Special for Second Half
DETROIT – Game planning for an all-state football player like Brady Rose certainly isn't easy. 
In fact, it's downright awful just to think about. 
The Muskegon Mona Shores senior quarterback once again proved that point to be true Friday afternoon, leading his team to a 25-19 victory over Warren De La Salle Collegiate and a second consecutive MHSAA Division 2 championship at Ford Field in Detroit. 
Rose rushed 22 times for 154 yards and a pair of touchdowns. But it was a 65-yard scamper early in the fourth quarter that proved to be the play of the game – a game filled with key plays by Rose.
"We ran that play quite a bit (today), but I wasn't being patient, I wasn't bouncing it to the outside," Rose said. "(This time) I just let it develop, let it do what it was supposed to do and I bounced it outside and took it down into the red zone."
The play lifted the spirits of the entire team and provided a much-needed boost of confidence.
"We get the ball down there, everybody is excited again. Everybody is hyped," he added. "After that run, we knew we were going to punch it in. Anytime we get into the red zone, we have to punch it in, and we did."
Three plays later, senior wideout Keondre Pierce scored on a 10-yard pitch to the right side, giving Mona Shores a 19-7 lead with 9:25 left in the game. 
De La Salle, which trailed 13-0 at halftime, didn't give up. The Pilots answered right back on a 52-yard touchdown run by senior JC Ford with 7:58 to play. The drive took just 1:21 off the clock and also included a 23-yard pass from Ford to senior running back Brett Stanley to help set up the touchdown run. 
After a quick three-and-out, the Sailors then relied on their defense to get the ball back. Coach Matt Koziak's team came up with a clutch stop on fourth down, on De La Salle's half of the field. Seven plays later, Rose scored his second touchdown of the game, this time from four yards out to give his team a 25-13 lead with just 1:47 left to play.
De La Salle did move the ball down the field quickly, scoring on a four-yard keeper by sophomore quarterback Brady Drogosh with 16 seconds to play. But it wasn't enough, as Rose recovered the ensuing on-side kickoff attempt and then took a knee to end the game.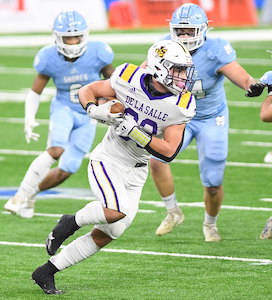 "They did have us on our heels a little bit," Koziak said. "We jumped up on them, 13-0 going into halftime, then they come right back in the second half. We said it at halftime, 'They're not going to go away. They're not going to let you win this, you've got to go take it.'"
The Mona Shores defense, led by senior Kyree Hamel, who finished with 11 tackles and an interception, held De La Salle to just 50 total yards and three first downs in the first half. The Pilots totaled 62 yards on the ground during their drive to start the second half. Ford provided a change of pace for De La Salle, running the ball six straight times to begin the drive. After runs of 15 and 10 yards by freshman Rhett Roeser moved the ball inside the 5-yard line, Ford capped the drive with a four-yard touchdown run to get his team on the scoreboard.
"We didn't run a lot of plays in the first half, and we couldn't get into a rhythm," De La Salle head coach Dan Rohn said. "So we went into halftime and said, 'Let's change things up a little bit and up the tempo.' It's kind of been JC's role all year long. We haven't needed it in the playoffs because he's playing two ways."
Ford finished with 111 yards on 15 carries and those two touchdowns. Stanley had 42 yards and Roeser added 38 for the Pilots. Defensively, junior Will Beesley had a game-high 20 tackles, while senior Jayden Conklin added 14. Junior Dionte Dandridge had an interception.
Mona Shores (12-0) finished with 311 rushing yards. Along with Rose, junior Elijah Johnson also had a good game on the ground. He carried the ball 14 times for 81 yards and had a nine-yard touchdown in the first half. Rose also returned three kicks for 48 yards, averaged 39 yards on his three punts, blocked an extra point and had eight tackles on the other side of the ball.
"What a legacy for him to leave," Koziak said of Rose, who will play collegiately at Ferris State University. "Obviously he's a tremendous player, a tremendous competitor. It's so easy to root for a dude like that. He's not 6-foot-3, he doesn't run a 4.3 40 (yard dash). He's not a 5 star. But all great stories usually have an underdog in it, so it's easy for people to get behind him, for his teammates to get behind him. They love him. I think when we look back on one of the great players, and performances, in the state over the past two seasons, he's got to be in the conversation."
Rohn, who completed his first year at De La Salle after having won four Division 5 championships at Grand Rapids West Catholic, said he was proud of his team for battling through a lot of adversity over the past year.
"We went against one of the best football teams in the state of Michigan and one of the best football players in the state of Michigan," Rohn said. "Hats off to Matt (Koziak) and his team. I have nothing but respect for their program and the way they played today. Who would have thought that we'd be sitting here on January 22 with an opportunity to win a state championship?"
Koziak praised Rohn for all his accomplishments at De La Salle, while also crediting players from all over the state for forging ahead despite all the obstacles they faced over the past year. 
"I'm proud of our young men. I'm proud of the state of Michigan, the football players," Koziak said. "These young men have been through the ropes. They've been on an emotional rollercoaster. Football prepares you for life. But this season, holy cow, it's going to teach you disappointment, it's going to teach you hope, it's going to teach you surprise, it's going to teach you humility. I have no doubt these young men are going to be good fathers, and better sons, better husbands because things didn't go their way this year. Whether it was wins or losses, or COVID, or a pause in the season, whatever it was. They're all going to be better human beings for it, and I think that's a special message we tried to preach all year."
PHOTOS: (Top) Muskegon Mona Shores quarterback Brady Rose drops back to pass during Friday's Division 2 championship game at Ford Field. (Middle) De La Salle's Will Beesley makes his move as Shores defenders close in. (Click for more from Hockey Weekly Action Photos.)