Talented QB, Veteran Lineup Elevating Churchill Into League, D2 Challenger
September 22, 2021
The first item on the docket when one assesses the first half of the season for the Livonia Churchill football team is its 28-21 victory over Belleville on Sept. 10.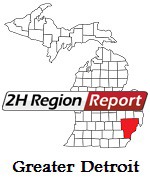 But turn back the pages and you'll find the success coach Bill DeFillippo and his Chargers are experiencing began during the pre-pandemic season of 2019.
Churchill (4-0) is expected to be tested again Friday when it travels to Dearborn High (3-1) in a Kensington Lakes Activities Association East game. Dearborn's loss was to Belleville (49-0). Churchill is tied with Dearborn Fordson (4-0) for first place at 3-0 in the East. Belleville (3-1) and Dearborn are a game back.
Two years ago DeFillippo started eight sophomores on a team that lost to Belleville 35-14 and finished 7-5 after a 1-4 start. Churchill was 6-3 during last year's COVID-shortened season, and expectations were high heading into this fall – especially with the return of quarterback Taj Williams.
Considered one of the top offensive-minded coaches in the Detroit area, DeFillippo is in his ninth season as Churchill's head coach. The previous five seasons he was the program's offensive coordinator under coach John Filiatraut. DeFillippo cut his teeth as the offensive coordinator at Ann Arbor Huron (1990-99) under coach Paul Verska. The 1997 Huron team reached the MHSAA Class AA Final before losing to Detroit Catholic Central, 23-7.
DeFillippo continues to run the offense, and his specialty is working with quarterbacks. With Williams, he has another in a long line of talented ones.
Beginning with Seth Suda in 2011, DeFillippo coached five quarterbacks who went on to play in college (one, Drew Alsobrooks, is on the Central Michigan baseball roster). Williams is quite possibly headed toward becoming his sixth.
Williams started a few games as a sophomore at Churchill. Before his junior season, his family followed a job move to Stockbridge, Ga., (Stockbridge High School), where Williams started three games before suffering a broken collarbone.
He's recovered well from that injury and has shown improvement in his return to Churchill, particularly in the passing game. Simply, Williams makes the offense go.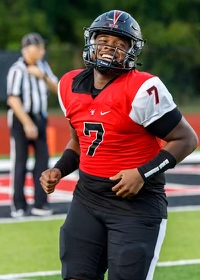 At 5-foot-11 and 205 pounds, Williams has always been a strong runner. This season he's become a true dual threat throwing for 10 touchdowns and just one interception. He's also rushed for three touchdowns, and his completion success is a tad under 70 percent.
In addition to his growth physically, Williams is playing with a chip on his shoulder. As a freshman he attended Belleville, where he was a starter on the junior varsity before transferring to Churchill. There were those who muttered that Williams feared the competition he faced at Belleville, and thus the transfer. The truth is, his family simply moved to Livonia.
"I have a lot to prove to a lot of people," Williams said. "People doubted me. (People) said I left Belleville because I wouldn't play there."
Williams owes his development to a handful of coaches, DeFillippo obviously included. Williams also credits his Stockbridge coach for assisting in his improvement as a pocket passer. Then there's Terrance Williams, Taj's uncle, who's the running backs coach at Churchill and has served as another mentor.
On a day-to-day basis, at practice or at home, Williams confides in DeFillippo. Take a Saturday afternoon for example. Both will be at their homes watching a college game, and they'll compare notes as to what type of offense a particular team is running. One will see a play work, and that'll start a conversation on what they can do to expand Churchill's offense.
"(DeFillippo) has been very helpful," Williams said. "He teaches me about the game. He breaks it down – how to learn my progressions."
DeFillippo's shotgun spread scheme features Williams and his versatility, but there's much more to this offense that's averaging 42 points per game. Running back Boston Clegg is one of eight three-year starters, and his power running style allows Williams room to maneuver on the perimeter. Clegg started at linebacker his sophomore and junior seasons, but DeFillippo has limited his play on defense this season to keep him fresh on offense.
Josh Brown and Bailey Brooks have big-play potential at the receiver spot. The left side of the offensive line is anchored by tackle Matt Landis (6-4, 240) and guard Lawrence Nash-Martin (6-3, 285).
The defense allowed 54 points over the first two games, but has played well since. The line is loaded with experience as Demarius Gibson-Wells (DT), Kameron Balhorn (DE) and VJ Ragland (DE) are all three-year starters. Brown starts at cornerback and also returns kicks.
There are no big-time college recruits in the mix, but many of the seniors are being recruited by Division II and FCS schools.
"We have a lot of very good high school players," said DeFillippo, a teacher in the Livonia school system since 1994. "We're a blue-collar community. We have a lot of kids who need football and love the sport."
Churchill is ranked No. 2 in Division 2 according to the latest Associated Press poll, and DeFillippo is quick to point out that two KLAA East teams – Belleville and Fordson – are ranked in the top 10 in Division 1.
Belleville (3-1) remains the measuring stick for teams in the KLAA. The Tigers reached the MHSAA Division 1 Semifinals both of the past two seasons, losing to eventual champ West Bloomfield 35-34 in double overtime to cap last year's extended run.
"It's (was) our fourth time playing them since they entered the KLAA four years ago," DeFillippo said of this season's Belleville win. "The first time we led at halftime, then lost. They jumped us in 2019 when we had all those sophomores and it was 21-14 in the fourth quarter last season.
"We have played them as well as anyone in our league. We gained a lot of confidence with that win. We executed, and our players played out of their minds.
"We know we have the target on our backs after that."
After this week, Churchill has Livonia Franklin, Fordson and Livonia Stevenson left to play in the division before ending the regular season with a KLAA crossover. As the smallest school by enrollment in the KLAA and one of two teams (Franklin is the other) that does not compete in Division 1, Churchill is sure to benefit from the tough schedule as it prepares for the postseason.

Tom Markowski primarily covered high school sports for the The Detroit News from 1984-2014, focusing on the Detroit area and contributing to statewide coverage of football and basketball. He also is a former correspondent and web content director for State Champs! Sports Network. Contact him at tmarkowski@statechampsnetwork.com with story ideas for Oakland, Macomb and Wayne counties.
PHOTOS: (Top) Taj Williams (7) and his Churchill teammates take the field this season. (Middle) Williams' return to the field this fall has been a big part of his team's 4-0 start. (Photos courtesy of the Livonia Churchill football program.)