Bucs Earn Shot at Grand Finale
March 15, 2013
By Geoff Kimmerly
Second Half editor
EAST LANSING – Grand Haven's girls basketball players toppled over each other on the Breslin Center floor Friday afternoon just as they did in celebrating their first Class A championship here a year before.
But the Buccaneers also realized they have one more game to win to finish one of the finest seasons in MHSAA girls basketball history.
Grand Haven earned that opportunity by coming back to defeat Westland John Glenn 55-46 after trailing in the Semifinal with a quarter to play.
The Bucs might not have been expected to put this run together after graduating most of last season's team. But led by senior Abby Cole – who had a triple-double before the end of Thursday's third quarter – they not only are in position to repeat, but also to finish undefeated this winter.
"Especially for the seniors, everyone wanted to come back and do what the seniors did for us last year," Bucs senior Hannah Wilkerson said. "For the juniors now on the team, we wanted them to experience it. It's still the best memory I have, ever."
Grand Haven (27-0) will face No. 2 Grosse Pointe South at noon Saturday. The Bucs edged South 54-53 in last season's Class A Final and have won 50 straight games. 
John Glenn came into Thursday with similar credentials to Grand Haven a year ago – carrying only one loss and seeking its first championship game berth. The No. 6 Rockets (24-2) actually were undefeated in Michigan, with their only loss to Toledo Rogers from Ohio.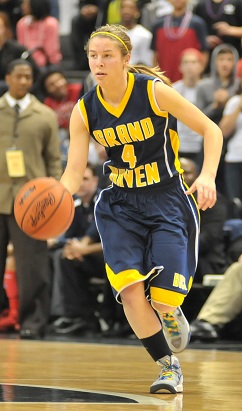 Pressuring and fastbreaking, John Glenn jumped to a 14-10 lead to end the first quarter after forcing Grand Haven into most of its 10 turnovers in the period and scoring 10 points off the fastbreak. 
But Cole was just getting started on a performance that will be remembered among the best of her all-state career.
The 6-foot-5 center finished with 23 points, 19 rebounds and 12 blocked shots, and even hit the first 3-pointer of her career – she had air-balled her only other attempt, earlier this season. 
Cole finished third in the Miss Basketball voting on Monday after finishing second in the Miss Volleyball voting at the end of the fall. She was named Class A basketball Player of the Year by The Associated Press, and will play volleyball at the University of Michigan next season.
"She's the biggest impact player in the state," Grand Haven coach Katie Kowalczyk-Fulmer said. "Just with her ability to block shots, rebound and score around the rim, and she makes everybody on our team better." 
But the Bucs likely wouldn't have moved on without some help. Junior forward Taylor Craymer scored 20 points, with half of those coming during the fourth quarter including the final go-ahead basket with 5:21 to play. Sophomore guard Amanda Merz had seven assists as the team steadied itself after the early Rockets rush. 
John Glenn senior guard Raven Bankston – who with sister Raine has signed with Delaware State – filled the stat sheet with 23 points, five rebounds, three assists and 11 steals, and senior guard Sha'Keya Graves scored 12 points. But although the Rockets launched 71 shots, they were able to connect on only 17 for the game and 2 of 18 shots during the fourth quarter. 
"Bottom line, Abby Cole disrupted everything we wanted to do," John Glenn coach Eric Kovatch said. "She's one heck of a ballplayer, and I'm sure a lot of college coaches wish she was playing college basketball instead of volleyball. 
"I think that got a little into our heads in the first half. Shots weren't falling, and a lot of times this year those shots were falling. We want to put up a lot of shots. We just weren't making as many as we usually do."
Grand Haven entered the postseason ranked No. 3 in Class A, behind Detroit Martin Luther King and Grosse Pointe South.
Unlike a year ago, the Bucs were undefeated during the regular season after folding in a number of talented contributors from last season's junior varsity team.
"We have such a good program at Grand Haven. We're continually getting better, and the coaching staff is a huge part of it," Cole said. "A lot of people doubted our team this year because we lost so many seniors. But I don't know that many people knew we had an almost-undefeated team coming up from JV."
PHOTOS: (Top) Westland John Glenn's Raine Bankston (1), attempts to drive past Grand Haven's Amanda Merz during Friday's Semifinal. (Middle) Merz pushes the ball upcourt during the 55-46 win  (Photos by Hockey Weekly Action Photo.)