Cousino Makes Name in Semifinal Debut
March 18, 2016
By Geoff Kimmerly
Second Half editor
EAST LANSING – By at least some in the know, little was expected of Warren Cousino and Hudsonville heading into this MHSAA Tournament – both entered unranked.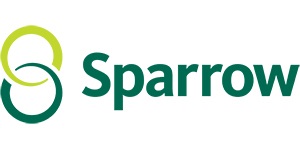 Both then won Regional titles for the first time last week, and extended dream seasons with a Semifinal matchup Friday that was going to end with one getting to play for the ultimate goal for the first time. 
By the end of the first quarter, Cousino – often mispronounced, but reads like a member of a family – left little doubt which team would get that opportunity.
Riding the powerful drives of junior guard Kierra Fletcher – whose 37 points tied for third most in MHSAA Semifinals history – the Patriots carried that early jumpstart to a 60-45 win and a return trip to East Lansing on Saturday.
"We came into this tournament and we knew we were sleepers," Fletcher said. "We just wanted to prove everyone in the state wrong because half of Michigan calls our school 'casino' or 'coosino,' so we're happy getting Cousino on map. I think we'll go far … next year and years on because of this."
Cousino will take on No. 4 Detroit Martin Luther King at noon Saturday in the Class A Final, facing a program seeking its sixth title and with much more experience at this late date in the season. 
But it was impossible to tell the Patriots (22-4) were newcomers in their Breslin debut.
Fletcher made 14 of 20 shots from the floor as her team connected on 50 percent as a whole. She also grabbed nine rebounds and had five assists, driving and dishing to shooters on the perimeter who took advantage.
Freshman guard Kate McArthur added 13 points and made three 3-pointers, and freshman guard Mackenzie Cook made her only try from beyond the arc.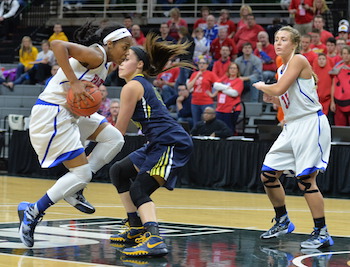 With Fletcher scoring eight points, Cousino as a team jumped to an 11-0 lead off the tip. Hudsonville sophomore Kasey DeSmit's 3-pointer with 2:29 to play in the first quarter cut a 10-point lead to seven – but that was the last time the margin was in single digits.
"We set the tone early on as far as defensively, and it helps when you hit your first four shots you take," Cousino coach Mike Lee said. "Kate set the tone especially from the outside range, and Kierra set the tone from the inside part of it."
He could tell the afternoon might turn out well after his team brought a focused but light approach to the bus ride to Breslin. 
Lee told his players that Hudsonville would be just as nervous. But Cousino seemed to turn any anxiety into intensity. 
"We set that aggressive tone because we were faster and we had more athletes," Fletcher said. "And I think our mindsets were just right at the time."
The teams played nearly evenly after Cousino finished the first quarter with a 21-8 lead. Hudsonville took advantage of its size in the post, with 5-foot-10 senior forward Shaina DenBesten finishing with 15 points and nine rebounds and 6-0 junior center Chloe Guingrich adding 12 and 10, respectively.
Friday's end was an incredible one for the Eagles (23-4), who were 2-19 two seasons ago and then 15-9 last winter. 
"For us, we've been in situations where we've had to play from behind, but I don't know if we've ever had a situation where we've been that far behind and had to come back," Hudsonville coach Casey Glass said. "I'm just proud of these kids, because I think at the beginning of the year no one would have ever given us a chance to be right here."
Probably not Cousino either. But Friday showed the Patriots have the ability to achieve more. 
"For a little school like Warren Cousino to finally get over that hurdle," Lee said, "I'm pretty proud today."
The Girls Basketball Finals are presented by Sparrow Health System. 
PHOTOS: (Top) Warren Cousino players celebrate at the end of their Class A Semifinal win Friday. (Middle) Cousino's Kierra Fletcher (3) bursts into the lane while a Hudsonville player defends.