DeWitt Sees Way to 1st Final since 1977
March 20, 2015
By Geoff Kimmerly
Second Half editor
EAST LANSING – DeWitt girls basketball coach Bill McCullen has seen the motivation for his team's longest tournament run in nearly 40 years in the eyes of his players for months.
His five seniors found their determination in the eyes of their former teammates at the ends of the last three seasons.
Most years, McCullen carries a few underclassmen on varsity. That additional time molds those players into the next team leaders – and also has allowed these seniors the chance to experience first-hand the disappointment of ending the last three seasons in the District tournament.
DeWitt played in its fourth MHSAA Semifinal on Friday of McCullen's 19 seasons as coach. The Panthers will play for its first championship since 1977 on Saturday thanks to a 44-36 win over Saginaw Heritage – and the motivation they gained from falling short earlier in their careers.
"More toward the end of every season, we're not happy with how we finish. That fuels every season from there after," four-year varsity guard Claudia Reid said. "We get a little farther each time, but it's always ended in disappointment.
"… (And) the seniors who graduated before us, that we played with when we were in the younger grades, we saw how they went out," three-year senior forward Abby Nakfoor continued. "We've seen how much heartbreak they had to go through with that, and we didn't want to go out with a loss."
DeWitt (25-1) will face reigning champion Bloomfield Hills Marian in Saturday's noon championship game at MSU.
The Panthers had last played in an MHSAA Semifinal in 2009, in Class B. They made the jump into Class A for the 2011-12 school year, and this winter for the first time found similar tournament success.
Seniors Maria Moss, Cayce Palmer and Alex Bilbo all joined Nakfoor and Reid with the varsity as sophomores in 2012-13 and were part of a league title team that winter. But the team didn't advance past the second game of the District either of the last two.
"I've seen it in their eyes, and this goes back months and months and months," McCullen said. "These kids … have been through a lot. Knee injuries, blood clots on the brain and all kinds of things. We just have some kids that don't want to be denied right now."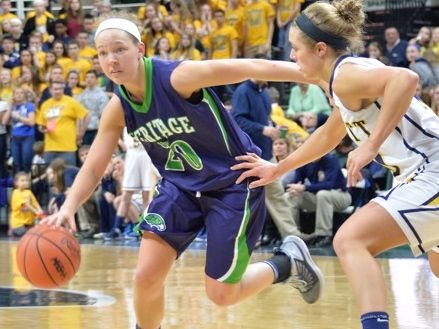 They had to answer only once Friday, but at a crucial juncture as the Hawks appeared on the verge of breaking away after pushing to get back even.
DeWitt led by as many as eight points during the first half, but found itself slowed way down by the Hawks' zone defense and trailing 19-18 three minutes into the third quarter after a basket by Heritage sophomore Haley Brefka.
But the Panthers didn't allow the Hawks to gain a foothold. The teams traded a few shots and turnovers over the next three minutes before Reid found Moss on a transition bucket that seemed to kick the pace back in DeWitt's favor.
The Panthers' seniors scored 21 of the team's 23 points the rest of the way.
Reid finished with 11 points and six assists and Nakfoor added eight points and five rebounds. Junior center Lilly George added eight points and six rebounds.
Saginaw Heritage coach Vonnie DeLong spoke after of her senior guards Allie Miller and Aubree Snow, who combined for 19 points, six rebounds and six assists.
Her words could've applied to DeWitt's veterans as well. 
"You don't get here without guard play. It just doesn't happen," DeLong said. "That's usually who wins it, teams with good guard play. Guards will carry you this far."
Heritage finished 24-4 after its longest tournament run since winning Class A in 2002.  The Hawks played two freshmen, two sophomores and a junior with their senior guards – and should bring back a number of players with valuable experience for another run next winter after making one that DeLong admitted most in Michigan probably didn't expect.
"I'm disappointed I couldn't play one last game here, and with this team," Snow said. "But we did come this far, so I'm proud of that."
Click for a full box score and video from the press conference.
PHOTOS: (Top) DeWitt's Claudia Reid drives to the basket with Heritage's Allie Miller (20) defending Friday. (Middle) Miller looks for an opening with Reid closing off part of the lane.