Hartland Sets Sights on Unprecedented Heights
January 14, 2020
By Geoff Kimmerly
Second Half editor
This season isn't half over for the Hartland girls basketball team. And as impressive as they've performed over the first six weeks, there are lessons from the last few seasons they must continue to recall with expectations high this winter.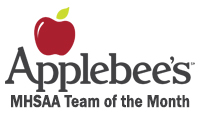 Take last week's 50-40 win over Plymouth. The Eagles trailed early 14-1 – reinforcing coach Don Palmer's message that every opponent is aiming to bring its best against a Hartland team with championship aspirations.
"I think a lot of times they've very focused and excited," Palmer said of his team. "But … being teenagers, sometimes they're complacent and take it for granted – and that's just natural. That's when we get upset, so we just kinda battle that a little bit."
The hope is winning those prepares the Eagles for an unprecedented opportunity at the end of March.
The Hartland girls basketball team is the MHSAA/Applebee's "Team of the Month" for December, opening with four wins including victories over a pair of reigning MHSAA Finals champions – Division 4 Adrian Lenawee Christian (61-40) and Division 1 Saginaw Heritage (37-26) in the Eagles' first two games. They closed the month with double-digit wins over Okemos and Bay City John Glenn, two more programs with high hopes this winter, and have since moved to 6-0 heading into Tuesday's game against Howell.
Palmer has coached high school varsity basketball a combined 71 seasons, leading teams to 963 wins through Friday – the most in Michigan high school history. So when he says this season's Hartland girls basketball team is the most talented he's coached, that carries significant weight.
Palmer ranks seventh in MHSAA girls basketball history with a 616-311 record after leading Milford from 1977-2009 and then the Eagles since 2009-10. He quickly can recount the three athletes he sent on to Division I college athletics during those first three decades – before then offering context by describing how this Hartland team is led by University of Michigan recruit Whitney Sollom with at least five more players holding or on the verge of opportunities at the next level.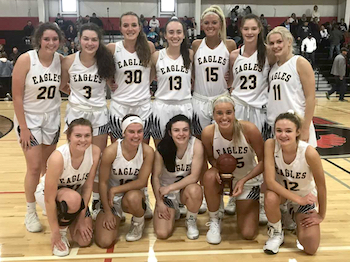 So talent isn't a question. But will this also turn out to be Palmer's best team?
Hartland has made the Class A/Division 1 Quarterfinals the last two seasons, finishing 22-4 a year ago. Sollom, a 6-foot-3 post, has been on varsity all four of her seasons, with the team a combined 70-12 during that time.
A likely Miss Basketball candidate, Sollom was averaging 11.4 points and 12 rebounds per game entering last Friday's 44-point win over Salem. Leading the team in scoring is Nikki Dompierre at 12.6 ppg, while Madi Moyer adds 8.2 and 7.4 rebounds per game. All three are senior captains.
Junior Syd Caddell and sophomore Amanda Roach also are back as the team returned its entire starting lineup this winter.
The challenges will start locally. Undefeated Brighton and the one-loss Highlanders also both play in the Kensington Lakes Activities Association West. Howell also is in Hartland's District.
Palmer said his team's unselfishness and support of one another have impressed him most. But of course there's a long way to go this season – and the team is hoping to build to a big finish as it seeks its first MHSAA Finals championship in this sport.
"We're really in a great cycle," Palmer said. "When I got the job at Hartland, I had been in the same league at Milford, and we were beating their varsity by 1-2 points. But the lower levels, we could just seeing it coming. My comment to my staff is we'll have no excuses for not winning.
"I'm very happy and thrilled about the success, but I also knew we'd have players."
Past Teams of the Month, 2019-20
November: Bridgman girls cross country - Report
October: Allegan boys tennis - Report
September: Ishpeming Westwood girls tennis - Report
PHOTOS: (Top) Hartland's Whitney Sollom puts up a shot during a December win over Okemos. (Middle) The Eagles celebrate with a team photo after the win over Bay City John Glenn. (Top photo courtesy of State Champs Sports Network; middle photo courtesy of the Hartland girls basketball program.)