With Lead Scorer Sidelined, West Catholic Finds Way to Saturday
EAST LANSING – Abbey Kimball, Michigan State University recruit and Grand Rapids West Catholic star, was right at home Friday during her team's Division 2 Semifinal against Detroit Country Day – until a collision while trying for a steal with 4 minutes, 37 seconds left in the first half sent her to the locker room after silencing the Breslin Center crowd.
The outcome was well in hand as the Falcons (25-1) were up nearly 20 points on the way to advancing to the Final with a 62-42 victory, but Kimball being at full strength for Saturday's championship game suddenly was in doubt.
Kimball was the only senior starter on the floor for either side. Her day was done with six points. She sat on the bench in the second half with an ice pack over her blackened right eye.
"Yes, I will be ready to go tomorrow," Kimball said after. The Falcons will play in their first Final at 6:15 p.m. Saturday since finishing runner-up in Class B in 1995.
She had future MSU teammates in the arena cheering her on.
"They supported me throughout my high school and AAU career,'' added Kimball. "It was great to be able to play at my future home. COVID affected us the last two years. We just kept working with the goal of getting a championship.''
Four Falcons scored in double figures with Anna Ignatoski dropping in 15 points, Reese Polega 13, Emma Tuttle 12 points and grabbing 11 rebounds, and Cadence Dykstra scoring 10.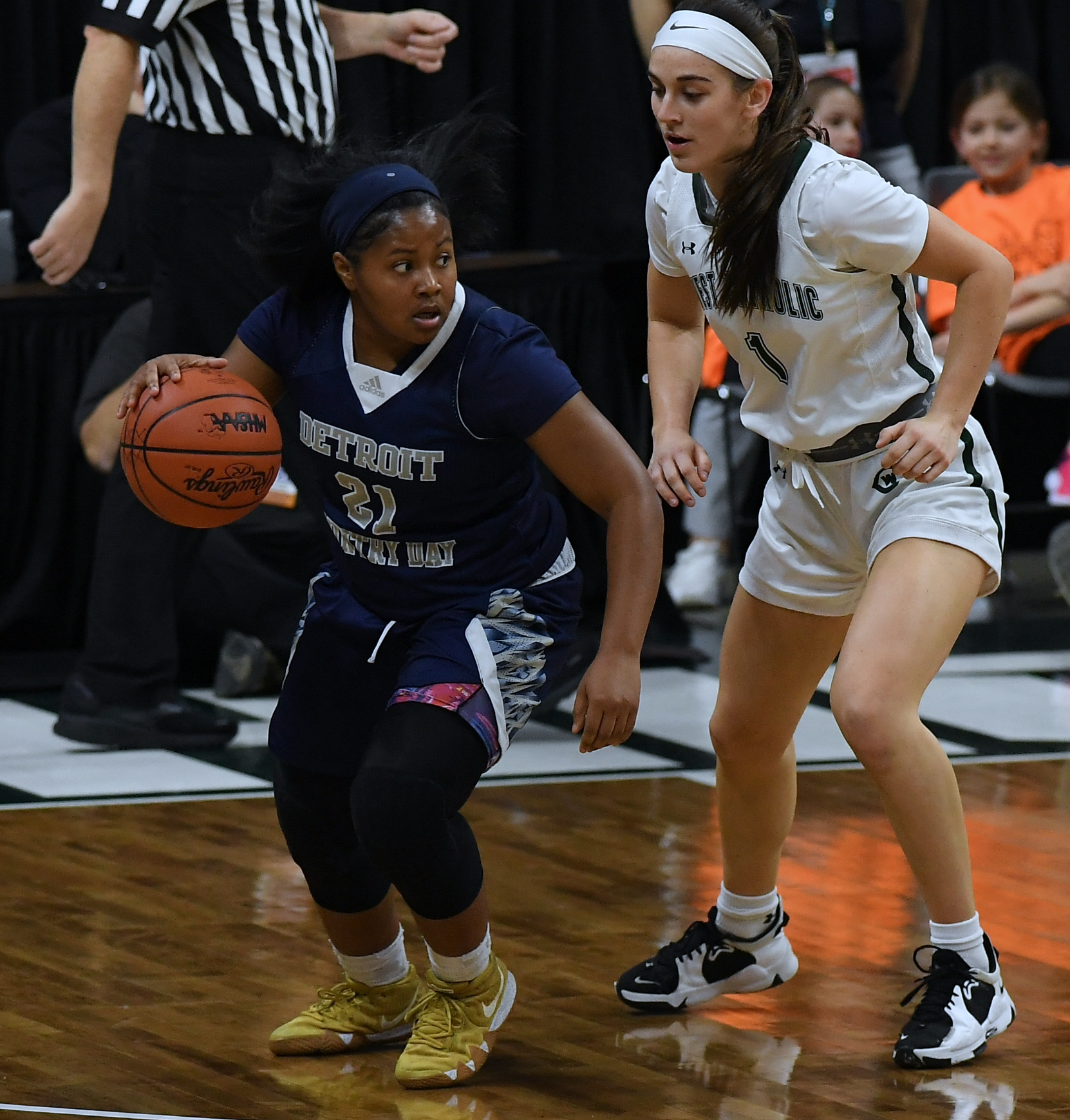 "You hate to see your best player go down. Your heart goes in your throat," West Catholic coach Jill VanderEnde said. "We had our athletic trainer (Ryan Vogel) take her through the proper procedures. I thought our other players stepped up.''
West Catholic's defense forced 17 turnovers in the first half and shot 51.6 percent from the field in building a 45-25 lead. For the game, Country Day was stifled shooting 28.6 percent from the field while totaling 24 turnovers.
The Falcons length and athleticism caused problems for the young Yellowjackets at both ends.
"We had a hard time getting into any rhythm,'' said Country Day coach Jerica Williams. "You can credit their defense for that. We had a lot of turnovers. If we had been able to protect the ball … . They are a very good team. We hope they win it all.''
West Catholic shot 50 percent from the field and 50 percent from 3-point land during the first quarter and took a commanding 21-5 lead as the Yellowjackets had more turnovers (seven) than points.
The Falcons scored the first five points of the second quarter to assume a 26-5 lead. Standout sub Ignatoski (12) and Polega (11) combined for 23 points during the first half.
Kimball took a wicked shot trying to get a steal from Aysia Yokely, who led the Yellowjackets with 21 points.
Sophomore Jaidyn Elam added 17 points for Country Day (14-8), which was appearing in the Division 2 Semifinals for the second straight season.
PHOTOS (Top) West Catholic's Ellie Bies (11) reaches to grab a loose ball above a pair of Country Day players during her team's Semifinal win Friday. (Middle) The Yellowjackets' Aysia Yokely (21) looks for an open teammate, with Abbey Kimball defending. (Click for more from Hockey Weekly Action Photos.)