Lenawee Christian Earns Saturday Return
March 21, 2019
By Geoff Kimmerly
Second Half editor
GRAND RAPIDS – When Division 1 Ann Arbor Pioneer made a last-second 3-pointer to force Adrian Lenawee Christian to overtime a little more than a month ago – and the Cougars still prevailed – junior Elizabeth Miller knew her team was on the way to another special finish this winter.
Only a season removed from the team's first MHSAA girls basketball championship, there no doubt were recognizable signs.
"We really just played with heart in overtime and ended up winning, and that was a really big win for us," Miller said. "That kinda motivated us to work really hard the rest of the season. I think that's what pushed us to get here today."
After winning Class D led by an all-state freshman and without a senior in the starting lineup, it may have seemed inevitable Lenawee Christian would return to Calvin College and the final day of this season.
The Cougars took the last step Thursday with a 57-36 Division 4 Semifinal win over Fowler, setting up Saturday's 10 a.m. championship matchup with undefeated St. Ignace.
By looks of their scores this playoff run, Lenawee Christian (25-2) barely has been challenged – Thursday's win was the sixth straight by at least 15 points since opening the tournament with an eight-point victory over Pittsford.
But it's hardly been that easy, as the Cougars again prepped for this postseason with a slate of games against larger opponents, losing only to Division 3 top-10 teams Grass Lake and Michigan Center.  
"We know we have to work hard. We know what it takes … just do it as a team to get here," Lenawee Christian junior Dani Salenbien said. "We know what it takes, and we know it's not going to be easy."
Thursday's start certainly helped.
A year ago, the Cougars needed overtime to get past Mount Pleasant Sacred Heart by two points in their Semifinal. This time, Lenawee Christian built a double-digit lead in just under five minutes, and kept it in double digits for good beginning with a Miller 3-pointer nine seconds into the second quarter.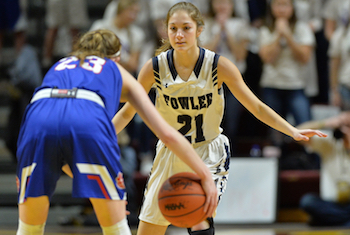 Salenbien, an all-state second-teamer a year ago, led with 25 points and eight rebounds. Her sophomore sister Bree – the Class D Player of the Year by The Associated Press last season – added 17 points, nine rebounds and four assists. Both made at least half their shots from the floor, and Dani missed making the MHSAA record book by two free throws, connecting on 13 of 16 attempts from the line.
"I just think the target on our back has been extremely big, and the expectations have been really high," Cougars coach (and Bree and Dani's father) Jamie Salenbien said. "But a credit to these kids for being as young as they are, being able to handle that night in, day in and out. It's been amazing to see. Their faith and the support from the community has been amazing, and they've been able to handle that."
Expectations were not as high this season for Fowler – but the Eagles put an impressive finishing touch on an inspiring comeback story with their first Semifinal appearance since 1999.
They play in the Central Michigan Athletic Conference – home of Division 3 top-ranked Pewamo-Westphalia and six-time Class D champ Portland St. Patrick among a host of contenders – and two years ago were down to just a varsity team.
Fowler's lone team went 5-16 in 2016-17, improved to 10-12 a year ago and put together a solid run over the last three weeks to finish this season 17-8.
"When Coach (Nathan Goerge) broke the news that we were only going to have one team my sophomore year, it was kinda hard for me to take," Eagles senior forward Alyssa Vandegriff said. "But ultimately I think it was a good decision because it helped everyone who was on that one team come together, and we got to know each other. The people who were on that team with us are on our team today. If we weren't on the same team together my sophomore year, I don't think we'd be as close as we were or play as well together."
Junior guard Kalani Koenigsknecht and freshman guard Mia Riley both scored a team-high 10 points for Fowler. Sophomore Sarah Veale had eight points, five rebounds and three assists.
PHOTOS: (Top) Lenawee Christian's Dani Salenbien directs the offense while Fowler's Kalani Koenigsknecht defends. (Middle) The Eagles' Josie Koenigsknecht defends against Salenbien.