Marian Keeps Celebrating With 5th Title
March 15, 2014
By Tom Kendra
Special to Second Half
EAST LANSING – With all of the hoopla and postgame celebrating after Bloomfield Hills Marian's emotional MHSAA Class A Semifinal victory over rival Farmington Hills Mercy on Friday afternoon, it's no wonder veteran coach Mary Cicerone was worried about a letdown.
Especially when the next opponent was experienced Canton, arguably the state's most suffocating defensive team.
"We were in celebration mode after beating Mercy," Cicerone conceded, "and I was worried they weren't going to come out here aggressive (Saturday)."
Leave it to a freshman to calm the nerves of her 31st-year head coach.
Samantha Thomas, a 6-foot freshman, scored a game-high 15 points, including nine in the critical third quarter, to lead Marian to a 44-26 victory over Canton in Saturday's MHSAA Class A championship game at the Breslin Center.
"In the first half, we were being selfish a little bit," said Thomas, whose sophomore sister Bailey Thomas scored eight points and finished with a game-high four steals. "We started to spread them out in the third quarter. We drove a few times and missed, and I was there to get the rebound and put it back in."
The Mustangs (25-2) won the 560th game and fifth MHSAA championship under Cicerone, but her first since 1998. Marian won four Class A titles between 1988 and 1998.
Not many figured this would be the team to end that title drought, with a roster that featured just one senior in 6-1 forward Laura Bruton.
Canton did a good job on Bruton, limiting her to three points and two rebounds in her final prep game, but it was the athletic ability of the Mustangs' underclassmen that sparked them in Saturday's second half.
Samantha Thomas, who has yet another family member involved with the program as her father, Derek Thomas, is a Marian varsity assistant coach, scored nine points in the third quarter on three three-point plays as the Mustangs turned a slim 22-16 halftime lead into a comfortable 35-21 leading entering the fourth quarter.
Canton, which is known for its defense and is not a come-from-behind, explosive kind of team, was never able to mount a rally during the final 8 minutes.
"The first 4 minutes of the third quarter were big," said ninth-year Canton coach Brian Samulski, who started three seniors. "Marian is so aggressive, they just pushed us away from the basket and we couldn't execute our offense."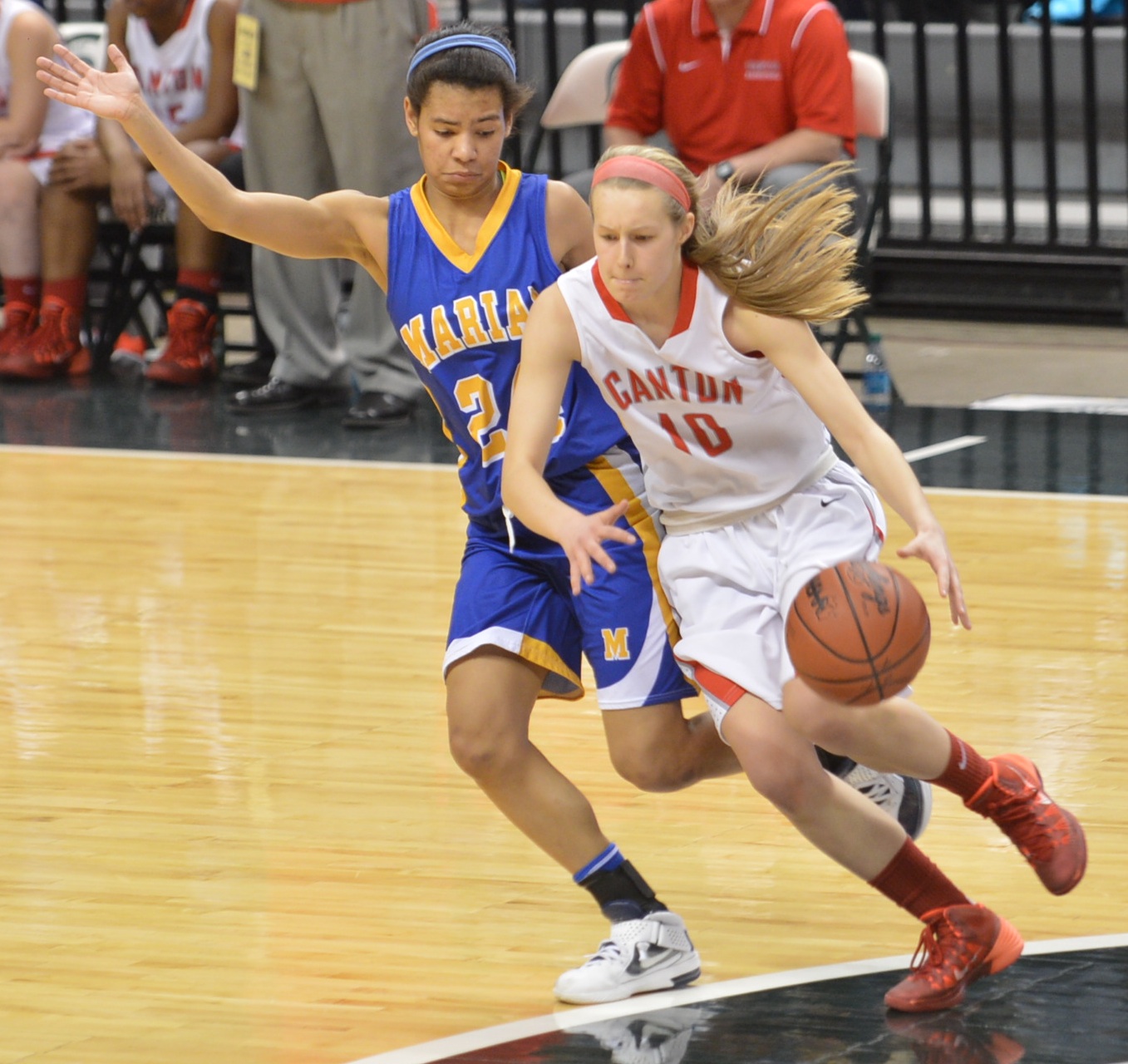 The Chiefs, who finished their best-ever girls basketball season at 22-5 and with their first championship game appearance, had their best success in the second quarter. Senior guard Rachel Winters scored all six of her points in that quarter as she repeatedly got behind Marian's aggressive defense on give-and-go plays.
But those opportunities weren't there after halftime.
"We felt fine at halftime, because we were only down by six points," Winters said. "But Marian's pressure got to us. They kept changing their defense, and it was hard to adjust."
Paige Aresco, a 5-10 senior forward, led Canton with nine points and six rebounds, while 6-1 senior Taylor Hunley added four points and five rebounds.
"I'm proud of this team," Aresco said. "I don't think anyone expected us to be here. It was a great team to be a part of."
Canton was truly the Cinderella team of this year's Class A tournament, entering the dance unranked and barely even garnering honorable mention status in the final Associated Press poll, with just one vote.
Marian entered the postseason ranked No. 5 and will certainly be a threat to repeat next season, with 14 of the 15 players on Saturday's roster returning.
In addition to the Thomas sisters, the Mustangs also should return sharpshooting junior Kara Holinski, who scored nine points on Saturday after going off for 20 in Friday's convincing 67-55 victory over Farmington Mercy.
Another strong-shooting junior who will be back is Jaeda Robinson, who scored five points on Saturday.
"It was definitely a goal to win the state title," explained Robinson. "We were on a mission, and we finished it. We pride ourselves on defense, and today that was what got our offense rolling."
While much of the focus coming into Saturday's finale was Canton's lane-clogging, man-to-man defense, Marian held its seven postseason opponents to an average of 30 points, highlighted by a 43-17 win over Port Huron Northern in the Quarterfinal.
It was truly a full-circle season for the Mustangs, who began on opening night with a 49-38 win over Canton and then ended it Saturday with an 18-point victory. The only two losses came at the hands of Mercy, including a buzzer-beating, heartbreaking loss in the Detroit Catholic League championship game – a defeat Cicerone said burned inside the team and, ultimately, fueled its postseason run.
Cicerone, who publicly wondered in recent years whether she would still be coaching when Marian won its next MHSAA title, said this year's team may have been young, but they were a true team that supported each other and never complained.
"It's easy to come back and coach these kinds of kids," Cicerone said. "I'm the negative one that's nagging them all the time. They pick each other up. They work hard, they don't complain and it's fun."
Click for a full box score and video from the press conference. 

PHOTOS: (Top) Bloomfield Hills Marian player rush the floor to celebrate their Class A championship. (Middle) Marian's Bailey Thomas works to stay in front of Canton's Rachel Winters.

HIGHLIGHTS: (1) Paige Aresco of Canton grabs the Marian miss, gets the Chiefs in transition and takes the pass to basket to pull her team closer in the second quarter of the Class A finale. Marian scores after a miss. (2) Samantha Thomas takes a pass from Brittany Gray and scores in the third quarter of the Class A title game against Canton.