By Doug Donnelly
Special for Second Half
MORENCI – When Madysen Schmitz was a freshman in high school, she told Morenci athletic director Kay Johnson she was going to earn 16 varsity letters with the Bulldogs.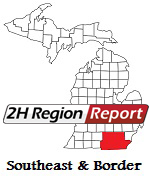 Schmitz was wrong. If all goes as planned, she'll earn 18.
"I'm used to being involved," Schmitz said.
Her to-do calendar leaves little time for anything else.
A senior, Schmitz has never played a sport at the junior varsity level. She already has completed four years of varsity volleyball and this past fall was part of Morenci's club equestrian team. This winter, she is not only one of the top scorers in Lenawee County in basketball, she's a member of the competitive cheerleading team. Later this year she plans to be a dual-sport athlete for the fourth straight spring, playing softball and competing as part of the Bulldogs track & field squad. She also has been a sideline cheerleader for Morenci.
"Mady is naturally talented," Johnson said. "She is fast and jumps so well. She's been doing all of the cheer moves for some time now. She's just very athletic."
Morenci allows athletes to compete in multiple sports during one season as long as they abide by the guidelines set forth by the district. One of those rules is to pick a predominate sport that takes precedent in any season. Last spring, for example, it was track & field instead of softball. Schmitz qualified for the MHSAA Finals in the long jump. After the event was over, she drove back to southeast Michigan to play in a Division 4 District Final for the softball team.
"My coaches work with me and around my schedule," Schmitz said. "If they know I have basketball practice after school, we'll have cheer practice in the morning. Or, if there is a game one night, we won't have practice in another sport that day. They work with me."
Johnson, who is also the Morenci softball coach, said the district supports dual-sport athletes.
"We allow it, but not many athletes do it," Johnson said. "It's tough to compete in multiple sports at the same time. With our enrollment (just more than 100 girls at last count), if we have an athlete that wants to do two sports, we'll let them."
Schmitz helped Morenci's softball team into the MHSAA Semifinals as a sophomore. She's an outfielder who covers a lot of ground because of her speed.
Success is nothing new to Schmitz, who moved from Evergreen Schools in Ohio to Morenci before her freshman year. She's leaving quite a legacy on the ultra-successful Morenci athletic program. She's received numerous honors from the Tri-County Conference, was second team all-county in basketball last season and enters Friday's home game against co-TCC basketball leader Ottawa Lake Whiteford with 987 career points. The only other Morenci girl to reach 1,000 career points is Kylene Spiegel, now in her first season as head women's basketball coach at Lawrence Tech.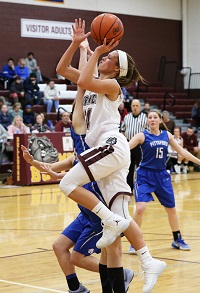 The Bulldogs have won 13 games each of the past two seasons and are off to a 7-2 start heading into the game with Whiteford. Larry Bruce is in his fourth year as the head varsity girls basketball coach after a long and successful run as the Bulldogs boys coach in the 1970s and 1980s. Bruce had a heart attack in July and, while still going through regular rehabilitation exercises, is back on the bench.
"I had four bypasses in August," he said. "I'm good now. I work out a couple days a week. I feel normal."
His return to the basketball court, he said, was never in doubt.
"Some other people may have doubted it, but I didn't," the veteran coach said.
The Bulldogs won four straight TCC basketball titles from 1985 to 1988 and four more from 2001-2004, but none since. They are trying to end Adrian Madison's six-year reign at the top of the league. Whiteford and Morenci are both 5-0 in league play entering tonight.
"He's awesome," Schmitz said of Bruce. "He helps us a lot. We have really good team chemistry this year. We are all happy he is back."
This season, Schmitz was sluggish to start the season while shaking off some effects of an ankle injury suffered in volleyball. But, after scoring 34 points against Clinton, 28 against Reading and 23 against Pittsford, her game appears to be back on track.
"She's a durable kid," Bruce said. "She's jumps so high and is so fast. It's kind of scary when she goes up in traffic to get a rebound. She's always flying down the floor. She goes all out. That's the only way she knows. She's been that way since she was a freshman."
Bruce recalls the time Schmitz was injured and did have to miss a couple of games.
"She's left-handed," he said. "She had her left arm in a sling, but was in the gym at night, shooting with her right hand. That is when she was a freshman. She wanted to get better shooting with her right hand. She's worked pretty hard at the game."
Schmitz isn't the only high scorer on the Bulldogs' roster. Junior Daelyn Merillat has more than 800 career points.
Bruce supports Schmitz's choice to play multiple sports.
"It really hasn't been an issue," he said. "There was one night where she missed a practice because she had a cheerleading event. It wasn't a big deal. The coaches work with her."
In addition to her athletic ability, she also gets it done in the classroom. Schmitz is a National Honor Society student with a cumulative 3.49 grade-point average.
"There are definitely some late nights just trying to keep up with it all," Schmitz said. "You just have to manage your time and stay on top of everything. I'm used to it though. I've been this way my whole life. It's all worth it. I love sports."

Doug Donnelly has served as a sports and news reporter and city editor over 25 years, writing for the Daily Chief-Union in Upper Sandusky, Ohio from 1992-1995, the Monroe Evening News from 1995-2012 and the Adrian Daily Telegram since 2013. He's also written a book on high school basketball in Monroe County and compiles record books for various schools in southeast Michigan. E-mail him at DougDonnelly@hotmail.com with story ideas for Lenawee and Monroe counties.
PHOTO: (Top) Morenci's Madysen Schmitz looks for an opportunity on offense against Pittsford on Jan. 3. (Middle) Schmitz goes hard to the basket during the 68-56 loss, one of only two defeats this season for the Bulldogs. (Photos by Mike Dickie.)