Franklin Boys Claim 1st Bowling Title, Dakota's Girls Return to Top of D1
ALLEN PARK – Livonia Franklin's boys bowling team made history Friday at the MHSAA Division 1 Finals at Thunderbowl Lanes.
In just its fourth year of existence, the Patriots' program claimed its first title, pulling away from Utica Eisenhower 1,451-1,214 behind junior Ian Wright's 267 and senior Ian Cain's 251.
Franklin led Eisenhower 390-361 after the two Baker games.
"They've been bowling with each other since they were little guys,'' Franklin coach Dan Hejka said. "We've worked very hard over the last four years. We almost got here two years ago, then we had a setback at Regionals last year. This is amazing for the seniors.''
Said Wright: "We grinded through everything. Our second match we struggled. We had to put up some numbers, even if it meant staying clean and making our spares.''
Macomb Dakota senior Jillian Lipinski shot 185 in the championship game and got a big boost from sophomore Haylie Patterson to hold off Davison's girls team 1,222-1,120 and claim a first Finals title since 2015.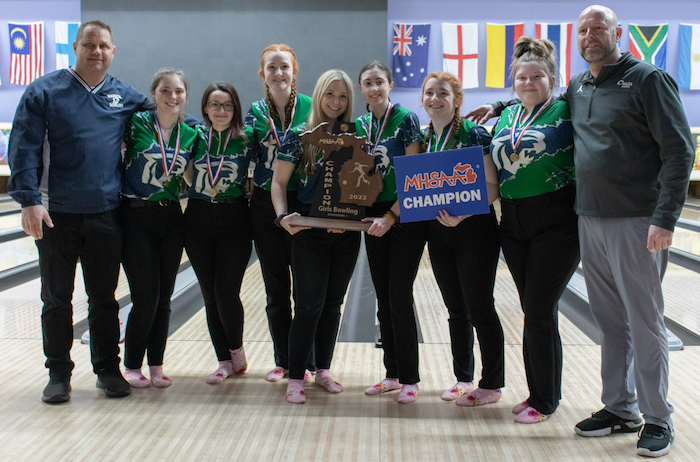 "This is a fantastic experience for me; we really had to fight for it,'' said Lipinski. "It's amazing it happened my senior year. Through tough times this year we really rocked it.''
Patterson – whose father Chris and grandfather Curt are 200-average bowlers in Macomb County – rolled a match-high 223 in the title decider.
Davison's downfall was 10 straight open frames in the fifth and sixth, ending any chance at a championship. Dakota had only a slim 362-351 lead after the Baker games.
Franklin's boys advanced to the championship match by eliminating Davison, 1,383-1,278 while Eisenhower beat Midland with a huge number, 1,616-1342.
Davison's girls advanced to the final by out-rolling Farmington, 1,364-1,049 while Dakota edged Macomb L'Anse Creuse North, 1,255-1,146.
Midland was the top qualifier in the boys division with a score of 3,748, followed by Franklin at 3,695 and Davison third at 3,563. Macomb Area Conference schools Utica Eisenhower (3,512) and Macomb Dakota (3,504) were fifth and sixth.
Franklin was the first boys team to advance to the semifinals with a 1,460-1,208 victory over seventh-seed Rockford. Davison eliminated Dakota, 1,312-1,284 to advance on the other side of the boys bracket..
Midland, the top boys' seed, advanced to the semifinal with a 1,435-1,168 win over Jenison; while Utica Eisenhower topped Holt, 1,318-1,292 to face Midland in the semifinal.
On the girls, side Holt qualified first at 3,504 followed by Dakota at 3,382 and Zeeland third (3,218). MAC schools Macomb L'Anse Creuse North (2,988) and Sterling Heights Stevenson (2,949) qualified sixth and seventh, respectively.
Sixth-seeded L'Anse Creuse North knocked off third-seed Zeeland 1,385-1,324 to advance to the semifinals against MAC rival Dakota, which had eliminated Stevenson 1,345-1,087.
Dakota's girls were 2-0 head-to-head against LCN during the regular season and made it 3-for-3 with their semifinal victory. Davison advanced to the semis with a 1,200-1,148 decision over Grandville, and Farmington edged top-seeded Holt 1,177-1,173 to advance and face the Cardinals.
PHOTOS The Livonia Franklin boys (top) and Macomb Dakota girls (middle) bowling teams celebrate their Division 1 championships Friday. (Click for more from Champions Photography.)