Ackley, St. Francis Hold off Charging Cougars
November 5, 2016
Second Half reports
BROOKLYN – The finish line couldn't arrive soon enough for Hart sophomore Adelyn Ackley.

There was no one in front of her at Michigan International Speedway as she sprinted down the final stretch Saturday in the MHSAA Division 3 cross country meet.
It's what was behind her that had Ackley running scared.
Hot on her heels was Lansing Catholic junior Olivia Theis, the only Division 3 runner to beat her this season.
"It was a terrible feeling," Ackley said. "I thought she was right there. At first, I thought the finish line was closer, so I dug. Then I realized it's a lot farther."
Ackley was able to hold off Theis, winning with a time of 17:40.6. Theis was a close second in 17:41.3, as the top two runners cleared the rest of the field by 42.9 seconds.
"I was getting there," Theis said. "I just couldn't pick it up any more. I was ahead, then she pulled ahead and I couldn't catch her."
Ackley and Theis raced head-to-head in the two biggest regular-season invitationals of the season. Ackley was third behind two Division 1 top-seven finishers in the Spartan Elite Race at Michigan State, with Theis taking fourth. In the Portage Invitational, Theis was first in 17:21, with Ackley taking second by 12 seconds.
Ackley was a distant second at last year's Final to Traverse City St. Francis' Holly Bullough, who now runs for Michigan State University.
Ackley went through the mile in 5:46, backing off about 700 meters into the race after a blistering start.
"I had a really fast start," she said. "Then I realized I was going like a 4:41 pace for a mile, so I slowed down and followed Olivia."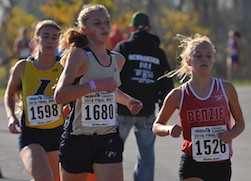 Ackley ran negative splits, running the second mile in 5:41 and the third in 5:39. Theis also ran a well-paced race, going 5:47, 5:40 and 5:42 for the first three miles.
Despite Theis' performance, Lansing Catholic couldn't keep St. Francis from repeating as Division 3 team champion.
St. Francis, which lost only two runners from its top seven of 2015, put five runners in the top 24 in the team race. Junior Joyana Tarsa was seventh in 19:13.6, sophomore Katelyn Duffing ninth in 19:23.1, senior Emmalyne Tarsa 14th in 19:37.2, freshman Libby Gorman 23rd in 20:13.5 and sophomore Christine Scerbak 24th in 20:18.0.
Lansing Catholic put three runners in the top five in the team race, but had to count 31st and 47th places. Olivia Theis was second among team runners, Lauren Cleary was third and Jaden Theis was fifth.
Benzie Central was third with 125 points.
The MHSAA Cross Country Finals are sponsored by the Michigan National Guard.
PHOTOS: (Top) Hart's Adelyn Ackley (right) charges toward the finish in Division 3 just ahead of Lansing Catholic's Olivia Theis. (Middle) St. Francis' Joyana Tarsa (1680) leads a pack including Benzie Central's Lucy Karpukhno (1526). (Click to see more from RunMichigan.com.)