Fornari, Sacred Heart Join Finals Greats
November 7, 2015
By Bill Khan
Special for Second Half

BROOKLYN — The feeling of elation had yet to replace the feeling a runner gets after laying it all on the line.

Walking away from the finish line, Tessa Fornari of Waterford Our Lady of the Lakes was breathing heavily, even though she finished with plenty of breathing room to win the MHSAA Lower Peninsula Division 4 individual cross country championship Saturday at Michigan International Speedway.
"I don't think it's really sunk in yet," Fornari said as she continued to walk. 
After a couple of heavy breaths and a pause, it had apparently sunk in.
"I'm gonna cry," she said. 
Fornari, a senior, led last year's Division 4 Final through the mile, but faded to eighth in a race won by Ava Strenge of Battle Creek St. Philip. This year, Fornari let Strenge lead most of the way before overtaking her to win in 18:14.5. Strenge, a junior, was second in 18:23.5.
"Oh, my gosh," Fornari said. "There's so much time leading up to this one moment. All the pace work, all the pain. Finally, right here, is where it all gets paid back." 
It was a wiser and more confident Fornari who stood on the start line for the first of eight races on Saturday at MIS.
She had two MHSAA championships on her resume from last spring, winning the 1,600-meter run in 5:06.39 and coming back to take the 3,200 in 11:33.70 at the LP Division 4 Track and Field Final. Last fall had represented a step backward in cross country for Fornari, who was third in the cross country finals in 2012 and second in 2013. She is a four-time regional champion. 
"The 1,600 and 3,200 in track really prepared me for this," Fornari said. "A state title was kind of intimidating to me at first, but then I did it and realized it's really just a title. It's about running the best you can that day. Today I wanted to do the best I could. I know I did my best, because I can't feel my legs or my arms."
Scrapping her front-running tactics from last year, Fornari didn't make her move until shortly after the leaders entered the track. Once Fornari committed to a move, it was decisive.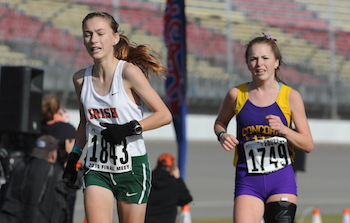 "I didn't want to pass her at first, because I wasn't sure I'd be able to keep it," said Fornari, the first Our Lady of the Lakes boy or girl to win an MHSAA title in cross country. "I decided I had to do it at some point, so I did it at that turn back there. I just sprinted the last 800 meters, 1,000 meters, because I did not want to lose it. I said, 'I'm here now, I want to stay here,' so I sprinted the whole thing."
In the team race, Mount Pleasant Sacred Heart staked a claim to being the best Division 4 girls team of all-time. 
The Irish set an LP Division 4 record with 52 points, breaking the record of 66 set by Harbor Springs in 2009. Sacred Heart also became the first Division 4 girls team to have five runners break the 20-minute mark at MIS.
Ann Arbor Greenhills had four runners break 20 minutes in 2005, but finished third that year because its fifth runner crossed in 23:10.9. 
Junior Alexis McConnell was fourth in 18:55.6, sophomore Bailley McConnell was fifth in 19:11.4, freshman Scout Nelson was 10th in 19:19.4, freshman Cammie McConnell was 17th in 19:31.2 and freshman Lauren MacDonald was 26th in 19:59.2.
The Irish could've still won by including No. 6 runner Megan Nowak (36th, 20:26.8) or No. 7 runner Rowan Fitzpatrick (20:45.0), both sophomores. All seven Sacred Heart runners broke 20 minutes in the Regional. 
Sacred Heart's only other MHSAA title came in Class D in 1999. The Irish was third last season, the second-best finish in school history.
Harbor Springs was second Saturday with 119 points, while Saugatuck was third with 124. Two-time reigning champion Beal City was fourth with 156 points. 
The MHSAA Cross Country Finals are sponsored by the Michigan National Guard.

PHOTOS: (Top) Waterford Our Lady's Tessa Fornari races down the stretch on the way to the LP Division 4 individual title. (Middle) Mount Pleasant Sacred Heart's Bailley McConnell, left, works to stay ahead of Concord's Samantha Saenz. (Click for more from RunMichigan.com.)