Frederick Sticks with XC, Stays in Lead
September 14, 2016
By Bill Khan
Special to Second Half
LINDEN — One of the leading contenders to win an MHSAA cross country championship this fall nearly gave up that opportunity so she could switch gears for her senior year.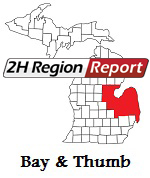 Linden's Alia Frederick, who was third in the Lower Peninsula Division 2 Final last season, considered playing volleyball instead of running cross country this fall.
She wasn't totally invested in cross country, having only one season in the sport — albeit one amazing season. Frederick was looking for a different experience before completing her high school career, knowing that she would be completely dedicated to soccer once she gets to college. She found herself attracted to volleyball, a sport she played in middle school.
"I did consider (volleyball), but it's as demanding as soccer," said Frederick, who has committed to play soccer for Eastern Michigan University. "One had to give. Neither was willing to give. Soccer is my passion, so I decided to stick with cross country."
Chances are she would've excelled in volleyball.
Frederick performs at a high level in any sport she chooses, making all-state in her first season of cross country and her second season of track & field. In her primary sport, soccer, she received honorable mention all-state from the coaches' association.
It's not uncommon for an elite runner to make all-state in cross country and track, except that Frederick's all-state event on the track is the 300-meter hurdles. It's the rare athlete who can compete at the highest level in both events, which require different skill sets.
"From several coaches I've talked to, they're pretty amazed by her versatility," said Linden girls cross country coach Ben Cox, who coaches Frederick in the hurdles during track season. "I would put her up against anyone in our school in anything from the 100-meter dash, to the 100 hurdles all the way up to 5K. She's just an incredible athlete, an incredible competitor. In pretty much any running event you throw her in, she'll compete and do well there."
Frederick ran her first cross country race ever on Sept. 9 of last season, taking third in the Flint Metro League jamboree. Two months later, she trailed only Hamilton's Erika Freyhof and Holland Christian's Kayla Windemuller in Division 2 Final and Michigan International Speedway.
It took considerable prodding to get Frederick to come out for cross country in the first place, so perhaps it's not a surprise that she considered playing another sport this fall.
"There were people telling me I should join," Frederick said. "My neighbor, Jordan Holscher, who played soccer and who I grew up with, she was telling me every year I should come out. I was finally like, 'Why not?' I tried it and ended up enjoying it.
"I actually had no clue what to expect coming in, because I'd never done the sport before. I was kind of oblivious, kind of going with the motions. I saw what I could do. At the state meet, I was very happily surprised how well I did. I did not see that coming at all at the beginning of the season."
Frederick's third-place finish was the highest ever by a Linden girl in an MHSAA Final. Sydney Elmer (2012) and McKayla Guy (2013) previously had 16th-place finishes for Linden.
With her time of 18:10.0 at the Portage Invitational earlier last fall, Frederick shattered the school record of 18:29.5 set by Elmer in 2012.
Her performance in an elite field at Portage established Linden's unknown newcomer as a contender for the MHSAA title. After getting her first three career victories in the three meets prior to the MHSAA meet, Frederick understood that she was capable of big things on the sport's biggest stage.
"I was very nervous," Frederick said. "I'm not used to getting nervous, because I don't really get nervous for soccer games at all. It was definitely a different feeling to get used to. I woke up two hours before my alarm went off. I couldn't get back to sleep. The whole bus ride there, I knew what I could do. I had high expectations of myself. I knew what I could do, what I should do and I didn't want to mess that up."
Like many first-timers at MIS — and even some veterans — Frederick didn't succumb to the pressure-packed environment. She ran a smart race, getting into the top 10 by the mile, then steadily moving up until she crossed the line in third.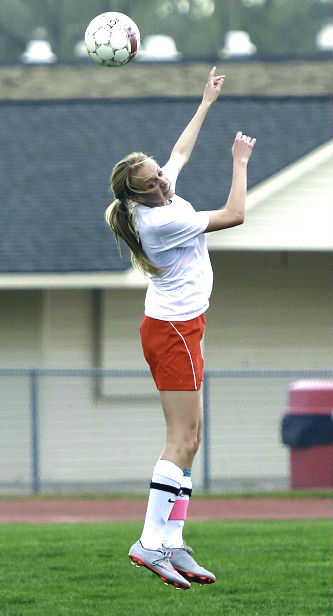 "I have high expectations for myself now that I know what I can do," Frederick said. "I want to do at least as good as I did last year; I would really like to do better."
Frederick will get pushed just to repeat as a league champion this fall.
In the first Metro League jamboree, she placed third in 20:00.05 behind Fenton freshman Alexa Keiser (18:47.41) and Flushing senior Jessi Lindstrom (19:38.07). Just behind Frederick was sophomore teammate Audrey Steiert (20:02.02), who made all-state as a freshman when she took 20th at the MHSAA meet in 18:59.5. Frederick, Elmer and Steiert are the only Linden girls ever to break 19 minutes.
"I was not real pleased with my result in the first league meet," said Frederick, who has won invitationals at St. Johns and Bath this season. "I can use that to get better. I can use both of those girls to train me. Like (Fenton's) Jacob Lee last year, I didn't have anybody to compete against until states. I'm glad there's at least those two girls that are pushing me and I can hang with them and try to get better than them."
Frederick had more of a hurdling background than a distance running background when she got to high school. She hurdled in middle school, but didn't come out for track as a freshman because she was on the varsity soccer team.
It wasn't until her sophomore year that she decided to be a dual-sport athlete in the spring. She made the MHSAA meet in both hurdles, taking 21st in the 100 and 10th in the 300 one day after losing in a District championship soccer game to eventual Division 2 finalist Fenton.
She had an extra day to recover from a District Semifinal soccer loss to Fenton before the 2016 MHSAA Track & Field Finals. She earned all-state in the 300 hurdles by placing sixth in a personal-best 45.68 seconds. She was 13th in the 100 hurdles in 16.15 seconds.
"My brother did track his senior year, which was my freshman year," Frederick said. "I'd go and watch him hurdle. I'd see the girls hurdle. I wanted to be out there doing it. I thought the next year I was definitely going to dual-sport. I want to live high school to the fullest that I can. I don't want to do anything but play soccer out of high school, so I might as well do it now."

Bill Khan served as a sportswriter at The Flint Journal from 1981-2011 and currently contributes to the State Champs! Sports Network. He can be reached at billkhan35@gmail.com with story ideas for Genesee, Lapeer, St. Clair, Sanilac, Huron, Tuscola, Saginaw, Bay, Arenac, Midland and Gladwin counties.
PHOTOS: (Top) Alia Frederick leads a pack toward the finish during last season's MHSAA Finals at Michigan International Speedway. (Middle) Frederick heads a ball forward during this spring. (Top photo courtesy of RunMichigan.com/John Brabbs; middle courtesy of the Linden athletic department.)