Paupore Closes Career with 3-Peat Run
October 19, 2019
By John Vrancic
Special for Second Half
MARQUETTE – Negaunee senior Emily Paupore is used to leading the way in cross country races.
She has done that in most races since her sophomore year.
That held true again at Saturday's Upper Peninsula Finals as she earned her third straight Division 1 title at Gentz's Golf Course in Chocolay Township.
Paupore covered the 3.1-mile course in 19 minutes, 18.7 seconds. She was followed by Kingsford junior Melanie Wenzel (20:27) and Houghton sophomore Ingrid Seaholm (20:38.9).
"Honestly, this was one of my toughest races this year," she said. "This wasn't my best race, but I'm thankful to end with a U.P. championship. Our coach (Lisa Bigalk) is retiring after this year. This is a very special day. I knew her since I was born, and she was in the hospital (Marquette General) when I was born. We have a special bond for sure. She's awesome.
"Coming across the finish line in a cross country race for the last time as a high school runner is bittersweet. Although, I'm ready for my next chapter (college cross country and track). It's cool to have had the experience of running high school cross country."
Marquette edged Kingsford 66-69 for its fifth title in seven years. Last season's champion Sault Ste. Marie squeezed past Houghton 79-80 for third place.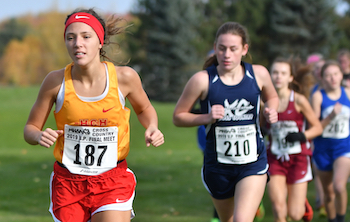 "We knew it would be close," said Marquette coach Kyle Detmers. "Lillian Weycher, who was our sixth or seventh runner all year, and was our No. 3 runner today. And Ericka Asmus and Josie Danielkiewicz ran after having some time off. Kingsford came in behind them, and that was the difference."
This marked the first runner-up finish for Kingsford in its program's history.
For Wenzel, the race closed the book on her first cross country season.
"We trained hard this summer," she said. "I think we all did good for running on a windy day. There were a lot of rolling hills on the course. We really had to pick it up there. We were very consistent. We were all getting our times down."
Division 2
Hancock retained its D-2 title with 34 points, followed by St. Ignace with 56 and Ishpeming with 84.
"We lost three girls from last season, but gained three girls," said Hancock's Jennifer Smith, who previously coached in Ohio. "They absolutely pulled it together and did what it took. Four of our girls were playing volleyball, and four were always running. We knew St. Ignace was our competition, and Ishpeming has some good runners.
"This is my first year coaching cross country up here. I jumped into an already great program, and we want to keep it going."
Hancock freshman Maylie Kilpela won in 21:16.9, followed by Munising freshman Hattie Cota (21:43.5) and Ishpeming sophomore Taylor Longtine (22:00.3).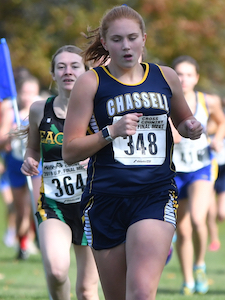 "I just stayed right behind (Cota)," said Kilpela. "She's a good runner. I passed her in the last mile and knew I had to keep going.
"It feels great to be part of a championship team. We were running against good competition all year, and that pushed us a lot. All our girls did well."
Division 3
Chassell, placing four in the top eight, captured its third consecutive D-3 championship with 36 points. The Panthers, who also won for the fifth time in six years, were followed by Rock Mid Peninsula with 73 points and Cedarville at 90.
Mid Pen sophomore Landry Koski earned her first Finals championship in 21:31.2, followed by Cedarville freshman Lilianna Cason (21:42.1) and Mid Pen junior Daisy Englund (21:49.4).
"This was a nice course," said Koski. "Although, I didn't know what to expect. The wind was a factor today. It was like hitting a wall in the last stretch, plus we had all the little hills. The course didn't look that hard at first, but once you're running on the hills you realize how challenging they are.
It feels great to be a U.P. champion. This was very unexpected. I'm just kind of on Cloud Nine right now."
Chassell placed the fifth, sixth, seventh and eighth runners to dominate the team standings. Kamryn Sohlden, Paige Sleeman, Ayla Miller and Gwen Kangas all ran between 22:07 and 22:24.
PHOTOS: (Top) Negaunee's Emily Paupore opens up a big lead during the Division 1 Final on Saturday. (Middle) Hancock's Sierrah Driscoll (187) leads a Division 2 pack including Norway's Taylor Adams (210). (Below) Chassell's Paige Sleeman (348) paces a group in the Division 3 race. (Photos by Cara Kamps.)