Low-Scoring Lineup Fuels Huskies' Run
October 18, 2017
By Dean Holzwarth
Second Half editor
GRAND RAPIDS – Team depth in any sport can be an important factor in making a strong postseason run.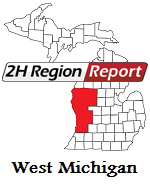 The Forest Hills Northern girls golf team possesses just that this fall, and the hope is an abundance of contributors help carry it to a lofty finish at this weekend's MHSAA Finals.
The No. 2-ranked Huskies will compete in Division 2 at Bedford Valley Golf Course in Battle Creek after placing runner-up at last week's Regional.
"Now that we have this balance, if you do have a bad day, our team can still win," said Forest Hills Northern junior Kay Zubkus, the team's No. 1 player. "That ultimately makes all of us perform better because there isn't that added pressure. It's fantastic."
The Huskies have a mix of veterans and young talent.
Zubkus is joined by senior co-captains Maddie Goodrich and Chloe Johnson, as well as senior Gabby Mas.
Freshmen Lilia Henkel and Anna Fay round out the top six.
Forest Hills Northern's depth was apparent throughout the season as it won the Ottawa-Kent Conference White championship with all six girls being selected to the all-conference team.
"Our depth has been a strength for us all season," Huskies coach Kent Graves said. "We were one of only two teams at Regionals to have five girls shoot under 90, and it takes a lot of the load off our No. 1 and No. 2 because if they don't have great days they have three or four really good scores behind them."
Forest Hills Northern entered the season with high expectations. It finished sixth at last year's Division 2 Finals and graduated only one senior.
That created excitement for the potential of this year's group.
"We were really anxious for this year," Graves said. "We had the entire team back from last year minus one girl, and then we had two really super freshmen come in. We were excited about that, and our goal at the beginning of the year was a top-3 finish."
The freshmen have played pivotal roles in the Huskies' success.
Henkel was projected to be among the top players, but a pleasant surprise has been the improved play of Fay.
"I knew Lilia was good because I had played with her in tournaments, but we didn't know about Anna and she has grown so much over this short season," Zubkus said. "She came in shooting high 90s and now she is averaging high 80s, which is fantastic. We know we can rely on her, and their talent is awesome because it is going to help build the team for the next few years."
Added Goodrich: "I knew Lilia was amazing, but Anna has really surprised me and has done super well. I've been impressed by her, and she has been solid the whole way through."
Despite the range in classes, this year's group has a tight bond.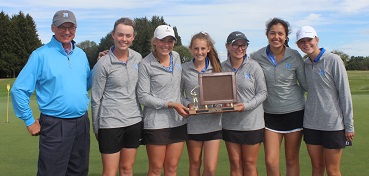 "We've done a lot to become closer as a team and it's been fun, especially since this is my senior year," Goodrich said. "We've been so successful and gone to big tournaments and done well. We've been able to grow together as a team."
The Huskies are aiming to end their season on a high note and improve on last year's results.
Zubkus said the team's dedication has put them in that position.
"A lot of hard work has been put in this year to get us where we are," she said. "We are practicing six days a week to get us where we want to be to achieve our goals, which ultimately is winning a state championship."
Forest Hills Northern will be among the favorites as it attempts to dethrone reigning champion and top-ranked Midland Dow.
"It's going to take two days of really solid golf and we have to be at the top of our game, because 17 other teams want it just as bad as we do and will be shooting to win the thing also," Graves said. "It's two days of five girls playing the best they can play, and this tournament will be won with the third through fifth spot because at the state level everyone has really good (Nos.) 1 and 2 players."
"We know we are capable of winning and everyone is going to have to play their best golf," Zubkus added. "We have a very competitive division, and there is going to be no room for mis-strokes."
The weather shouldn't have an effect on the field, much to the liking of Graves.
"This is my 10th year and it will be the first time I've coached a state tournament not wearing my long underwear," Graves joked. "I will be out there in shorts and a short-sleeve shirt."

Dean Holzwarth covered primarily high school sports for the Grand Rapids Press and MLive for 16 years and more recently served as sports editor of the Ionia Sentinel and as a sports photojournalist for WZZM and WOODTV. Contact him at dream100@comcast.net with story ideas for Allegan, Kent and Ottawa counties.
PHOTOS: (Top) This season's Forest Hills Northern girls golf team, from left: Olivia Moran, Chloe Johnson, Kay Zubkus, Lisa Reynolds, Gabby Mas, Lilia Henkel, Anna Fay, Maddie Goodrich, Coach Kent Graves. (Middle) The Huskies stand with their O-K White championship trophy. (Top photo by Jim Hill Photo; bottom by Kathy Goodrich.)