Rockford Finishes Unforgettable Run
June 8, 2013
By Geoff Kimmerly
Second Half editor
ROCKFORD – Erika Neumen was a freshman the last time Rockford won an MHSAA girls lacrosse championship. She scored three goals in that 2010 Finals win over Brighton – but said she doesn't remember much about it. 
She'll never forget Saturday. 
Neumen scored this Division 1 Final's first goal 24 seconds in and added three more and an assist as the Rams claimed their second girls lacrosse championship and she finished her high school career with a 16-7 win over Bloomfield Hills United. 
"This moment, when we won the state championship; we've been talking about it all season, and now it's become a reality," Neumen said. "I think that's what is going to be most memorable. From day one, we've been focusing on this one goal." 
Rockford (21-5), No. 1 in the computer rankings heading into the postseason, had fallen by a goal in the Semifinals in each of the last two years. Beating Bloomfield Hills, ranked No. 4 at the end of the regular season, gave the Rams wins over all of the other four teams ranked among the top five in Division 1 at the tournament's start. 
Coach Mike Emery has led his team to a 103-28-5 record and six Semifinals appearances during his six seasons. As he and an assistant coach worked the scorer's table at last spring's Final, they said "there was no way we were doing that again." 
He and his staff designed this season's training to point toward peaking during the playoffs. He took the team on a preseason retreat, and then took his seniors to lunch this week. The juniors already are asking where they'll be going to lunch before the 2014 Finals. 
"The kids responded all year," Emery said. "This is the hardest-working team I've ever had. It didn't matter what we asked them to do; they did it. Bloomfield played a great game, but my kids were a little faster, played a little harder and came through for a victory."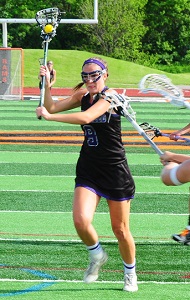 Five more Rams joined Neumen in scoring Saturday. Junior Kyleigh Egnatuk scored five goals and had two assists, and junior Kendall Short had two goals and three assists among the team's highest statistical contributors. 
Bloomfield Hills senior Margaret Metzger – who will play next season at University of Michigan – found the net four times in her final high school game to finish with a season total of 90 goals, which unofficially places her 11th in the MHSAA record book for scores in a season. 
"I've said it before: If she's not an All-American, I don't know what an All-American is. I'll put Margaret up against anyone in this state," BlackHawks coach Andy Reed said. "She's a real leader. She played hurt today, got hurt in the first half, and it didn't even seem to slow her down."
The BlackHawks made history despite the loss – the Finals appearance was the program's first and came after the team fell in a pre-Regional game in 2012. Bloomfield Hills finished 19-6 after eliminating four ranked teams on the way to Rockford, including No. 3 Ann Arbor Pioneer.  
Emery noticed Rockford's history sitting in the stands, as a number of former players cheered on their high school team Saturday. 
The 2010 championship game was played at Troy Athens. That "upbeat" atmosphere of winning on the Rams' home turf is something else Neumen said she'll surely remember as she goes on to play next season at Hofstra University. 
As one of only three seniors, she very well could be cheering on these teammates as they play for a repeat title in 2014. 
"I'm really glad this group of girls was able to stick together and win this together," Neumen said. "We had better chemistry, and we were able to stick together better. This year you could just tell the girls really wanted it more. 
"We've been playing pretty good the last couple of games, and it was fun to see the girls really want it."
PHOTOS: (Top) Rockford junior Molly Simmet (12) charges forward as Bloomfield Hills' Paige Tornow (3) and Maria D'Angelo close on the ball. (Middle) Bloomfield Hills junior Christina Arens prepares to launch a shot that ended up in the back of Rockford's net.