Calvin Christian Wins Rematch of Titans
June 15, 2013
By Chip Mundy
Special to Second Half
MASON – Midway through the first half of Saturday's Division 4 Final, the Grandville Calvin Christian girls soccer team was behind for the first time in 17 games.
Waterford Our Lady of the Lakes/Clarkston Everest had a one-goal lead and was undefeated and ranked No. 1 in Division 4.
Something had to give.
Calvin Christian wiped out that early one-goal deficit with a goal in the first half and a tie-breaker in the second to post a 2-1 victory over the Lakers and repeat as champion in a rematch of the 2012 title game. Last year, Calvin Christian defeated the Lakers 6-0 in the Final.
"We knew that they had everybody coming back, and they were hungry," Calvin Christian coach Tim TerHaar said. "The score last year didn't really represent the fact that it was two quality teams, and we knew that they would be ready to play, and they played a whale of a game.
"We played a good game and worked really hard, and to be honest, I feel fortunate to win this game because they played a great game."
For the second year in a row, the Lakers entered the MHSAA championship game undefeated, only to return home with the runner-up trophy.
"It's definitely frustrating," Lakers coach Katie Hearn said. "I don't know, I think we just didn't click (Saturday). We picked a bad day to have a bad game, that's all."
Senior Brianna Topolewski opened the scoring for the Lakers with an assist from Shelby Mann in the 19th minute. Mann sent the ball across the crease, and Topolewski kicked the ball in past the goalkeeper on the short side.
TerHaar said his team didn't panic facing a deficit for the first time in weeks.
"I know that we're a focused team, and we have confidence in our ability to fight back," he said. "I was really pleased with our response to giving up a goal, that we came and kept pressuring."
Ten minutes after Topolewski scored, sophomore Hilary Curry answered for the Squires. Curry took a pass from Whitney Koets and beat the goalkeeper on the short side, much like Topolewski did on her goal.
"That was a very important goal that we scored in the first half to be at level footing at halftime," TerHaar said.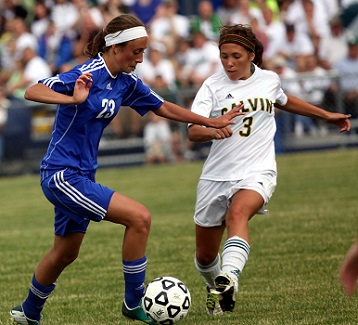 It didn't take long in the second half for Calvin Christian to gain the advantage. Curry found sophomore Emily Van Vliet ahead of her racing toward the goal on the left side and sent her a perfect pass. Van Vliet then beat the goalkeeper on the far side, and she did it right-footed, even though the left-footed shot would have been easier.
"I'm not a strong left-footed kicker, so I decided to kick it with the outside of my right foot," Van Vliet said. "I just knew that Hilary would get me the ball. I trust her, and we work really well together, and when she passed the ball to me, I just put it in the net."
TerHaar praised both players for their part in the game-winning goal.
"It was a beautiful play," he said. "Hilary Curry isn't the biggest or the strongest or the fastest player, but she's a technical genius. She had great vision there and picked out a slot to get the ball to Emily Van Vliet, who finished calmly with a beautiful goal."
Curry finished with a goal and an assist and took pride in both.
"It's always fun scoring, but putting us ahead was fun, too," she said. "It was a closer game (than last year's title game), which made it more fun and more intense. But it's always fun to come out and be the champion."
Calvin Christian (18-2-4) came into the game ranked No. 2 behind the Lakers despite a streak of 11 consecutive shutouts and 15 in their last 16 games. The Lakers likely were ranked No. 1 because they were undefeated and because Calvin Christian lost nine seniors from last year – a fact that rankled the players.
"It feels great for these five seniors," TerHaar said. "We had read in lots of newspaper stories about how we lost nine seniors from last year. Our team took a little bit of offense to that. But that's a fact, and we are still a very, very good team, and we're proud to be state champs."
The Lakers (20-1 and 38-2-2 over the last two seasons) had a chance to tie the game in the 75th minute when Megan Luttinen's shot hit the crossbar and bounced over the net.
"It was close to bouncing in, too, so the margin between winning and losing when you have two really good teams is very, very small," TerHaar said. "We feel very fortunate."
Calvin Christian held a 9-4 edge in shots on goal as freshman goalkeeper Jordyn Postema made three saves but was denied her 20th shutout.
Calvin Christian is the first repeat champion in Division 4 since Kalamazoo Christian won back-to-back titles in 2007-08. Saturday also marked the first time the Division 4 Final featured a rematch.
"We squandered some chances, and they had some chances as well, with all due credit there. But we did have a couple of chances that probably should have been goals that could have changed the stressful last minutes a little bit," TerHaar said, "but they played a great game.
"It was a great final."
PHOTOS: (Top) Calvin Christian senior Carley Sikkema (4) works to control the ball against Waterford Our Lady/Clarkston Everest on Saturday. (Middle) The Squires' Stephanie Thomasma (3) tries to take the ball from Lakers freshman Allison Maiorana. (Click to see more from Hockey Weekly Action Photos.)