Marquette Girls End Title Wait with Big Win
February 16, 2019
MARQUETTE — It was a dominating performance by the Marquette girls to say the least as they ran away with the Upper Peninsula swimming & diving title with 352 points Saturday.
The Redettes, who won for the first time in four years, were followed by Kingsford with 217 points and Houghton at 185.
"We've been kind of waiting for this," said junior Mollie Kilpela, who helped the Redettes win the 200-yard medley relay in a school-record 1 minute, 57.2 seconds. "That got us hyped up and excited for the rest of the meet.
"This is a nice way for our team to end the season. We have only one senior on the team. Next year we're going to be better, I think."
Joining Kilpela in the day's first race were sophomores Lexi LaCombe and Erin Vanderschaaf and freshman Kelsey Glover.
Vanderschaaf also helped Marquette set the U.P. Finals and school record in the 400 freestyle relay at 3:48.56, with LaCombe and Kilpela helping the Redettes take second in the 200 freestyle event in a school-record 1:44.65.
"I knew this was going to be pretty special for sure," said eighth-year Marquette coach Nathan McFerrin. "Overall, this is the best team I've had as coach. We were very balanced. In many events we had three place among the top six.
"My coaching technique is it's difficult to be successful if you don't trust yourself, teammates and coaches. This was a big culmination of our season, and today it all came together."
Marquette sophomore Kali McDonough won Friday's diving competition with 163.9 points.
Vanderschaaf won Saturday's 500 freestyle (5:14.14), and junior teammate Taryn Aho took the 200 freestyle (2:02.01).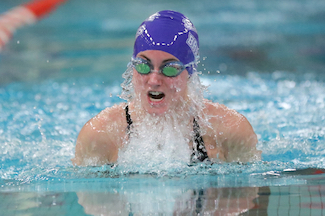 Kingsford senior Peyton Johnson set a U.P. Finals record in the 100 backstroke in 59.51 seconds, shattering the old mark (1:03.32) by Ashley Oliver of Painesdale Jeffers-Ironwood from 2005.
Johnson also helped the Flivvers establish a record in the 200 freestyle relay (1:43.51) and was runner-up to Robertson in the 200 IM (2:17.7).
Joining Johnson on the winning relay were seniors Emily Bruns and Ailie Schoenborn and freshman Sydney Scott.
Sault Ste. Marie sophomore Aliah Robertson set the U.P. Finals record in the 200 individual medley at 2:10.02, topping the previous best by Marquette's Jenny Laughna (2:12.43) swam in 1994, and retained her 100 butterfly title at 59.4 seconds.
"I always take one or two of my teammates to help me at the starting line," said Robertson, who was also crowned champion in the 100 breaststroke a year ago. "They encourage me and give me pointers. They help keep my mind off things so I don't get too nervous. I was really excited when I found out I set the record in the 200 IM. This is a bit of a confidence boost."
Sault freshman Joanne Arbic was also a double winner, taking the 50 freestyle (25.87) and 100 freestyle (56.21).
Reigning team champion Gladstone had an individual winner in senior Sydney Herioux, who took the 100 breaststroke (1:08.95).
"It was really awesome," said Herioux, who will attend Saginaw Valley State University this fall and play softball for the Cardinals. "This is the last race I'll ever swim. It feels great to go out like that."
PHOTOS: A Marquette swimmer powers off the block during a relay at Saturday's Upper Peninsula Finals. (Middle) Gladstone's Sydney Herioux powers to the win in the breaststroke. (Click for more from Jarvinen Photos.)