Pioneer Puts Emphatic End to Title Wait
HUDSONVILLE – It was a moment that was long overdue for the Ann Arbor Pioneer girls swimming & diving team.
And this time, they left nothing to chance.
The Pioneers rolled to a decisive victory at Saturday's MHSAA Lower Peninsula Division 1 Finals at Hudsonville High School.
They won their first Finals since 2008 and avenged a heartbreaking half-point loss to Farmington Hills Mercy at last year's championship meet.
"I know they were looking forward to coming back as soon as we got on the bus last year," Pioneers coach Stefanie Kerska said. "This journey that they've been on for the last year has made them really appreciate and never take for granted simple things again. I know that this means a lot to them."
Ann Arbor Pioneer tallied 368 points, while 2019 champion Farmington Hills Mercy placed runner-up at 184. Northville (164) was third and Brighton (159) finished fourth.
The top-ranked Pioneers were the favorites entering Saturday with a majority of their team returning from 2019. They lived up to that billing by winning all three relays.
"They swam really tough," Kerska said. "They started the season tough out in a lake when it was freezing and they finished up really strong and they just never took their foot off the gas. It was a combination of discipline and desire for them, especially during the hiatus.
"As trying as it was, I think everyone is so grateful for everything everyone did to put this on to finish the season. We've been going since June, and they put the time and effort in to make this happen."
Mercy coach Mike Venos knew Ann Arbor Pioneer was determined to overcome last year's near miss. 
"They are an absolute class organization, they are one of the best coached teams in the state and I'm happy for them," Venos said. "I saw the looks on their faces. As happy as we were last year, I saw the disappointment on their faces. We knew they were coming. Stefanie and the gang are building a nice powerhouse over there again."
Ann Arbor Pioneer junior Vivian VanRenterghem took top honors in the 200-yard freestyle in a time of 1 minute, 52.34 seconds. She placed runner-up in the event last season.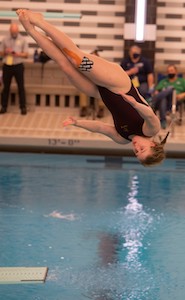 "We had so much motivation this season," VanRenterghem said. "We were so excited and so ready. It's been a long season, but we've had a really great time. Last season was rough, but this is something we've been working toward for a long time. It's a great team, our coaches are amazing and there's no group of girls I'd rather do it with." 
Pioneers' freshman Stella Chapman was a welcomed addition to the program and made an instant impact with a win in the 100 backstroke (55.36). She also was a part of the winning 200 medley and 400 free relays. 
"I'm really proud of myself and the team for what we've done today," Chapman said. "I understand that it was disappointing last year, but I know how hard everyone worked for this and we pushed through."
Kerska was a former swimmer at Pioneer under longtime coach Denny Hill and his wife, Liz. They guided the Pioneers to 16 Finals crowns over four decades.
"They've both done so much for Ann Arbor Pioneer swimming and I have a picture of both of them in my office," Kerska said. "I see them every day, and it was really important for us to bring that back to Pioneer."
Mercy senior Greta Gidley capped off her career with a pair of individual titles in the 200 IM (2:00.69) and 500 free (4:58.52).
"Going into the last two weeks of the season I was kind of focused more on taking in the final times that I was going to get to have with this team," Gidley said. "This team is so special that coming here and spending time with everyone was just amazing.
"Getting to spend an extra few months with these girls because our season got delayed was really a blessing in disguise. It was fun to win, but it was really fun to spend time with my best friends."
Gidley was the reigning 100 freestyle champion. She finished runner-up in the IM a year ago. 
"She's been the heart of this team for a while now, and she's leaving a really nice legacy," Venos said. "Our girls swam very well, and I just got done telling them that their mental aspect today is what brought it because physically, with the amount of time that we had off there, there was no reason to swim as fast as we did. It was their mental approach."
Plymouth junior Brady Kendall also collected a pair of championships.
Kendall won the 50 freestyle (22.98) and then followed with a victory in the 100 butterfly (54.35).
West Ottawa senior Lilly Brandt raced to a win in the 100 freestyle (51.53) and also took second in the 50 free behind Kendall.
The diving finals were held Friday and resulted in an upset as Mercy senior Ciara McCliment won ahead of 2019 champion Annie Costello of Ann Arbor Huron.
McCliment scored 399.70 points, while Costello was runner-up with 363.75.
PHOTOS: (Top) Ann Arbor Pioneer's Amelia Weyhing pushes toward the finish of her breaststroke heat Saturday. (Middle) Farmington Hills Mercy's Ciara McCliment performs a dive during Friday's competion. (Click to see more from HighSchoolSportsScene.com.)