Sault Claims 1st Title with Record-Setting Performances
March 13, 2021
MARQUETTE – To get its first Upper Peninsula Finals championship, the Sault Ste. Marie girls swimming & diving team needed to be at its best Saturday afternoon. 
In the end, the Blue Devils also set a few U.P. records while outlasting Marquette 347-313 to claim the title and end the Redettes' two-year winning streak.
"It's history," Blue Devils head coach Steve Habusta said. "We've never done it. It's history for these kids to be able to be part of it and say that they've done it. It's a special day, a special feeling and this is all about the kids. They did a fantastic job today, really put in the work all season."
The Blue Devils ended up setting four meet records, as senior Aliah Robertson broke her own marks in the 200 individual medley and 100 breaststroke. Robertson was also part of the record-setting 200 medley and 400 freestyle relays. Joanne Arbic was also on both and won two more events, the 50 and 100 freestyles.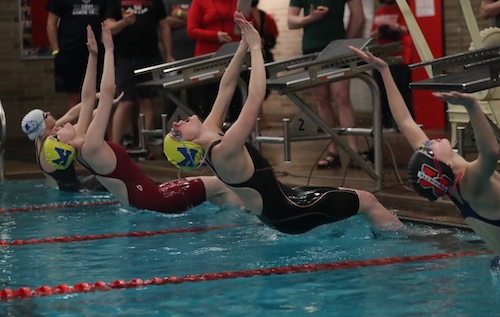 Even though they ended up coming up short in their quest for a third-straight title, the Redettes still had a successful day. They won the 200 free relay and took three individual events with Lexi LaCombe winning the 200 free, Grace Sobczak finishing first in the 500 free and Haddie Ketzenberger coming out on top in the 1-meter diving competition on Friday. 
"They showed up too; they were amazing," Marquette head coach Nathan McFarren said. "Lexi was seeded second and ended up winning the 200 free. She had a personal best in her 100, her 50 free split. We had Grace, pretty special as a freshman to runner-up (200 IM) and win her individual in the 500 and the relay. And then our diving. That started us out with a 1, 3, and 8 finish. That was pretty special too. We can't hang our heads. We just didn't have the depth this year."
Kingsford's Adelaide McRoberts was the other individual champion as she set a meet record in the 100 butterfly and also won the 100 backstroke.
PHOTOS: (Top) Sault Ste. Marie's Joanne Arbic celebrates her win in the 50 freestyle Saturday at Marquette High School. (Middle) Kingsford's Adelaide McRoberts, middle, launches at the start of the backstroke final. (Photos by Daryl Jarvinen.)