Seaholm Runs Title Streak to 3, Standout Pair Win Multiple Events
ROCHESTER – After Fenton senior Gracie Olsen won the Lower Peninsula Division 2 title in the 200-yard individual medley two years ago as a sophomore, she fell just short of repeating as a junior, finishing second in that event. 
Needless to say, that added some motivation on top of the energy she already had competing at the Finals in the first place. 
"This is the most exciting meet of the year, and that includes club swimming and everything," said Olsen, who will swim in college for Indiana. "I think it has the most energy. This whole thing in general motivates me the most."
Olsen reclaimed her title in the 200 IM with a time of 2:01.58, but she did more than that. 
Olsen also won the 100 Butterfly in a time of 54.19, winning that event for the third time and finishing off her high school career with six individual Finals titles. 
"I had no idea this would happen," Olsen said. "I think everything that happened the last four years led up to this." 
Olsen wasn't alone in winning two individual titles.
Portage Northern junior Hannah Williams won the 200 freestyle in a time of 1:50.28, then won the 100 breaststroke in a time of 1:03.76. 
"Coming in, I just wanted to swim my best," Williams said. "I knew I would really be proud of myself if I left everything out in the pool."
While Olsen and Williams were the individual standouts of the day, the best team was once again Birmingham Seaholm.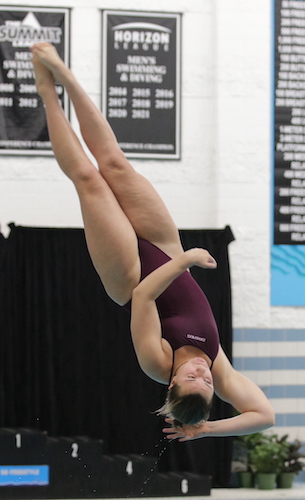 The Maples easily won their third-straight Finals title and fourth in the past six years, earning 314.5 points. 
Grosse Pointe South was second with 241 points, while Grand Rapids Northview was third with 191 points.  
Seaholm became the first team in Division 2 to win three straight titles since Holland did so from 2011-13. 
Seaholm head coach Karl Hodgson said there actually was a different dynamic trying to win three in a row as opposed to two consecutive. 
"It's just more difficult," Hodgson said. "It gets harder each time and is a relief. It feels great."
As expected, Seaholm swept the three relay events. 
While depth and team achievement have been at the forefront of Seaholm's success the past three years, the Maples did have an individual that stood out more than most this fall.
Junior Samantha Clifford won the 100 freestyle in a time of 51.02 and was second in the 200 freestyle behind Williams. 
Clifford also anchored winning teams for the Maples in the 200 and 400 freestyle relays.
Portage Northern had another individual winner at the meet besides Williams. Angelina Baker set an LPD2 Finals record in the 500 freestyle, with a time of 4:54.97.   
The 50 freestyle saw a rare tie for first, with Jenison sophomore Grace Albrecht and Ann Arbor Skyline senior Claire Kozma touching with identical times of 23.94. 
Lily Witte of Dexter won diving with 503.55 points and also placed in the 50 freestyle, finishing 16th. 
In the 100 backstroke, Skyline junior Lily Cleason won in a time of 55.77.
PHOTOS by High School Sports Scene.