After Rain, Westwood Reigns Again
October 1, 2014
By Dennis Grall
Special to Second Half
NEGAUNEE - Pflat! Phlop! Ping! Pitter-patter of early rain drops. 30-love! Out!
Those were the sounds of tennis on this chilly, windy fall Wednesday in Michigan's Upper Peninsula at the MHSAA Division 2 Girls Tennis Finals.
Appropriately the sun finally peaked through the overcast skies as Iron Mountain's Katie Brule outlasted Iron River West Iron County's Maddie Waara for her second straight singles title at No. 1. Only a small handful of spectators were still around for the day's only three-set match to feel the little warmth provided by those rays, including the entire Ishpeming Westwood team that was waiting for a championship trophy presentation for a record sixth straight year.
The Patriots amassed 19 points and collected six of the eight flight titles. Westwood has nine U.P. Finals championships since 2004.
Iron Mountain, the 2008 champ, was second with 15 points, followed by West Iron County with 13, Munising with seven, Ironwood and Ishpeming with one apiece, and Gwinn.
Nine seniors helped Westwood retain title honors, with doubles again playing a major role in the success.
"That is how we win most of our matches, with our doubles," said Westwood's Faith LeRoy, who teamed with Olivia Derocha to secure No. 2 and conclude an unbeaten season.
Derocha said, "Our doubles are really important. It is also important to be undefeated. We challenged ourselves to reach that goal."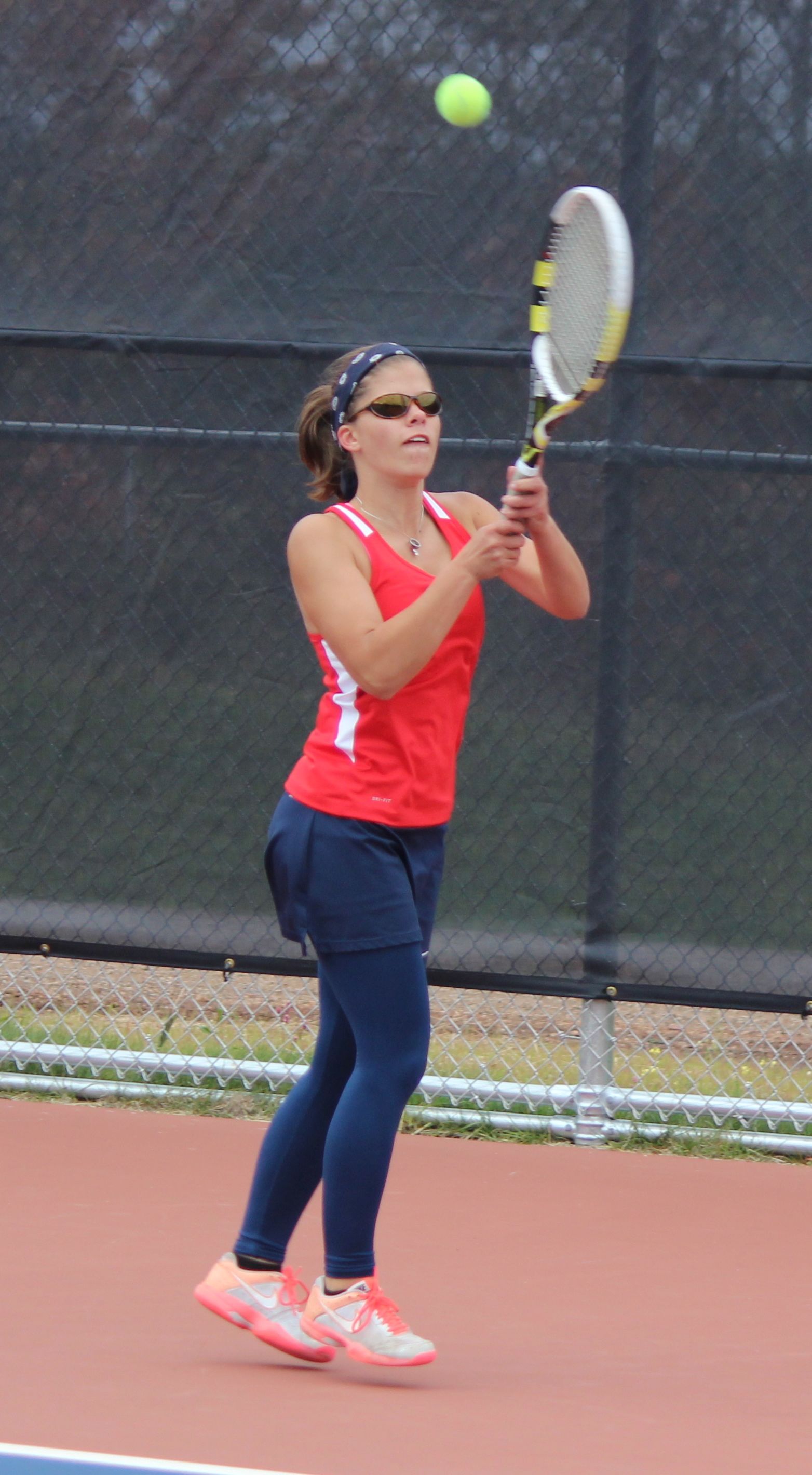 They beat Kathryn Brown and Hannah Hakamaki of Iron Mountain 7-5, 6-0 in the finale. "It was definitely a challenge to get started. It was cold," said LeRoy. "Our first sets have always been closer."
To which Derocha added, "Once we get going, it is good. We need a little warm-up."
The temperature was barely 50 degrees when the tournament began about an hour late because of rain that slicked the dazzling new courts at Negaunee High School, and the wind from the south made it feel chillier. Even the multi-hued trees above Teal Lake in the background didn't do much to warm up anyone.
Westwood coach Chris Jackson said depth is a key reason for the success in doubles and as a team. "The depth comes from our numbers," he said of a team that fields 30-40 players each fall.
"We feel like we offer a great student-athlete opportunity, the players enjoy themselves, and winning certainly doesn't hurt. Everyone likes to be a part of the program. We offer something for everyone."
While the Patriots dominated, Brule struggled to repeat. She won the final set 6-0, but that followed a 6-2, 5-7 opener against the gritty Waara.
With frustration showing several times after lost points in the second set, Brule said, "I tried to calm down and just tried to remember how I played and to play my game and not get upset. I tried to forget my mistakes."
Waara, who missed last season with an knee ligament injury incurred during basketball season as a sophomore, had trouble with Brule's powerful opening serve but was able to put the second serve in play and gather numerous points in her upset bid.
"You couldn't do a lot with her serve," said Waara, who also runs cross country this fall for the Wykons. "And it probably didn't help to take a year off from tennis."
Brule said relying on her second serve wasn't a problem, but noted "I wanted my first serve to have more power and make it more difficult for her."
Additional flight champions for Westwood including Gabby Hebert at No. 2 singles, Rachel Anderson at No. 3 and Lauren Fairley at No. 4; Lacey Pietro and Jamee Ferris at No. 3 doubles and Emily Carlson and Madysen Mattias at No. 4 also won flight titles. Katie and Emily Bugni combined to win No. 1 doubles for Iron Mountain. 
PHOTOS: (Top) Katie Brule of Iron Mountain darts into the corner to return a shot Wednesday at the Upper Peninsula Division 2 Finals at Negaunee High School. Brule defeat Maddie Waara of West Iron County 6-2, 5-7, 6-0 for her second straight title at No. 1 singles. (Middle) Rachel Anderson of Westwood reaches to retrieve a ball that bounced high during her No. 3 singles final against Iron Mountain's Emily Chang. (Photos by Dennis Grall.)