Flight Finals Wins Help Iron Mountain Complete Team Title Climb
September 30, 2021
ISHPEMING – Iron Mountain capped off its season as Upper Peninsula Finals champions Thursday afternoon, claiming the Division 2 title at Westwood High School.
The Mountaineers won flight titles at No. 2 singles and No. 2 and 3 doubles, earning 17 points. Last season's champion, West Iron County, finished runner-up with 14 points. Ironwood and Ishpeming tied for third with seven, followed by Munising with five, Gwinn four and Norway.
"First and foremost, I'm just extremely proud of these girls," Iron Mountain coach Marcus Celello said. Last year we got second place and we were one match away from winning it, so we knew what it took to be close. But first day of practice, we said that was the ceiling, that was our potential, that nothing was going to be given to us. My main takeaway is just that I'm really proud of this group of girls."
Iron Mountain had finished runner-up six times since winning its last Finals championship while playing in Division 1 in 2010. 
This Division 2 title was going to come down to a couple of matches between Iron Mountain and West Iron County. The Mountaineers and Wykons faced off in three flight finals, and Iron Mountain won all of them. 
"We knew it could very well come down to a situation like this, us and West Iron in a couple of finals, and whoever pulls away in those will come out on top," Celello said. "Low and behold, that's essentially what happened today. We were prepared for the possibility and we just didn't let it affect us mentally, and we just played our game and took care of business."
For the Mountaineers, Aziza Burgoon had to come back against West Iron County's Aurora Dahl after losing the first set to win No. 2 singles 5-7, 6-2, 6-2 in a long match. She was joined by her waiting teammates on the court for a celebration afterward.
"The first set I was pretty nervous," Burgoon said. "Normally, I'm not a very nervous person, but I guess emotions got to me and I dropped the first set. Then I went over and talked to my coach and they said, 'Leave it all out there and just have fun,' and that's when I really started playing well. Just having fun, and I won the second set, and the third set I was nervous coming back a little bit."
Danika Juul and Rediet Husing won No. 2 doubles for Iron Mountain, downing West Iron County's Lillie Schmutzler and Callista Bortolameolli 6-2, 6-3.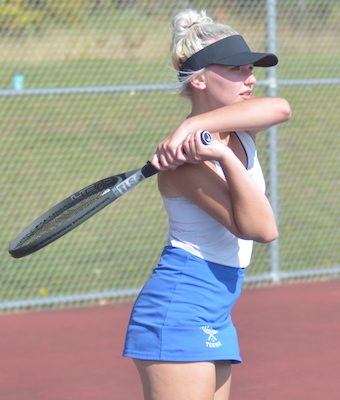 "It feels really, really good," Juul said. "When we play them, it's always a really good match, and it feels good that we were able to pull through at the end there."
The tandem's motto for the season was "smarter not harder" on their shots, and it led to three points on the year's biggest stage.
"Point by point too, that was key for us," Husing said.
Anike Cameron and Kensie St. John captured No. 3 doubles for Iron Mountain with a 6-3, 6-3 win over West Iron County's Autumn Smith and Seanna Stine.
Elsewhere, West Iron County's Kali Applin had to bounce back after dropping the first set to win No. 1 singles 4-6, 6-1, 6-1 over Gwinn's Lily Kerry. After taking home the No. 2 singles title last year, it was an emotional end to Applin's career.
"It was a long match, but I feel good," Applin said. "Just knowing that I had another chance to get it back, there's always a second set, and if I win that, there's always a third set that I can win. It feels good to win for the school."
The Wykons also took No. 3 singles, with Brynlee Nodurft defeating Munising's Jenna Matson in straight sets 6-4, 6-2.
"It was really my mental game," Nodurft said. "I was down 4-1 in the first set and that was really hard for me, and I'm just glad I came back. It was really difficult and I've never played her, so it was really hard because I didn't know how she played. So I guess I was just learning her game and how to mix with that."
Ironwood and Ishpeming won the remaining flights, with Ironwood getting victories at No. 1 and No. 4 doubles, and the Hematites claiming No. 4 singles. Leilah Anderson and Ella Darrow defeated Iron Mountain's Bella Brown and Anja Kleiman 6-1, 6-2 at No.1. The Red Devils' pair of Sarah Lauzon and Yoyo Sin downed another Iron Mountain team of Hailey Greenleaf and Mia Vedin 2-6, 7-6 (7-3), 6-2 to clinch a share of third place. 
Ishpeming was able to get No. 4 singles with a 6-1, 6-2 win by Emily DeMarois over Iron Mountain's Elle Loftholm. DeMarois started the year playing doubles, and it took a tough adjustment to play singles and get the Hematites a flight title.
"It actually took a lot because I didn't play singles until about halfway through the season," DeMarois said. "So to come out here, especially in this heat, it's crazy. It took a lot of mental power and just not beating myself the whole time."
Iron Mountain didn't have to face the adversity it experienced at times during the regular season, but the days that didn't go right prior to Thursday helped make the championship moment.
"It took lots of ups and downs," Celello said. "There were days where we lost 0-8, 1-7 sometimes against some high-quality opponents. You just can't let that affect you mentally. What I've been preaching to the girls is that tennis is already 60 percent mental, 40 percent physical. If we let it get to more of a mental game than it already is, we're not going to be successful. Our message before we all went out to start today was that we just had to take it point by point."
PHOTOS (Top) Iron Mountain's Aziza Burgoon takes in the moment during her No. 2 singles win. (Middle) West Iron County's Kali Applin follows through on a shot during the No. 1 singles final. (Photos by Travis Nelson.)