Forest Hills Northern Finds Winning Mix
June 1, 2019
By Greg Chrapek
Special for Second Half
HOLLAND – One of the biggest challenges a high school coach can face is blending a talented group of freshmen with a successful group of returning players.
Veteran Grand Rapids Forest Hills Northern tennis coach Dave Sukup faced that challenge this year.
With a core of tennis players returning from a team that placed fourth at the MHSAA Finals last year, Sukup welcomed a skillful group of freshmen making their high school debut this season. The blending process proved to be a success for Sukup and Northern as the Huskies came together to win the Lower Peninsula Division 2 championship Saturday.
Northern totaled 31 points to claim its first Finals title since sharing the 2014 championship with Birmingham Seaholm. This title was Northern's first outright since 2011. Seaholm placed second with 29 points, followed by Bloomfield Hills Marian with 26.
"We had some outstanding freshmen come into our school this year, and they really made a difference," Sukup said. "We had all eight of our flights reach at least the semifinals, and that is something we've never done before. That made the difference."
Northern finished with a pair of individual flight champions. Freshman Isabela Paul won the No. 3 singles title by outlasting Romika Shokoni of Mattawan 6-4, 1-6, 6-4.
"It feels pretty amazing," Paul said. "I just had to keep pushing through. Winning a individual state title and the team state title is real special. It's a once-in-a-lifetime thing."
Sophomore Alexis Pena claimed Northern's other singles title. Pena defeated Greta Albertie of Birmingham Seaholm 6-1, 6-1.
A returning player, Pena put the team first and herself second this year. Pena played No. 1 singles in 2018, but with all the talented freshmen singles players coming into the program, she moved down to No. 4 singles for the good of the team. The move certainly was worth it.
"Last year we finished in fourth place," Pena said. "It feels really special to go from fourth place last year to first place this year."
Pena credits the leadership of Northern's three seniors, who also served as team captains, as being a major key to the team's success this season.
"Definitely having Meg Millar, Hannah Petersen and Oliva Dicks as captains," Pena said. "They just made it so fun. Since we have a lot of freshmen on the team; they did such a good job of including everyone. We have a special team this year."
Forest Hills Northern was not the only team with impressive freshmen in the lineup. Mattawan, which finished fifth as a team, was led by freshman Elizabeth Novak at No. 2 single. The top seed, Novak held form as she claimed a 6-1, 6-0 victory against Alba Delapena in the championship match.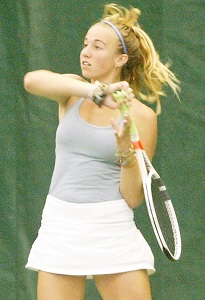 "It's really exciting," Novak said. "We have a real close team, and having my teammates here with me made this so special."
One of Novak's teammates is her older sister Kate, who reached the quarterfinals at No. 1 singles and cheered her younger sister on in the title match.
"This was the first year we've been able to be on the same team," Novak said. "Being on the same team with my sister is very special."
While the freshmen were making impressive debuts, East Grand Rapids senior Sloane Teske accomplished an impressive feat as she finished her high school career with three straight No. 1 singles championships. Teske turned back Forest Hills Northern freshman Abigail Siminski 6-3, 6-3 in the final.
"This means everything," said Teske. "I'm just happy that all my team and my family and fans were able to be here and support me. It meant the world."
Teske, who will continue her career at the University of Toledo, remained focused and dialed in the entire match and throughout the tournament.
"My attitude and my mind was my main focus," Teske said. "It pulled me through all my matches. I just went out there and played my game and hoped for the best. It's an incredible feeling."
Birmingham Seaholm relied on outstanding play from its doubles teams to secure second place. Seniors Madison Daminato and Emily Hirsch claimed the title at No. 1 as they came from behind to defeat Mia Schwartz and Marlo Hudson of Marian 5-7, 6-1, 6-0.
For Hirsch, it was her second Finals title as she was part of the champion No. 1 doubles team last season.
"This was so special," Hirsch said. "I won it last year, and this year I won it with a different partner. We had a tough first set, but we picked up our game in the next set."
For Daminato, the title was special in that she played singles all the way up until this spring, when a back injury forced her to switch to doubles.
"I looked at it as a new challenge," Daminato said. "I learned a lot this year, and it was fun being able to partner with Emily. The season turned out good."
Seniors Brooke Forte and Lilly Trinch teamed up to win their second straight title at No. 2 doubles, over Abigail Zhang and Lilia Henkel of Forest Hills Northern 7-6 (5), 6-3.
"This was very special," Forte said. "We've played together for three years, and this was our last time playing together."
The Seaholm duo stayed together and battled through the tight first set to set the stage for the win.
"We are all such good friends," Trinch said. "We get together in the winter to play, and that really helps us."
At No. 3 doubles, Seaholm's Charlie Kuchman and Sofia Manzo defeated Marian's Ragad Almsaddi and Gigi Kalabat 6-3, 2-6, 6-2. At No. 4 doubles, the Seaholm team of Ashley Buechner and Remi Maynard held off Marian's Sara Kuredijian and Elizabeth Meathe 6-2, 6-4. 
PHOTOS: (Top) Grand Rapids Forest Hills Northern celebrates its latest MHSAA Finals championship. (Middle) East Grand Rapids' Sloane Teske sends back a volley. (Click for more from HighSchoolSportsScene.com.)