Hematites Climb Back to 1st in UPD2
May 31, 2015
KINGSFORD — It was bit of a challenge at times, but the Ishpeming girls captured their first MHSAA Upper Peninsula Division 2 track and field title in eight years Saturday by scoring 151 points.
Iron River West Iron County was runner-up for the second straight second with 126, followed by Manistique at 59.
Ishpeming's Khora Swanson won the 800-meter run in two minutes, 28.53 seconds and took second in the 1,600 (5:45.62) on this partly sunny and breezy day.
Hematites senior Jessica Spencer was runner-up in the 100 hurdles at 17.97, edging teammate Katie Loman by one hundredth of a second. She also took third in the 300 (53.15) and helped the winning 400 and 800 relays.
"We worked on handoffs a lot in practice and those were a key for us," said Spencer, who will attend Northern Michigan University this fall. "We just focused on doing the best we could, and our team showed its true potential. I've been to the Finals all four years, and this was the best. The energy was contagious.
"Everybody just supported each other. This is a great way to end my senior year."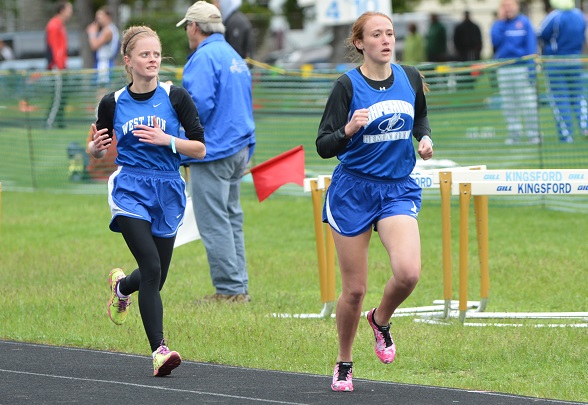 Ishpeming's Marissa Maino swept the weight events with tosses of 35 feet, one inch in shot put and 109-4 in discus. Nassi Thomas added a first in long jump (14-10½) and seconds in the 100 (13.4) and 200 (27.5).
The Hematites also won the 3,200 relay, with West Iron taking the 1,600.
West Iron took the top three spots in the 400, which was won by Emmy Kinner (1:02.18). She was followed by Elizabeth Pellizzer (1:04.01) and Erin Angeli (1:05.22).
Kinner also finished first in the 100 (13.19) and 200 (27.16).
West Iron senior Tori Harris placed second in the 800 in a school-record 2:28.77 and the 3,200 (12:42.27) and placed third in the 1,600 (5:50.29).
"I was not happy with the 1,600, but felt better during the 800," Harris said. "The 800 is my favorite race, and I'm very pleased to get the school record. I started weight training, and I think it helps a lot."
Keeley Nolingberg provided the Wykons with a second in shot put (30-7¾), with Rachel Tefft third (29-6½). Pellizzer added a third in the 200 (28.53).
Westwood junior Katie Etelamaki won the 1,600 (5:32.91) and 3,200 (12:02.45) and placed third in the 800 in a personal-best (2:29.54).
"I'm not quite where I want to be," Etelamaki said. "I just tried to find someone to draft off of and had enough left to kick it in at the end. We haven't had many windy meets this year, but the temperature is pretty good (mid 50s). I really can't complain about the weather."
Manistique made its strongest showing in pole vault, which was won my Katie Davis at eight feet. Josie Price was runner-up (7-6) and Brittney Zellar took fourth (7-0).
Hancock's Mary Jarvis was a double-winner, taking the 100 hurdles (16.76) and 300 (49.21).
PHOTOS: (Top) Ishpeming's Jessica Spencer crosses the finish line during one of her four events Saturday at the U.P. Division 2 Final. (Middle) The Hematites' Khora Swanson, right, works to stay ahead of West Iron County's Tori Harris; the two raced each other in the 800 and 1,600. (Photos courtesy of Cara Kamps.)